Jeremiah 11:11:
"Therefore this is what the Lord says: 'I will bring on them a disaster they cannot escape. Although they cry out to me, I will not listen to them' ".
"…for beauty is nothing
but the beginning of terror,
which we can just barely endure,
and we stand in awe of it as it coolly disdains to destroy us."
Every angel is terrifying."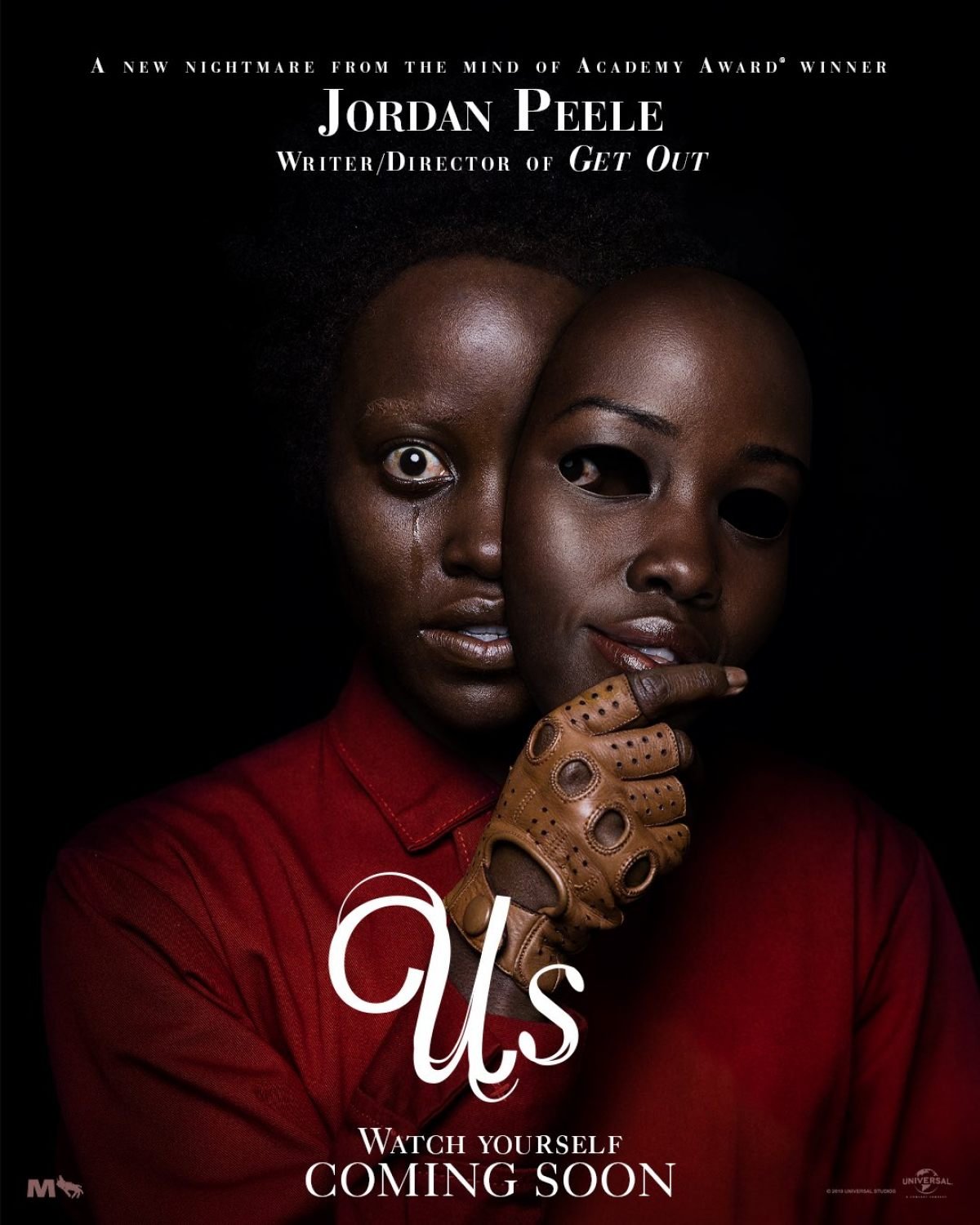 "Us" is a 2019 American film written and directed by Jordan Peele.
The film stars Lupita Nyong'o, Winston Duke, Shahadi Wright Joseph, Evan Alex, Elisabeth Moss, and Tim Heidecker, and follows a family who are confronted by their doppelgängers.
"Us" is another thrilling exploration of the past and oppression this country (USA) is still too afraid to bring up. Peele wants us to talk, and he's given audiences the material to think, to feel our way through some of the darker sides of the human condition and the American experience."
"A very, very strange film. But that's OK because it wouldn't be a Jordan Peele joint if there wasn't a little risk involved. Peele has proven that he's not a one-hit-wonder with this truly terrifying, poignant look at one American family that goes through hell at the hands of maniacal doppelgangers".
Manohla Dargis of The New York Times notes that the Wilsons are "introduced with an aerial sweep of greenery" similar to the opening of Stanley Kubrick's "The Shining" and sees that movie as the principal influence on Us.
Describing Peele as a "true cinephile", she also identifies allusions to other films, including "Jaws" (1975), "A Nightmare on Elm Street" (1984), and "The Goonies" (1985), as well as one scene suggesting an influence by the Austrian film director Michael Haneke.
The project was first announced in February 2018, and much of the cast joined that summer. Peele produced the film alongside Jason Blum and Sean McKittrick (with the trio previously having collaborated on "Get Out" and "BlacKkKlansman"), as well as Ian Cooper.
Filming took place from July to October 2018 in California, mostly in Los Angeles and Pasadena, but also in Santa Cruz.
"Us" had its world premiere at South by Southwest on March 8, 2019, and was theatrically released in the United States on March 22, 2019, by Universal Pictures.
The film has grossed $236 million worldwide and received praise from critics for Peele's screenplay and direction, as well as for the musical score and acting.
Critic Jim Vejvoda related the Tethered (doppelgängers) to "urban legends" and "xenophobic paranoia about the Other", also writing they resembled the Morlocks in H. G. Wells' 1895 novel, "The Time Machine".
Journalist Noel Ransome viewed the film as being about "the effects of classism and marginalization", writing "the Tethered are effigies of this same situational classism. They're trapped—mentally and physically—and ignored".
Joel Meares of Rotten Tomatoes also noted that the Tethered, referencing the "we're Americans" line, are representatives of the duality of American society, how some citizens can afford to live on top of the class system, while others are stuck in illiterate poverty.
HE ALSO NOTED THE TITLE "US" COULD MEAN "U.S.", OR UNITED STATES.
The Tethered's red jump suits and single glove was also noted as imagery to Michael Jackson (along with the "Thriller" shirt seen on young Adelaide), and Peele has stated that Jackson was "the patron saint of duality".
Critic Rosie Fletcher commented on the context, with Jeremiah warning Jerusalem was facing destruction due to false idols, and expressed the opinion that the film's characters also "worshiped the wrong things", such as Ophelia, the virtual assistant.