High concept science fiction thriller set in the near future
It's the end of the 21st century and society is in decline. The economic situation is a nightmare: only 20% of the population is actively employed while everybody else is jobless. The Actives live secluded within the city limits. On the fringes, in the Zone, live the Jobless. Two opposing territories in a dehumanized society. Separating them is a fortified wall. On one side, the Jobless—hungry, thirsty, in a state of total abandon. On the other, the Actives—forever terrorized by the idea of losing their jobs. Each camp expresses one facet of the same suffering: work, or the absence of it.
The first episode was aired Thursday the 11th of February on ARTE TV.
Theme : Mini-Series / SF Thriller (6 episodes x 52 minutes)
Producer :Kelija, Katia Raïs
Authors : Antarès Bassis, Thomas Cailley, Sophie Hiet & Sébastien Mounier
Arte Director :Vincent Lannoo (Méliès d'Or at the Sitges International Fantastic Film Festival for In the Name of the Son)
Actors: Pierre Deladonchamps (Ruben), Léonie Simaga (Izia), Ronit Elkabetz (Nadia), Aurélien Recoing (Silas), Olivier Rabourdin (Sol), Charles Berling (Bartholomé), Lubna Azabal (Lisbeth)
Year: 2015
Versions: English / French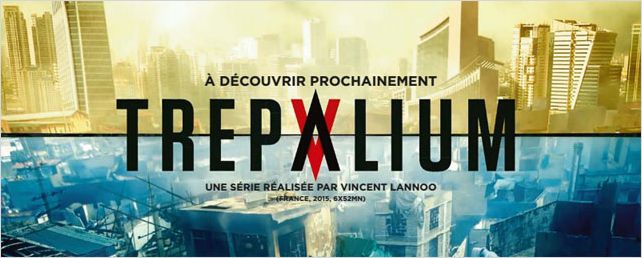 The german dubbed version is called "Stadt ohne Namen" (City Without Names).
http://www.arte.tv/magazine/series/fr
http://www.arte.tv/magazine/trepalium/fr