DistopiCon 2021, Timișoara!
MAY 13th-16th 2021
A bid for EuroCon 2021
DistopiCon : Future Pasts: The Art of Dystopia
The main themes of the 2021 Eurocon will be:
Dystopia
Post-apocalyptic Futures
Dark Fantasy /Dracula
Dark Science-Fiction
Romanian/European Dark Myths
The program will consist of:
Presentations
Debates
Conferences
Book launches
Book signings
Readers@Authors Get Together
Aditional events:
Graphic arts exhibitions
Theater plays
Dealers room
Cosplay gathering
Romanian traditional products fair
Also we will have surprise special outdoor events, including music and laser show events.
The 1994 Eurocon in Timișoara was mainly organized by a small but dedicated team made mainly of Helion SF Club members, backed up by ARSFAN Association and with the financial support of the Romanian Sport and Youth Ministry.
In September 2016, Timișoara was selected as the European Capital of Culture for 2021.
The official organizer of the 2021 EUROCON (DistopiCon) is ARCA SF ( Romanian SF Clubs and Authors Association).
The organizing team of the 2021 Distopicon is consisting mainly of members of Helion Science Fiction Club, and a few  members from various Romanian SF clubs.
Why ARCA SF and Helion SF Club?
ARCA SF is the organizer of Romcon, the Romanian National SF Convention.
Helion SF Club (Timișoara, Romania) has organized, in it's almost 50 years history, various local, national  and international SF conventions, like Helion Club's Sessions, Helion International Conferences and was the main organizer of 1994 Eurocon in Timișoara.
The 2021 EUROCON (DistopiCon – Timișoara, Romania) Organizing Team members
Darius Luca Hupov
Lead Organizer
CEO (Chief Event Organizer) at ARCA SF (The DistopiCon organizer).
He has been an avid science fiction fan since 1985 and a writer since 1987. He was a member of H.G. Wells SF Club in Timisoara (1985), where he made his literary debut and whose presidency he held for several years. He has been an active member of Helion SF Club Timisoara since 1988, where he currently holds the position of club secretary. He has published SF short stories under the penname Darius H. Luca in Banat Renaissance, Paradox SF, Collection of Storytelling Stories, Gazeta SF, Helion, Biblioteca Nova. He has hosted a SF film show at Radio Timisoara and Analog TV Timisoara, was part of the organizing team of Eurocon Timisoara 1994, is part of the organizing team at Helion Days and the International Helion Conference and has participated on several occasions with works at the Helion Days. His first collection of SF short stories, "Elegie pentru un triunghi" (Elegy for a Triangle) was published in 2016, at Eurostampa Publishing House, as part of the "Insolit Collection". In 2014, he started producing and hosting The Galactic Imaginarium Podcast in 2014. He is Deputy Editor-in-chief at Helion online magazine. He writes non-fiction literature on financial and investment education subjects under the penname Luca Dezmir.
---

Daniel Timariu
Web Presence
Databases
Daniel Timariu is a professional programmer, and since 2014, SF & Fantasy writer. He is a member of the Helion SF Club in Timisoara.
He has published short stories in a wide variety of Romanian magazines, such as Helion, Gazeta SF, Nautilus, Revista de suspans (Suspense Magazine), Știință și Tehnică (Science & Technique), Zin and Iocan. Publishing volumes: Postmodern dazzles, fantasy fantasy stories, Insolit collection, Eurostampa publishing house, mystery & thriller stories. Girls in red and other police stories, urban-fantasy novels Tenebre: The Laura and Tenebre case: The labyrinth all at the Tritonic publishing house. It is present in several anthologies: Noir of Bucharest, Domino, Domino 2, Exit Plus: Stories from Beyond, Stories with Dragons, Antonia Helion, 3.4., Drawings of Love, Strange Case of Shadows (novella, Tritonic Edition, 2018) , The Most Beautiful SF & Fantasy Stories of 2017 (The Weather, 2018). She won the 1st Prize at the S.F. – Non-G sports competitions, x014, the RomCon 2017 Prize for post stories and the Chrysalis Prize at EuroCon 2018, Amiens, France.
Daniel Timariu will take part in the DistopiCon Timişoara 2018 project online presentation. His experience in this field lies in his web developer profession, older than 15 years, and the volunteer editorial secretary of Helion Online magazine, a technically and conceptually done magazine.
---
Simona Hupov
Child Section Coordinator
Press Contact
Guest of Honour Relations
Simona Hupov has a business in the field of child and young adult education, owning an aftershool and organizing summer camps for childrens and teenagers. She is also active in the media field, having a talkshow about children and young adults at West City Radio, a local FM Radio Station in Timisoara (since 2001), and a segment at The Morning Show, at Timisoara National TV Station (from 2009 to 2018). Is a member of Helion SF Club from 2012, beeing active as a program item organizer at local and national SF convention, at the children creative section. She was in charge of the children section at Helion Days (since 2014 ) and at Romcon National SF Conventions, since 2016.
---
Adrian Bancu
Photography
Lightworks/Lasershows
Music events
Constantin Adrian Bancu, born May 3, 1964, is part of the Helion SF Club in November 1980, from the very first months of the club's creation. After 1982, he became a member of the H.G. Wells, later became founder of cultural associations, in legal form, of both clubs in Timisoara. He graduated from the University of Timişoara, Science of Nature Faculty, in 1986, and was concerned with the analysis of the cases of phenomena from the limits of knowledge, UFO, paleoastronomy, and has article contributions to Helion SF Magazine since its earliest number. Several literary attempts in the early years of SF, noted in the radio show "Tomorrow's explorers" (scenario) and at SF Guranda 1983 (story). Passionate for music, photography and visual arts, he is the creator of the club's photo albums and dedicated lasershow shows, among which Helion 30 – "Revolutions" (March 18-19, 2010), Romcon, Pro-Musica 41, Cozzmonautica (2017). He is a collaborator at the Helion, Cozzmonautica, Romcon 2012-2018, 2014 Revolution festival, Eurocon 1994 (where he was responsible for two panel areas). Each edition of "New Year's Eve" (TM) found it at the audio-visual apparatus.
---

Adrian Chifu
Photography, Videography
Music events

Member of Helion from 1984.He is an author of SF short stories, his debut volume appeared in 2017 at Eurostampa Publishing house, "Insolit" collection. He is a graphic designer, a photograhy passionate and a filmographer. He has a Romanian National SF Convention Prize at film section. He is a composer of ambient and electronic music (two albums in 1995 and 1997), he was part of "Urban experience" electronic music band from 1995. He is an event planner of ambiental music shows.
---
Cristian Koncz
Location manager
He joined the H.G .Wells science- fiction club in Timisoara in 1991 and Helion Sci-Fi Club Timisoara in 1993. He was a participant and member of a local support team for the Eurocon 1994 , major European sci-fi event held in Timisoara. Starting 2002 he joined the Helion Timisoara Science Fiction Club scientific working group, writing science based articles, organising many conferences about interesting topics like future genetics, bio-ethics, terra-forming, exobiology and medical challenges in space colonisation.
Hobbies: Science-fiction, Mountain Trekking, Fishing. He is fluent in English and French.
---
Marius Gordan
Social Media Manager
Gaming Area Coordinator
Marius Gordan Ionuț is the incumbent youngest member of the team, studying Economics at the West University of Timișoara. He's been part of the Helion SF Club since 2016, when he also first attended the Sesiunea Helion conference. The following years he began playing a more active role, giving presentations focusing on the economic models of transhumanism in 2017 and on analysing/categorising the elements of dystopia found in the Black Mirror TV series in 2018. His main hobbies include listening to post-punk and atmospheric black metal albums, researching illeism and studying ceremonial magick.
Fluent in English, Romanian and with just enough understanding of Latin and Greek incantations to get by, he's your go-to-entity in case something goes seriously wrong with reality. Otherwise he'll will be hanging out, possibly in the vicinity of food or beverages, ready to help in any way he can.
---

Lucian Vasile Szabo
Financing Representative
Clear Head
Lucian-Vasile Szabo is a writer, literary critic, journalist, professor and communications researcher. He published volumes on communication theory and literary history: Freedom and communication in the world of the press (1999), Journalists, heroes, terrorists (2009), Media, repression and freedom (2010), Traps of communication (2011) (2013), The Slavic Complex (2013), EA POE: Romanticism, Modernism, Postmodernism, The Slavic Complex (2013), EA Poe (2013). Journalism, fantasy and science fiction (2014), Revolution in 1989 in Timişoara hospitals (2014), The image of the soldiers and victims in the Revolution of Timişoara (2015), Appeal in the Ioan Slavici file (2015). As a prose writer, he stood up with the volumes of the Glass of the Sky (2000), the Art of Dying in Peace (2008), Clear Days, Foreign Days (2015). As editor, he made the Phantom volume. Ten fantastic jewels written by Romanian authors (2008), as well as the editions of Urmuz, Gib I. Mihaescu, Ovidiu Pecican, George Şerban, Costel Babos, H. P. Lovecraft, M. R. James, Edwin A. Abbot and Enrique Anderson Imbert. Chairman of the Helion Club.
---

Cristian Vicol
Graphic Designer
PR
Cristian designed the Distopicon logo and poster.
Cristi is a writer and a Journalism postgraduate from Timisoara. He has published works of historical fiction, sci-fi short stories and a book on the premodern history of his native city. He is a huge fan of progressive rock and 80`s B movies. When it comes to fantasy, Cristi delights himself as quite the kitchen alchemist.
---
Ciprian Baciu
Financial superviser
Location Manager
Ciprian Ionuţ Baciu is a graduate of the Faculty of Economic Sciences of the West University of Timisoara, volunteer of O.S.U.T. and ProMediu Timis, collaborator of the StudentFest International Art Festival and Helion member. He debuted in 2018 with the volume of stories "Amor without alcohol" at the Tritonic publishing house.
Contact
Email
The best way to contact us is by email or using the form below. Please allow several business days for our response.
The email address is:
info[at]distopicon[dot]eu
SMS or Phone
The phone number below is mainly for SMS use. You can call us, but please do it only on emergency:
+40.730.720.300
Social media
You can contact us by Facebook message or Twitter direct message.
https://www.facebook.com/distopicon/
Timișoara
(Romanian pronunciation: [timiˈʃo̯ara] ; English pronunciation : [timishoara] ; German: Temeschwar, also formerly Temeschburg; Hungarian: Temesvár, [ˈtɛmɛʃvaːr] Serbian: Темишвар / Temišvar; Banat Bulgarian: Timišvár; Slovak: Temešvár)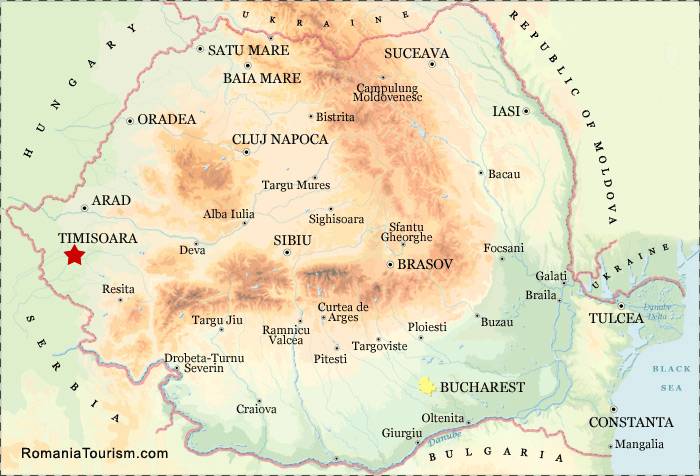 is the capital city of Timiș County, and the main social, economic and cultural centre in western Romania (Banat, Transylvania).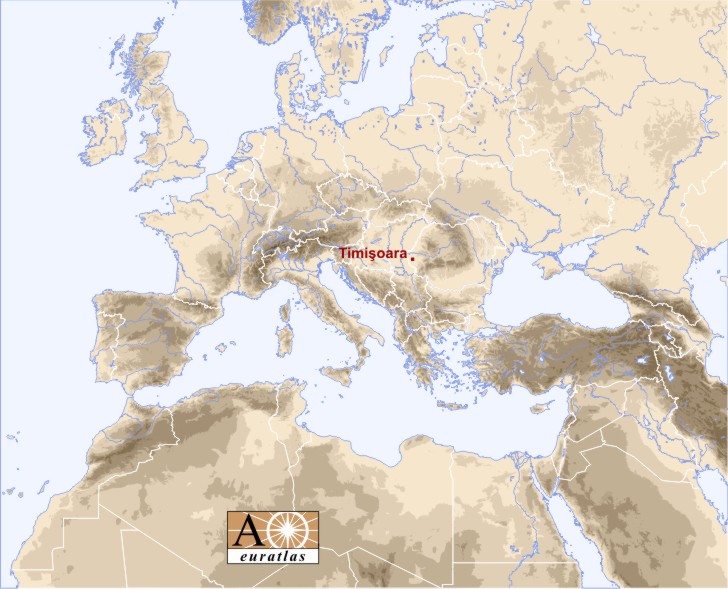 The first record of the city of Timișoara, built on the site of an ancient Roman fortress called Castrum Regium Themes, dates back to 1212.
Over the years, Timișoara, the largest city in western Romania, has been influenced by many cultures.
Timișoara later became a vital commercial and manufacturing town.
The charm of Timișoara, settled on the northern bank of the Bega River, lies in its distinct architectural character and vibrant cultural life.
Frequently referred to as "Little Vienna," Timișoara is home to year-round musical and theatrical performances, art galleries, museums and a buzzing nightlife.
A progressive, cosmopolitan place, Timișoara was the first city in Europe and second in the world after New York, to use electricity to illuminate its public streets.
The third most populous city in Romania, with 319,279 inhabitants as of the 2011 census, Timișoara is the informal capital city of the historical region of Banat (Transylvania, Romania).
In September 2016, Timișoara was selected as the European Capital of Culture for 2021.
"Timișoara is the most eloquent example of a society where cultural diversity is a door toward new dialogues, where the fact of understanding the other person means to move from a simple tolerance to the acceptance and the celebration of the diversity's richness that exists in each of us."
The city centre largely consists of buildings from the Austrian Empire era.
The old city consists of several historic areas.
These are: Cetate (Innere Stadt in German, Belváros in Hungarian), Iosefin (Josephstadt/Józsefváros), Elisabetin (Elisabethstadt/Erzsébetváros), Fabric (Fabrikstadt/Gyárváros).
Numerous bars, clubs and restaurants have opened in the old Baroque Square (Unirii Square).
Connections
By Air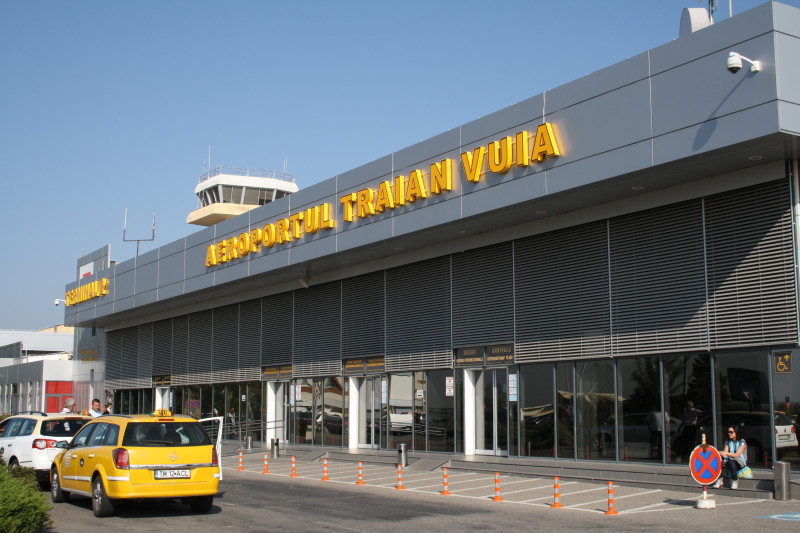 Traian Vuia International Airport (TSR)
Address: Str. Aeroport 2
Tel: 0256 493.639
Email: office@aerotim.ro
Web: www.aerotim.ro
The airport is located 12km from the city centre. Taxis are readily available outside the arrivals area. Bus #26 offers service to the city centre, with stops at Badea Cârțan Square and Hotel Continental.
Airlines with service to Timisoara:
Austrian Airlines– www.aua.com
Direct flights from/to: Vienna
Lufthansa – www.lufthansa.com
Direct flights from/to: Munich
Tarom – www.tarom.ro
Direct flights from/to: Bucharest
WizzAir – www.wizzair.com
Direct flights from/to: France (Paris); Germany (Dortmund); Italy (Bologna, Milan, Rome, Venice);
Spain (Madrid, Barcelona, Valencia); UK (London/Luton)
By car
The recommended route from Vienna to Timișoara is:
Vienna – Gyor – Budapest – Szeged- Nadlac – Arad – Timisoara  (A4/E60 – E75 – E68 – E671)
The recommended route from Budapest to Timișoara is:
Budapest – Szeged- Nadlac – Arad – Timisoara  (E75 – E68 – E671)
By train
Timișoara North – main train station Gara Timisoara Nord)
Address: Str. Garii 2 (one mile from downtown)
Tel: 0256 491.696
There are daily trains from/to Budapest (approximate journey time – 5 hours), and Vienna (approximate journey time – 8 ½ hours). Trains to other western European cities run via Budapest.
For the list of international trains with service to/from Romania please visit:
http://www.romaniatourism.com/transportation.html#bytrain
Hotels in Timișoara
https://en.wikipedia.org/wiki/Timi%C8%99oara
http://romaniatourism.com/timisoara.html
https://europa.eu/european-union/about-eu/countries/member-countries/romania_en