"The Zero Theorem" (2013) is one of the best science fiction movies of the american origin director Terry Gilliam (born in 1940).
After "Jabberwocky" (1977), "Time Bandits" (1981), "Brazil" (1985), "The Adventures of Baron Munchausen" (1988), "12 Monkeys" (1995), "The Brothers Grimm" (2005), "The Imaginarium of Doctor Parnassus" (2009), Terry Gilliam shows us once again that he is a great contemporary fantastika creator.
"The Zero Theorem is a glimpse of the world I think we are living in now. Pat Rushin's script intrigued me with the many existential ideas he had incorporated into his funny, philosophic, and touching tale. For example: What gives meaning to our lives, brings us happiness? Can we ever be alone in our increasingly connected and constricted world? Is that world under control or simply chaotic? We've tried to make a film that is honest, funny, beautiful, and surprising; a simple film about a complex modern man waiting for a call to give meaning to his life; about inescapable relationships and the longing for love, full of quirky characters and sparkling performances; raising questions without offering obvious answers. Hopefully, it's unlike any film you have seen recently; no zombies, no caped crusaders or alien spacecraft. Actually, I might have lied about that last item. Having not worked with a budget this small for several decades, I was forced to work fast and instinctively, pressured only by time and money. We relied on the freedom to spin on a dime, to make outrageous creative leaps. The results surprised even me. I'm proud to have been part of The Zero Theorem." – Terry Gilliam
"The Zero Theorem" is a SF film shot in Bucharest (Romania) and the natives will recognize parts of Calea Victoriei (Victory Way). A corrosive satire with orwellian shades of the contemporary world dominated by computers and large corporations. Reminiscent of "Brazil", the film bears the hallmark of Gilliam: the eccentricity and the insolite humor, the freaky characters and contrasts between low-tech futurism  and the decomposing classic background.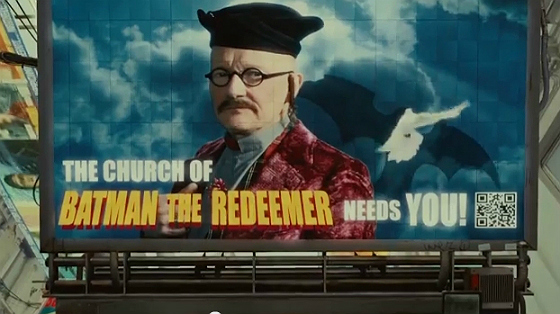 In a world of noise and claustrophobia technology in which you can't hide anywhere from the ads that are chasing you on the streets – some of them promoting the Church of Batman the Redeemer –  a "cubicle zombie", a socially inept but brilliant in computers, fight the nemesis of it's own destiny. Plagued by existential angst, he waits for a phone call that should give meaning to his life while working on the "zero theorem", a mysterious project suggesting that the existence itself, the whole universe, Qohen Leth himself, has no sense.
Screen Daily wrote: "Frank Kafka is alive and well, striving in the 21st century and making films under the name of Terry Gilliam. His latest film, shot entirely in Romania, is unsurprisingly – since he has already done it before – looking for the meaning of life. His hero's name is no longer K but Q and though he manages to find his way to the Master of the Castle, otherwise known here as Management, it is all for naught, since it turns out that even at that level, there are no satisfactory answers to be found."
Gilliam ask some key questions – whether the existence makes sense, the contemporary crisis of spirituality, how can we protect our privacy space into a world of connectivity, canwe truly live the present moment or are we already enslaved to the virtual world – then he withdraw, leaving Qohen Leth, the main character and thus the viewer, to carefully introspect. As with any existential quests the result can only be surprising.
The director said: "I'm obsessed with the challenge of being alone. How can you know who you are, in these days when no one lives the moment? All are commenting the moment – on Twitter, on Facebook. We're at dinner, here's a picture of my plate – look ! Instead of being present, enjoying dinner and talking to people present at the table. It may sound schizophrenic, but I feel that there is a fragmentation of our lives."
"Zero Theorem" was launched last year at the International Film Festival from Venice (September 2, 2013).
Director: Terry Gilliam. UK-Romania-France. 2013. 107 mins
Screenplay: Pat Rushin
Cast: Christoph Waltz, Lucas Hedges, Mélanie Thierry, David Thewlis, Matt Damon, Tilda Swinton, Peter Stormare, Ben Whishaw, Dana Rogoz, Emil Hoștină.
Trailer : http://www.youtube.com/watch?v=rae7_O_6EtU
http://en.wikipedia.org/wiki/The_Zero_Theorem