Swiss Francophone SF short stories "Unusual Futures" (Hélice Hélas Press), editors Jean-François Thomas and Elena Avdija
The authors are Emanuelle Maia, Nicolas Alucq, Vincent Gerber, Adrien Bürki, Jean-Marc Ligny, François Rouillier, Anthony Vallat, Denis Roditi, André Ourednik, Florence Cochet, Julien Chatillon-Fauchez, Bruno Pochesci, Gulzar Joby, Olivier Sillig. An afterword by Marc Attalah
The SwissSF fanzine's cover published by Pierre Strinati in 1970 with the occasion of HEICON, the 28th World Science Fiction Convention held in Heildelberg, West Germany
"Swiss science fiction? Never heard of it !
Yet for a long time, the Swiss SF has engaged in speculative fiction game."
Switzerland (Schweiz/Suisse/Svizzera/Svizra), officially the "Swiss Confederation" (Latin: Confoederatio Helvetica, hence its abbreviation CH), is a country in western Europe : 8,211,700 inhabitants, area of 41,285 km2
While still named the "Swiss Confederation" for historical reasons, modern Switzerland is a federal directorial republic consisting of 26 cantons, with Bern as the seat of the federal authorities, called Bundesstadt ("federal city").
Straddling the intersection of Germanic and Romance Europe, Switzerland comprises four main linguistic and cultural regions: German, French, Italian and Romansh. Therefore, the Swiss, although predominantly German-speaking, do not form a nation in the sense of a common ethnicity or language; rather, Switzerland's strong sense of identity and community is founded on a common historical background, shared values such as federalism and direct democracy and Alpine symbolism.
Due to its linguistic diversity, Switzerland is known by a variety of native names: Schweiz – German; Suisse – French; Svizzera  Italian and Svizra – Romansh.
Official languages in Switzerland (2013):   German (63.5%)   French (22.5%)   Italian (8.1%)   Romansh (0.5%)
Switzerland has four official languages: principally German (63.5% total population share, with foreign residents, in 2013); French (22.5%) in the west; Italian (8.1%) in the south and the fourth official language, Romansh (0.5%), a Romance language spoken locally in the southeastern trilingual canton of Graubünden, and is designated by Article 4 of the Federal Constitution as a national language along with German, French, and Italian, and in Article 70 as an official language if the authorities communicate with persons who speak Romansh. However, federal laws and other official acts do not need to be decreed in Romansh.
In 2015, the languages most spoken at home among permanent residents aged 15 and older were: Swiss German (60.1%), French (23.4%), Standard German (10.1%), Italian (8.4%), English (4.6%) and Portuguese (3.5%). Considering languages usually spoken at work and at home, 42.6% of the permanent resident population have indicated more than one language.
You may call Switzerland a European Union in miniature.
As the Swiss Confederation, from its foundation in 1291, was almost exclusively composed of German-speaking regions, the earliest forms of literature are in German. In the 18th century, French became the fashionable language in Bern and elsewhere, while the influence of the French-speaking allies and subject lands was more marked than before.
Among the classics of Swiss German literature are Jeremias Gotthelf (1797–1854) and Gottfried Keller (1819–1890).
The undisputed giants of 20th century Swiss literature are Max Frisch (1911–91) and Friedrich Dürrenmatt (1921–90), whose repertoire includes "Die Physiker" (The Physicists) and "Das Versprechen" (The Pledge), released in 2001 as a Hollywood film.
Prominent French-speaking writers were Jean-Jacques Rousseau (1712–1778) and Germaine de Staël (1766–1817). More recent authors include Charles Ferdinand Ramuz (1878–1947), whose novels describe the lives of peasants and mountain dwellers, set in a harsh environment and Blaise Cendrars (born Frédéric Sauser, 1887–1961). Also Italian and Romansh-speaking authors contributed but in more modest way given their small number.
Probably one of the most famous Swiss literary creation, "Heidi", the story of an orphan girl who lives with her grandfather in the Alps, is one of the most popular children's books ever and has come to be a symbol of Switzerland. Her creator, Johanna Spyri (1827–1901), wrote a number of other books on similar themes.
The most famous Swiss film directors are Jean-Luc Godard, Claude Goretta, Alain Tanner and Yves Yersin and the best known actors are Michel Simon, Ursula Andress, Marthe Keller, Bruno Ganz, Vincent Perez, David Bennent.
The most famous SF Swiss artist was H.R.Giger (1940-2014).
"In a more or less distant future, who can say what will remain of the Swiss Confederation? This proud country where diverse people, split into various and varied cantons, mid-town mid-country, multilingual, with impeccable bureaucracy, technology and flourishing tourism, unwavering militia force, the well-established multinationals, neutrality foolproof, subjugating landscapes, full of tourists and expats … Who can say what will be left? In truth, if one day a Intergalactic Confederation was born, the Swiss would surely be consultants…the selection criterion was not the linguistic origin or residency in French-Speaking Switzerland, but thematic: Switzerland as a laboratory for imagination."
"Dimension suisse" (Swiss Dimension), Francophone SF short-stories collection (Rivière blanche, Press, 2010), editors Vincent Gessler and Anthony Vallat, authors : Daniel Alhadeff, Sébastien Cevey, Sébastien Gollut, Tom Haas, Thibaut Kaeser, Lucas Moreno, André Ourednik, Yves Renaud, Denis Roditi, François Rouiller, Laurence Suhner, Robin Tecon, Jean-François Thomas.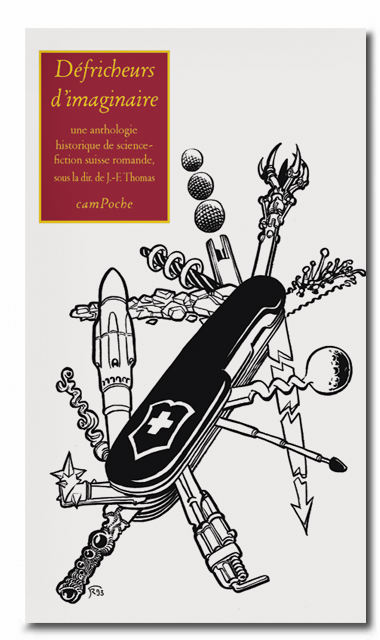 "Les défricheurs de l'imaginaire" (The Reclaimers of the Imaginary),  a historical Swiss Francophone SF short-stories collection (Bernard Campiche Publisher, 2009), editor Jean-François Thomas ; authors : Léon Bopp, Bernard Comment, Marie-Claire Dewarrat, Michel Epuy, Roger Farney, Gabrielle Faure, Jean-Villard Gilles, Rolf Kesselring, Claude Luezior-Dessibourg, Sylvie Neeman Romascano, Georges Panchard, Wildy Petoud, Jacques-Michel Pittier, Odette Renaud-Vernet, Edouard Rod, Noëlle Roger, Albert Roulier, François Rouiller.
"Îles sur le toit du monde : une anthologie romande de science-fiction" (Islands on top of the world: an anthology swiss french-speaking science fiction), 2003 : editor Maison d'Ailleurs (House of Elsewhere : The European Science Fiction Museum, Yverdons-Les-Bains, Switzerland) : authors David Ruzicka, François Rouiller, Vincent Gessler,  André Ourednik, Simon Koch, Frédéric Jaccaud, Jean-François Thomas, Laurence Scheurer, Laurence Rodriguez, Bertrand Graz, Thomas Sandoz.
"L'Empire du Milieu. Petit traité d'histoire de la science-fiction suisse" (The Middle Kingdom. Small History of the Swiss science fiction; Nectar Press, 1982) –  Jean-François Thomas & Franck N. Vickstein, (aka Roger Gaillard)
"Entre Yverdon et Bételgeuse: la science-fiction suisse" (Between Yverdon and Betelgeuse: the Swiss science fiction) – Jean-François Thomas & Roger Gaillard ;
A dedicated study is "La science-fiction en Suisse" (Science Fiction in Switzerland), editor Chantal Delessert … et al ; Sainte-Foy Press, Québec, Canada & Imagine, M. Lemaire ; Montréal, Canada, 1993.
And Jean-François Thomas got in 1985 his graduation paper in literature : "La science-fiction suisse romande 1872-1984 : étude théorique et thématique d'un « genre » littéraire discret" (The Swiss francophone science fiction between 1872-1984: theoretical and thematic study of a discreet literary genre).

"We are a group of Swiss SF authors in the image of our world globalized! There is no Swiss regionalism in our literature. A group of enthusiasts already existed around the La maison d'Ailleirs (House of Elsewhere) in Yverdon, but people published less. Today, we can say that we are witnessing an explosion! Several authors work at the moment and there may have beautiful literary surprises in the coming years. " – Vincent Gessler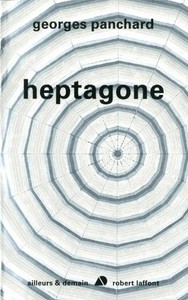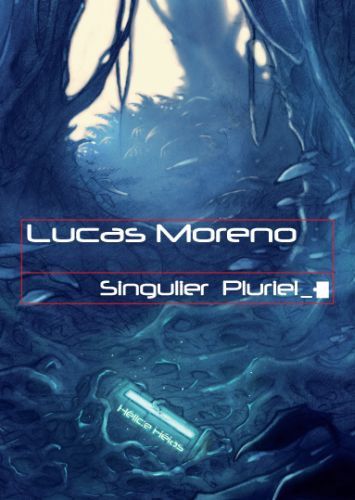 "Swiss SF was noticed in France in 1995, when Editions L'Atalante from Nantes , one of the pillars of its kind in France, published «Bzjeurd», the first stunning novel of Olivier Sillig from Lausanne.
And again in 2005 when the  Georges Panchard from Fribourg published «Forteresse» (Fortress) released by Robert Laffont Press in the prestigious collection Ailleurs& Demain (Elsewhere & Tomorrow). Seven years later, Georges Panchard published "Heptagone". As for L'Atalante Press, it collects the French-Speaking Swiss SF writers : after the publication of «Après-demains» (Tomorrows), a collection of futuristic designs of François Rouiller (2002), L'Atalante Press was delighted to have Vincent Gessler and Laurence Suhner in its catalog. As for Swiss publishers, there is no exception, the new publishing press Hélice Hélas published Lucas Moreno, much of which work relates to the SF."
Demètre Ioakimidis : « Notes sur quelques auteurs suisses de Science-Fiction »
Pierre Versins : "Suisse" monograph (Switzerland) in "Encyclopédie de l'utopie, des voyages extraordinaires et de la science-fiction" (Encyclopedia of the Utopia, Extraordinary Travels and Science Fiction), 1972; L'Âge d'homme  Press (Lausanne, Switzerland). Hugo & Pilgrim Awards.
In 1975, Pierre Versins founded the Maison d'Ailleurs (The House of Elsewhere), a museum of science fiction, utopia and extraordinary journey in Yverdon-les-Bains, (Switzerland).
As for the German-Speaking Swiss SF, we're being able to track :
Hans-Dieter Furrer – "Fandom in der Deutschsprachigen Schweiz " (Fandom in the German-Speaking Switzerland), 1972 ; in SwissSF II Fanzine
Marianne Savioz-Grand – "Science Fiction Literatur für Erwachsene : eine Auswahl der Jahre 1908-1985 : räsonierende Bibliographie" (Science Fiction Literature for Adults: A Comparison of the Years 1908-1985: A Bibliography), 1986
"Die Stadt der Gnomen" (The City of Gnomes) – François Höpflinger (1982)
"Der zweite Auszug der Helvetier" (The Second Excerpt of the Helvetians) – Ulrich Kägi (1983)
"Der letzte Held" (The Last Hero) – Rolf Arnold Müller (1984)
Christian Kracht – "Ich werde hier sein, im Sonnenschein und im Schatten" (I will be here, in sunshine and in shadow); 2008
The 2008 novel "Ich werde hier sein, im Sonnenschein und im Schatten" (I will be here, in sunshine and in shadow) imagines an alternative history of the twentieth century in which Lenin never returned to Russia from Switzerland, but instead founded a Swiss Soviet Republic – a Communist state engaged in the colonisation of Africa and in perpetual war with other totalitarian empires, notably with a federation of British and German fascists. Channeling Philip K. Dick's "The Man in the High Castle" and Ford Coppola's "Apocalypse Now", the plot of the novel traces a black Swiss political commissar's journey to the heart of the empire to arrest the rogue officer Brazhinsky in an Alpine tunnel complex called the Réduit.
"Ich werde hier sein im Sonnenschein und im Schatten" quickly garnered acclaim in the German-speaking literary world. Broadsheet Die Welt called it a "glorious SF story". The Süddeutsche Zeitung praised the writing as not only deeply reminiscent of Ernst Jünger, but also as the "most beautiful German prose currently on offer".
Kracht's 2012 novel "Imperium" follows on from Ich werde hier sein im Sonnenschein und im Schatten both in its very favourable reception by critics and in the way that it presents a reimagining of history that incorporates actual persons and historical reality while playing fast and loose with dates and details. In this sense the novel bears some similarity to Die Vermessung der Welt (Measuring the World) by Daniel Kehlmann, an author with whom Kracht corresponded while composing the distinctive narrative style of Imperium.
The novel follows the travails of the historical figure August Engelhardt in theBismarck Archipelago (now Papua New Guinea) at the beginning of the twentieth century. Engelhardt is an idealistic German emigrant who establishes a plantation on an island and founds a colony of cocoivores – radical vegetarians nourished exclusively on coconuts. Engelhardt's history is interspersed with cameo appearances by other figures from German cultural history, such as Hermann Hesse,Thomas Mann and Franz Kafka. The first of Kracht's novels not to be narrated in the first-person, the omniscient narrator informs us of the protagonist's thoughts and contextualises Engelhardt's life within the broader scope of twentieth-century history. Imperium created a stir in Germany even before its publication.
http://www.swissfantasyshow.ch/2016/
SF Switzerland : http://www.noosfere.org/icarus/livres/auteurpays.asp?numpays=140