The Netflix series is based on the "The Witcher" Polish novel series by Andrzej Sapkowski and is coming to streaming platform Netflix as an eight-episode TV drama in 2019 starring Henry Cavill as Geralt of Rivia.
If you were curious about the show's credibility, Andrzej Sapkowski is working on the Netflix series as a creative consultant.
"I'm thrilled that Netflix will be doing an adaptation of my stories, staying true to the source material and the themes that I have spent over thirty years writing," he said in a press release. "I'm excited about our efforts together, as well as the team assembled to shepherd these characters to life."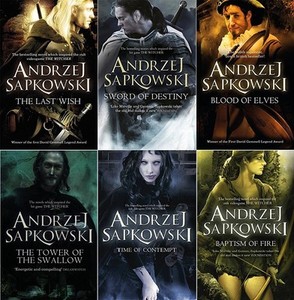 "The Witcher" (Polish: Wiedźmin, Polish pronunciation: [viegimin]), by Polish writer Andrzej Sapkowski, is a fantasy series of short stories and novels about the witcher Geralt of Rivia.
In Sapkowski's books, "witchers" are monster hunters who (with training and body modification) develop supernatural abilities at a young age to battle deadly beasts.
The books have been adapted into a film, a television series, video games, and a graphic novel series. The video games have been very successful, they have sold over 33 million copies worldwide.
The series of novels is known as the "Witcher Saga". The short stories and novels have been translated into numerous languages, including English.
The "Witcher" short stories were first published in Fantastyka, a Polish science fiction and fantasy magazine, beginning in the mid-1980s.
The first short story, "Wiedźmin" ("The Witcher") (1986), was written for a contest held by the magazine and won third place.
The first four stories dealing with the witcher Geralt were originally featured in a 1990 short story collection titled "Wiedźmin" (The Witcher) — now out of print — with "Droga, z której się nie wraca" ("The Road with No Return"), which is set in the world before the Witcher stories and features Geralt's mother to be.
https://www.netflix.com/title/80189685
Disclaimer : All excerpts and images used are for non-commercial illustrative purposes. The images used in this site's posts are found from different sources all over the Internet, are assumed to be in public domain and are displayed under the fair use principle.