The Voyages Extraordinaires (literally Extraordinary Voyages or Extraordinary Journeys) are a sequence of fifty-four novels by the French writer Jules Verne, originally published between 1863 and 1905. According to Verne's editor Pierre-Jules Hetzel, the goal of the Voyages was "to outline all the geographical, geological, physical, and astronomical knowledge amassed by modern science and to recount, in an entertaining and picturesque format … the history of the universe.
The Best Musical of the Season!
Embark on an unforgettable family trip to the stars and under the sea. With a submarine, a balloon or voyaging through the center of the earth, with 15 artists, singers, dancers and comedians…all will make you live an extraordinary musical adventure in the footsteps of the young Jules Verne. You will meet a new kind of puppets, princesses like no other … and even a dinosaur ! On the way to this amazing trip! Takeoff at the Mogador Theatre from 17 October 2015 !
As of October 17th, 2015 at the Théâtre Mogador in Paris you can see the musical "Le Voyage Extraordinaire de Jules Verne" ( The Extraordinary Voyage of Jules Verne),  written and composed by Dominique Mattei and Nicolas Nebot, director Rabah Aliouane, choreographer : Marc Forno.
The musical gatheres 15 artists singers, dancers and comedians and promises underwater adventures,  balloon trips in the footsteps of a young Jules Verne. The show will feature puppets and also a lifesize dinosaur !
The musical's characters are Jules Verne, Paul Verne, Anna Verne, Captain Nemo, Michel Ardan, Phileas Fogg, Michel Strogoff, Snow White, Cinderella and The Sleeping Beauty.
Art direction and script: Nicolas Nebot; Music: Dominique Mattei; Staging and direction of casting: Rabah Aliouane; Choreography: Marc Forno; Set design: Laura Leonard; Costumes: Sami Bedioui; Puppets: Einat Landais.
"We are all, in one way or another, the children of Jules Verne." – Ray Bradbury
The young Jules Verne shares a room with his brother Paul and his sister Anna. Every night, he tells them stories. But one day Jules must leave for the boarding school. If he tells his stories no more, what will it happen with the adventures of his heroes Phileas Fogg, Captain Nemo or Michel Ardan ?
Determined not to disappear, the evil Captain Nemo leeves the Leolam planet on which live the characters of all the tales – and kidnapps Jules so he couldn't write a sequel to his stories. Paul and Anna will then embark in their pursuit, on land, sky and sea to find their brother.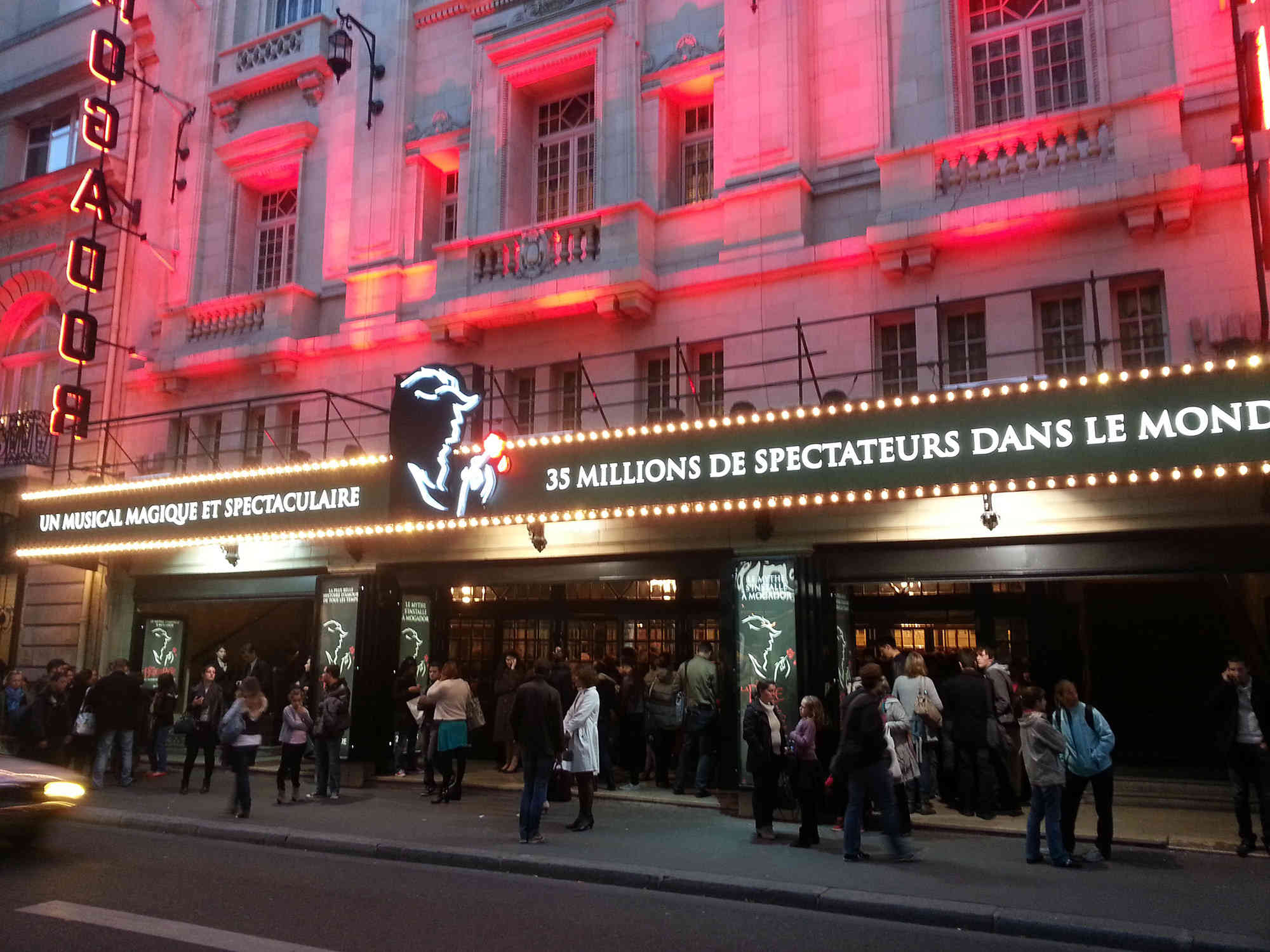 Théâtre Mogador, 25 rue de Mogador 75009 Paris, France
Trailer : https://www.youtube.com/watch?v=3Rlhbpz_1lg
Jules Verne (1828-1905), together with Edgar Allan Poe, J.H.Rosny Aîné, Kurd Lasswitz and H.G.Wells, is one of the founders of science fiction. Jules Verne is generally considered a major literary author in France and  Europe, where he has had a wide influence on the literary avant-garde and on surrealism.
Jules Verne has been the second most-translated author in the world since 1979, and probably was the most-translated during the 1960s and 1970s. He has sometimes been called "The Father of Science Fiction", a title also often given to H. G. Wells.
Jules Verne's science fiction titles are "Voyage au centre de la Terre" (Journey to the Center of the Earth, 1864); "De la Terre à la Lune" (From the Earth to the Moon, 1865); "Vingt mille lieues sous les mers" (Twenty Thousand Leagues Under the Sea, 1869) ; "Autour de la Lune", 1870 (Around the Moon) ; "Hector Servadac", 1877 (Off on a Comet); "Robur-le-Conquérant", 1886 (Robur the Conqueror).
In the 1960s and 1970s, thanks in large part to a sustained wave of serious literary study from well-known French scholars and writers, Verne's reputation skyrocketed in France. Roland Barthes' seminal essay "Nautilus et le Bateau Ivre" ("The Nautilus and the Drunken Boat") was influential in its exegesis of the Voyages Extraordinares as a purely literary text, while book-length studies by such figures as Marcel Moré and Jean Chesneaux considered Verne from a multitude of thematic vantage points.
French literary journals devoted entire issues to Verne and his work, with essays by such imposing literary figures as Michel Butor, Georges Borgeaud, Marcel Brion, Pierre Versins, Michel Foucault, René Barjavel, Marcel Lecomte, Francis Lacassin, and Michel Serres; meanwhile, Verne's entire published opus returned to print, with unabridged and illustrated editions of his works printed by Livre de Poche and Éditions Rencontre.
The wave reached its climax in Verne's sesquicentennial year 1978, when he was made the subject of an academic colloquium at the Centre culturel international de Cerisy-la-Salle, and "Journey to the Center of the Earth" was accepted for the French university system's Agrégation reading list. Since these events, Verne has been consistently recognized in Europe as a legitimate member of the French literary canon, with academic studies and new publications steadily continuing.
Arthur Rimbaud was inspired to write his well-known poem "Le Bateau ivre" after reading "Twenty Thousand Leagues Under the Sea", which he extensively alludes to within the poem; "The Adventures of Captain Hatteras" was likely an additional source of inspiration.
In the 1920s, many members of the Surrealist movement named Verne as one of their greatest and most imaginative precursors. Eugène Ionesco said that all of his works, whether directly or indirectly, were written in celebration of Captain Hatteras's conquest of the North Pole.
Another surrealist, the Greek poet Andreas Embirikos, paid tribute to Verne in his nine-volume magnum opus "The Great Eastern" (Megas Anatolikos, 1990), which borrows from Verne's "A Floating City" and includes Verne himself among its characters.
Raymond Roussel was profoundly influenced both thematically and stylistically by Verne, whom he called a "man of incommensurate genius" and an "incomparable master", adding that in many passages Verne "raised himself to the highest peaks that can be attained by human language."
Jean Cocteau cited both "Around the World in Eighty Day"s and Verne's own 1874 dramatization of it as major childhood influences, calling the novel a "masterpiece" and adding "Play and book alike not only thrilled our young imagination but, better than atlases and maps, whetted our appetite for adventure in far lands. … Never for me will any real ocean have the glamour of that sheet of green canvas, heaved on the backs of the Châtelet stage-hands crawling like caterpillars beneath it, while Phileas and Passepartout from the dismantled hull watch the lights of Liverpool twinkling in the distance."
Antoine de Saint-Exupéry, who discovered the Voyages Extraordinaires as a child and became one of Verne's enthusiastic adult proponents in the first half of the 20th century, used Verne's "The Black Indies" as inspiration for his own novel "Night Flight".
The French experimental writer Georges Perec ardently read and reread Verne's works from adolescence onward, and allusions to Verne appear in many of his novels, including "Life A User's Manual", "A Gallery Portrait", and "W, or the Memory of Childhood". Perec once commented: "When Jules Verne lists all the names of fish over four pages in Twenty Thousand Leagues under the Seas, I feel as though I am reading a poem."
The Swiss traveler and writer Nicolas Bouvier cited Verne as his initiation into geography, and named Mathias Sandorf and Phileas Fogg among his childhood heroes. The British traveler and filmmaker Graham Hughes has similarly identified Fogg as one of his inspirations.
According to scholarly hypothesis, J.R.R. Tolkien was inspired by Verne during the writing of his Legendarium narratives. The Tolkien scholar Mark T. Hooker and the philosopher Roderick Long have both written that the parallels between The Hobbit and Journey to the Center of the Earth are likely too extensive to have arisen simply by chance (both include a hidden runic message and a celestial alignment directing the adventurers to their goal, among other parallels), and the Verne scholar William Butcher has noted similar narrative parallels between The Lord of the Rings and The Adventures of Captain Hatteras.
In an introduction to a biography of Verne, Arthur C. Clarke wrote: "Jules Verne had already been dead for a dozen years when I was born. Yet I feel strongly connected to him, and his works of science fiction had a major influence on my own career. He is among the top five people I wish I could have met in person."
The English novelist Margaret Drabble was deeply influenced by "Twenty Thousand Leagues Under the Sea" as a child and remains a fervent admirer of Verne. She comments: "I used to be somewhat ashamed of my love of Verne, but have recently discovered that he is the darling of the French avant-garde, who take him far more seriously than we Anglo-Saxons do. So I'm in good company."
Ray Bradbury counted Verne as a main influence on his own fiction as well as on literature and science the world over, saying "We are all, in one way or another, the children of Jules Verne."
Other literary figures known to have been influenced by Verne include Paul Claudel, François Mauriac, Blaise Cendrars, Jean-Paul Sartre, Marcel Aymé, René Barjavel, Claude Roy, Michel Butor, and Roland Barthes.Verne is also often cited as a major influence of the science fiction genre steampunk, though Verne's works themselves are not of the genre.