European SF anthologies are rare as pink diamonds, and it seems that American editors have been more interested in collecting and presenting European SF stories than European editors are (for instance, The SFWA European Hall of Fame: Sixteen Contemporary Masterpieces of Science Fiction from the Continent (2008), edited by James Morrow and Kathryn Morrow or the SF anthologies of James Gunn – The Road to Science Fiction, 1979-1998 – , Donald Wolfheim – The Best from the Rest of the World: European Science Fiction, 1976, DAW Books –  dedicated to the European SF).
It's as though someone is a European only from a distance—from America, for example!
Who inhabits Europe ? Europeans?
Well, yes and no.
Europe is inhabited by Germans, Frenchmen, Britons (from time to time, depending on the continent's weather), Italians, Spaniards, Portuguese, Swedes, Poles, Dutchmen, Russians, Ukrainians, Romanians and so on.
We're Europeans only when we're visiting other continents, but not at home.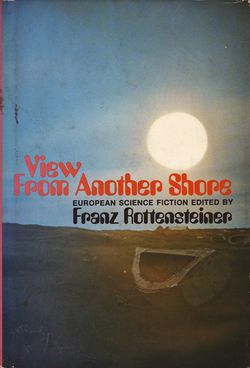 There are exceptions to the rule that European editors are uninterested in European SF, including the Croatian academic and critic Darko Suvin (Other Worlds, Other Seas: Science-Fiction Stories from European Socialist Countries, 1970), the Austrian editor Franz Rottensteiner (View from Another Shore, 1973), French editor Olivier Raynaud (under the pen name of Richard D. Nolane, working with American publisher DAW Books), Terra SF : The Year's Best European SF (1981), and Terra Science Fiction II: The Year's Best European SF (1983), and Spanish editor Domingo Santos with the La Ciencia ficcion europea (The European Science Fiction, 1982).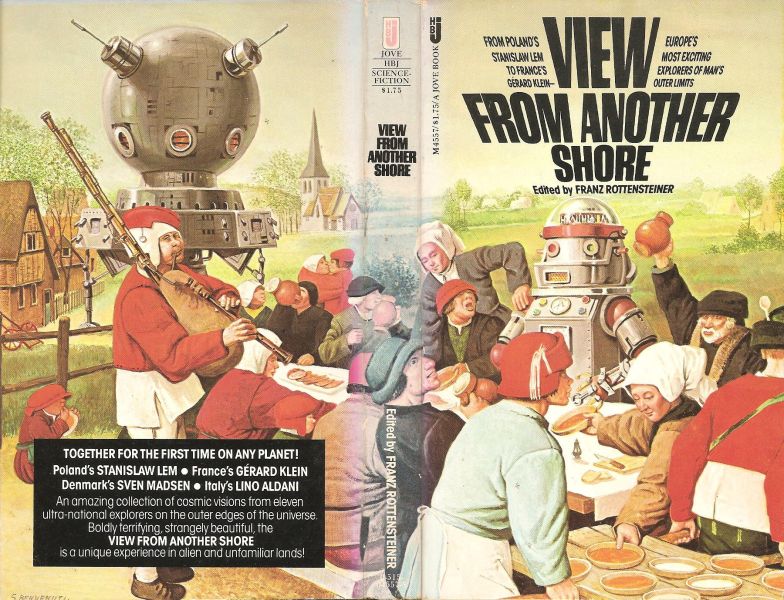 But the general trend remains.
What's the reason for this lack of interest?
Why do we only have a few European SF anthologies compiled by European editors?
Why should a culturally diverse continent like Europe being incapable of finding a common way to publish its own SF on regular basis?
Or, even better, collecting that fiction in English, so that more readers can read it?
Perhaps it's explained by the fact that Europe has a political union and a common market, but not a cultural common market or a publishing common market, and because it's divided linguistically and culturally.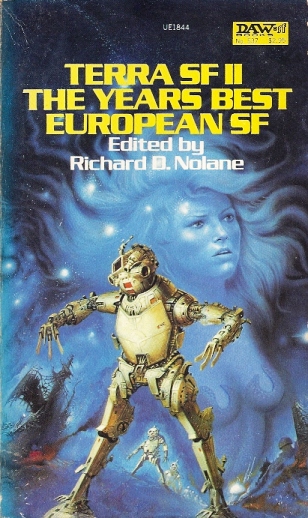 Why do we need to start presenting European SF in English?
Let's face it, English is an European language spoken by a majority of Europeans (an European lingua franca) and by most of the World (the global lingua franca)—there is a huge market for English-language literature and for works in English translation!
Being pragmatic, we have to use the idiom that's understood by the European majority if we want to offer access to as many readers as possible.
From Europe to the World! We believe that this is exactly the right moment to contribute to a common European SF.
This is the time! In order to start developing this project, ISF (International Speculative Fiction) and Europa SF, two ambitious projects, decided to step in and launched a new European SF anthology comprising authors coming from all over Europe—England, France, Italy, Netherlands, Portugal, Finland, Romania, and Ukraine—collecting a truly representative sampling of European speculative fiction.
Would we like to have more stories and more countries represented? Of course—and we will too, you'll see!
Europa SF (www.scifiportal.eu) was conceived as an English-language portal of news and information from and for European fandom—a site that provides a comprehensive, permanent, real-time mirror of European SF&F products, events, and activities. Together we want to offer to European writers the chance to be read by the entire world! So wait no more to get to know some of the most exciting authors we have—from newcomers to award winners! We promise you this: your time will not be wasted!
"International Speculative Fiction" is a Magazine that aims to publish stories by non-Anglophone writers, primarily in English translation. It will also publish articles and interviews focused on SF from non-Anglophone countries.
ANTHOLOGY OF EUROPEAN SPECULATIVE FICTION, edited by Cristian Tamas and Roberto Mendes, features fiction by:
Aliette de Bodard (France), Ian R. MacLeod (England), Hannu Rajaniemi (Finland), Jetse de Vries (Netherlands), Regina Catarino (Portugal), Liviu Radu (Romania), Carmelo Rafala (Italy), Cristian Mihail Teodorescu (Romania), Diana Pinguicha (Portugal),  Vladimir Arenev (Ukraine) Philip Harris (England), Dănuţ Ungureanu (Romania).
Artwork by George Munteanu, Cover Design by Saul Bottcher, Copy Editing and ebook formatting by Elizabeth K. Campbell, Slush Reading by Raquel Margato and Alexandra Rolo.
©Cristian Tamas and Roberto Mendes
Cristian Tamaș is a romanian editor, essayist, translator and SF fan active within the speculative fiction domain since the beginning of the 80s. 
He is a founding member of the Romanian Science Fiction&Fantasy Society (SRSFF = Societatea Română de Science Fiction&Fantasy, www.srsff.ro/) since January 2009, 

 

he's a member of the jury of the SRSFF Ion Hobana Awards (http://www.srsff.ro/premiile-srsff/),

 
he coordinates ProspectArt (http://www.srsff.ro/cenaclul-prospectart/), the SRSFF's SF club relaunched in April 2009 in Bucharest (Romania), the yearly Ion Hobana Colloquium (http://www.srsff.ro/colocviile-ion-hobana/), Fantastica, the online SFF magazine of SRSFF ( 
http://fantastica.ro/
) and EUROPA SF, the pan-european portal dedicated to the support and promotion of the European speculative fiction (www.scifiportal.eu).
Fantastica
( 
http://fantastica.ro/
), a non-profit online magazine is dedicated to the promotion and support for the romanian SFF and the European SFF (special dossiers dedicated to France, Italy, Spain, Germany, Netherlands, Czech Republic, Greece, Croatia, Bulgaria), the international SFF : Brazil, India and in the future Poland, Portugal, Ireland, Finland, etc..
He is a member of the International Speculative Fiction site and magazine.
He is co-editor with Roberto Mendes of "The Anthology of the European SF", co-editor of "Bella Proxima", a trilingual croatian SF anthology (english-croatian-romanian), together with Antuza Genescu and Aleksandar Žiljak (Eagle Publishing House, Bucharest, 2012), editor of the SRSFF yearly short stories collections "Alte Tarmuri" (Other Shores), "Pangaia" and "Bing Bing Larissa".
He had interviewed the SF writers David Brin, Cat Rambo, Jason Sanford, Nina Allan, Gérard Klein, Ugo Bellagamba (french SF author awarded with Grand Prix de l'Imaginaire & Prix Rosny ), Francesco Verso (italian SF writer and editor), 
the dutch writers and editors Jan J.B. Kuipers, Mike Jansen, Floris Kleijne and Roelof Goudriaan, 
the peruvian-finnish writer Tanja Tynjala, the czech writers Julie Nováková and Lucie Lukačovičová,

the greek SF writers 
Michalis Manolios, Panagiotis Koustas, 
Kostas Voulazeris and 
Kostas Paradias
,  
Alexandre Babeanu
 (Prix Solaris awarded canadian SF author), 
J.S. Bangs
 (american writer), 
Heather Anastasiu
 (american fantasy writer), 
the scholars Prof.Dr.George Slusser (University of California in Riverside), Prof. Rachel Haywood Ferreira 
(University of Iowa), Prof. M.Elizabeth Ginway (University of Florida), Prof. Arielle Saiber (Bowdoin College, USA; research focus : italian science fiction), Prof.Sonja Fritzsche (
Illinois Wesleyan University, Bloomington, Illinois, USA; 
research focus : german science fiction
)

, 
Gloria McMillan, research associate (Ph.D. in English at the University of Arizona, USA), 
Lars Schmeink, Co-founder and President of the Gesellschaft für Fantastikforschung (Association for Research in the Fantastic, Hamburg, Germany), 
Prof. Dr. 
Domna Pastourmatzi 
(Aristotle University, Thessaloniki, Greece), 
Mariano Martín Rodríguez (SF scholar, Spain), Prof.Maria-Ana Tupan (University of Bucharest, Romania),
the austrian writer Nina Horvath, the italian writer Debora Montanari, the croatian writer Mihaela Marija Perković, the hungarian writer Judit Lörinczy, the b
ulgarian SF writer and astronomer Valentin Ivanov, 
the
European Science Fiction Society's Board
;
the romanian SF&F writers 
Marian Truță, Cristian Mihail Teodorescu, Dănuț Ungureanu, Liviu Radu, Sebastian A.Corn, Silviu Genescu, George Lazăr, Dan Doboș, Antuza Genescu, Cosmin Perța, Feri Balin, Diana Alzner, Aurel Cărășel
, the romanian editor 
Mugur Cornilă
, the romanian SF translators 
Mihai Dan Pavelescu
, 
Laura Bocancios
, 
Adina Barvinschi
, the romanian film critic 
Andrei Crețulescu
.
He wrote articles and essays on the British science fiction ("Rule Britannia", serialized in Nautilus, romanian online SF magazine), French 
science fiction, German science fiction, Spanish 
science fiction, Italian 
science fiction, Czech science fiction, 
Latin-American science fiction (focus on Brazilian SFF), 
Greek 
science fiction, Croatian 
science fiction, Bulgarian 
science fiction, and the speculative fiction from 
India.
Roberto Mendes (Portugal) is a lawyer with a tremendous passion for Speculative Fiction.
He created a Portuguese e-zine called "Correio do Fantástico" in 2008 and edited two Portuguese fanzines/magazines called "Dagon" and "Conto Fantástico". He also edited "Vollüspa", a recent anthology of Portuguese Speculative Fiction featuring 15 authors.
Roberto is the Founder and Editor in Chief of a worldwide known Magazine called "International Speculative Fiction" and a writer/contributor in the Portuguese Academic Magazine "Finis Mundi", writing Financial Markets articles.
Roberto co-edited together with Cristian Tamas, "The Anthology of the European SF". 
Books' covers images ©Courtesy of the printing houses, including La Tercera Fundacion.