Netflix has picked up a 10-episode series, "Altered Carbon," based on the 2002 book of the same name (Philip K. Dick Award Best Novel Winner 2003) by the British SF Writer Richard K. Morgan : a television drama series created by Laeta Kalogridis that is slated to debut on Netflix.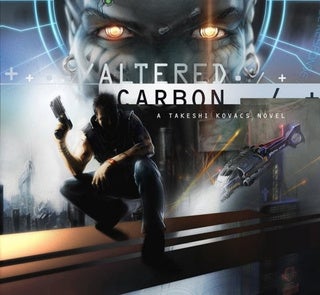 "Altered Carbon" is a 2002 hardboiled cyberpunk science fiction novel by Richard K. Morgan.
"Altered Carbon" was the first of a three-volume sequence featuring the mercenary/detective Takeshi Kovacs, subsequent books being "Broken Angels" (2003) and "Woken Furies" (2005). The setting of the Kovacs sequence is a United Nations-supervised group of planets whose economy is dominated by the availability of a costly form of potential Immortality: a personality can be recorded and "resleeved" in a new body.
Richard Morgan is GoH at the 2016 EUROCON in Barcelona
Set some five hundred years in the future in a universe in which the United Nations Protectorate oversees a number of extrasolar planets settled by human beings, it features Takeshi Kovacs as a former U.N. elite soldier and a native of Harlan's World, a planet settled by a Japanese keiretsu with Eastern European labour.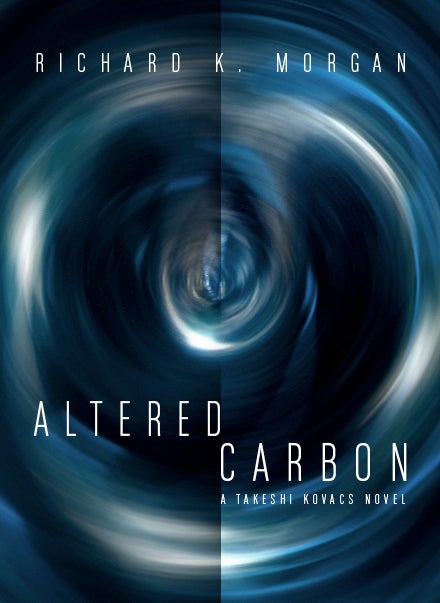 No launch date for "Altered Carbon" has been set.
The SF series hails from Skydance Television with Laeta Kalogridis writing, exec producing and serving as showrunner. Kalogridis co-wrote the screenplays for Leonardo DiCaprio's "Shutter Island," plus "Terminator Genisys" and she's attached to the sequel for the latter.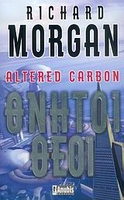 "Altered Carbon" was translated into french, polish, italian, german, spanish, hungarian, croatian, finnish, romanian, portuguese, serbian,  greek and chinese :
2002, Great Britain, Victor Gollancz Ltd, ISBN 0-575-07321-7, Pub date 28 February 2002, Hardback
2003, France, "Carbone modifié", ISBN 978-2-914370-42-4, Pub date 2003, Paperback
2003, Poland, "Modyfikowany węgiel", ISA, ISBN 83-88916-91-2, Pub date 2003, Paperback
2004, United States of America, Del Rey, ISBN 0-345-45768-4, Pub date 4 March 2003, Paperback
2004, Italy, "Bay City", Editrice Nord, ISBN 88-429-1287-5, Pub date 2004, Hardback
2004, Germany, "Das Unsterblichkeitsprogramm", Heyne, ISBN 978-3-453-87951-5, Pub date 1 September 2004, Paperback
2005, Spain, Minotauro, "Carbono alterado", ISBN 978-84-480-7504-0, Hardback
2006, Hungary, "Valós halál", Agave Könyvek, ISBN 963-7118-38-1, Pub date 2006, Paperback
2006, Croatia, "Digitalni Ugljik", Algoritam, ISBN 953-220-422-9, Pub date 2006, Hardback
2007, Finland, "Muuntohiili", Like, ISBN 952-471-973-8, Pub date 2007, Paperback
2008, Romania, "Carbon modificat", Tritonic, ISBN 978-973-733-206-6, Pub date 2008, Paperback
2008, Portugal, "Carbono alterado", "Saída de Emergência, ISBN 978-989-637-085-5, Paperback
2011, China, Science Fiction World, ISBN 978-7-5364-7112-2, August,2011, Paperback
2013, Serbia, Laguna, ISBN 978-86-521-1197-8, Pub date 30 May 2013, Paperback
2008, United States of America, Del Rey, ISBN 978-0-345-45770-7, e-book
http://variety.com/2016/tv/news/netflix-altered-carbon-series-order-sci-fi-1201683629/
"Netflix Orders Sci-Fi Drama Based on 'Altered Carbon'". Hollywood Reporter. January 20, 2016. Retrieved January 20, 2016.