We can imagine that (future) visitors would want to know more about Imagicon. About what exactly Imagicon is, who's behind it, where it'll take place (not unimportant!), what's new and so on. Well, this is the place to find out!  What's the latest news about Imagicon? Find out here.
So, what's Imagicon about? It's not an expo. It's not a fair. Imagicon is a convention. But what do we mean when we say it's a 'convention'? What's the difference?
So, what's Imagicon about ?
It's not an expo. It's not a fair. Imagicon is a convention. But what do we mean when we say it's a 'convention'? What's the difference?
The first edition of Imagicon took place on March 29, 2014 and was a great success! View photos, videos and even a few articles and reviews about Imagicon to get a good impression of our first edition.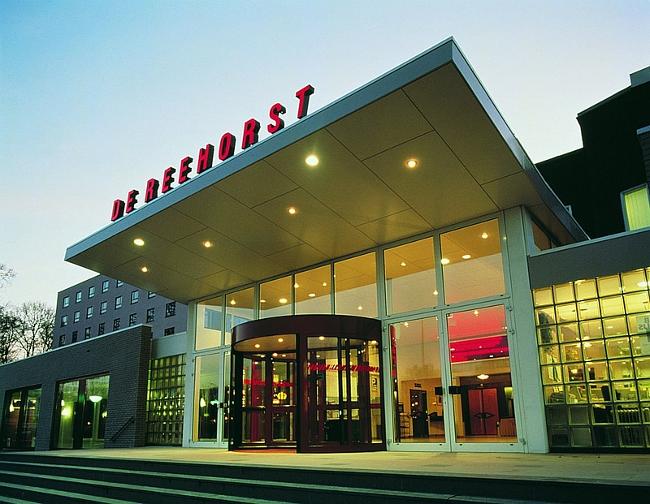 Of course Imagicon takes places somewhere. This year the con will be held, again, at Congress Center De ReeHorst, in Ede, Netherlands. On this page you'll find directions and – as soon as more is known – information on how to book a hotel room.
Of course we welcome the press at Imagicon. We make a distinction between so-called fan-press and professional press. Want to know more? Read this information.
Board Who's behind Imagicon? What moves us, every one of us a fan at heart, to want to organize a convention? Meet the driving forces behind the convention.
Imagicon: what makes us Different ?
Imagicon is not a fair. Imagicon is not an expo. Imagicon isn't an even with Big Stars.
Imagicon is a convention. Imagicon is a meeting place for all fans of SF, Fantasy, Horror and Comics.
At Imagicon there are a lot of activities that cater to the tastes of each fan. Enjoy our fanfilm program, listen to stories, place a bid in our charity auction, participate in the Galaxy Masquerade (our cosplay contest) or our Fan Made Music Video Contest, get to know your favorite authors and illustrators, try out board and console games, buy your favorite items and meet a lot of other fans! The program at Imagicon, put together by fans for fans, is by far the most important part of our convention.
Fans are at the heart of our event and we offer a varied program in which everyone will be able to find something to his or her liking.In our program we offer different program lines and invite our visitors to think about and discuss various topics. Of course it's also possible to simply take a seat in the audience and enjoy everything there is to see and hear, but if you want, you can keep yourself busy the entire day with everything and anything. If you want more than 'just' an active day, you can help by suggesting panel topics, organizing a workshop, submit a fan film for the film program, participate in one our contests, take a seat in one of our panels as a panelist, or give a lecture about your favorite character, show, movie, book, comic or something else.
And when you're curious as to how a convention is put together behind the scene you can sign up as a volunteer.Nothing's mandatory, anything goes!Additionally Imagicon also has a very beautiful and spacious exhibition floor where associations, fans and commercial shops will be selling their wares. Do you create your own fan-made stuff or are you a member of an association that fits the target group of Imagicon? Then you're more than welcome to join the exhibition floor by hiring a stand. What's the difference with all the other events that you might know or have heard about? Trade shows, expos and fairs are events where buying (fan-)articles is the main activity.
Such events often consist of a large exhibition floor with some activities, like having your picture taking with a celebrity or getting someone's autograph. Sometimes the celebrities hold a lecture or a Q&A-session. At the fairs you can buy stuff, hang out and listen to music, lectures or even follow a workshop. Sociability is top priority. At fairs, expos and fairs the focus is on selling stuff. That's not our convention's main focus, though.Imagicon is a nonprofit organization that relies on volunteers to help our during the convention. In turn we raise funds for the Reading and Writing Foundation by organizing various activites during Imagicon. Fans can contribute their own articles to be sold at the charity auction. Every single penny that's raised in this way will go to the Reading and Writing Foundation.Above all Imagicon is a day organized by fans, for fans, of which we hope everyone will say, at the end of the day: "This was great! Let's do it again next year!"
 Guests of Honor:
Alastair Reynolds
Alastair Reynolds,born in Barry (Wales), is a British science fiction writer. Reynolds lived in Cornwall during his youth, moved back to Wales and studied physics and astronomy at the University of Newcastle upon Tyne. He obtained his doctorate in astronomy in St. Andrews, Scotland. Until 2004 he worked for the European Space Agency. He moved to the Netherlands in 1991 and lived in Noordwijk with his wife Josette until 2008, when he moved back to Wales again. He currently lives with his family near Cardiff, and has dedicated his time fully to writing books since March 2004. Reynolds is known for his 'hard' science fiction and space opera. In his books, which invariably take place in the distant future, advanced technology plays a very important role. Aliens, sometimes almost-human, sometimes incomprehensibly non-human, are also a crucial part of his plots. His novel Chasm City, the sequel to Revelation Space, won the 2001 British BSFA Award.
Tais Teng
Tais Teng is the pseudonym of Thijs van Ebbenhorst Tengbergen, a Dutch writer/artist, who  many people probably know because of his membership of the Horror Society. In the seventies Tais was asked to go all-out on designing covers of SF books. In his own words,  he painted so many exploding spaceships that at one point he couldn't see another fireball.  Because of his work he was becoming more and more well-known and he became involved in  the King Kong Award (now known as the Paul Harland Contest) and Holland SF. In the eighties Tais began writing books for young people. "When the cacti whistle  softly", a fairy tale SF story, came out in 1982. Ever since that first book Tais has written  over one hundred books for children and adults.
Romano Molenaar
Romano is a Dutch comic artist who, besides working for Khaeon Games, is best known for his work as a comic artist for the comic series Storm. In 2006 he became the successor of Don Lawrence and worked with Martin Lodewijk, the scriptwriter, on The Ring of Fire. After this publication Jorg de Vos joined the team as an illustrator to ensure the quality of the coloring and this resulted in The Navel of the Double God. Five albums followed and the first part of a spinoff series with a character named Roodhaar (Redhair/Carrots/Ember) is set to appear in 2014. Romano worked on this comic with Roy Thomas (Conan the Barbarian, X-Men, Avengers), who wrote the script.Romano's work in the United States includes working for Marvel Comics, Chaos and Image Comics. He worked mainly as a freelancer on series such as X-Men Unlimited, Lady Death, Purgatory, Witchblade and Tomb Raider. As a conceptual artist, he worked with on The Chronicles of Spellborn. He also drew the cover, and the accompanying comic book series, for the album The Unforgiving by Within Temptation. He also provided the artwork for Within Temptation's new album Hydra in 2014.
Gert van Dijk Gert is a physician and scientist by profession. He's combined his former hobbies SF, painting,  biology, writing and programming into one long-term project: life on the hypothetical planet  Furaha. He hopes to eventually bring his imaginary world to a book, but until then he's happy to  talk about his ideas. Part of his project can be seen on planetfuraha.org or on his blog planetfuraha.blogspot.nl
Antonie Holslag
Anthonie works at the University of Amsterdam and is a Cum Laude graduate in Cultural  Anthropology. He has done research on collective violence, which resulted in the book "In the  rock of Ararat". In 2012 he released his first collection of (dark) fiction, titled "Black walls". In 2013, published by Publisher Silver Rail his novella "The Christmas Tree" which he describes as  'a psychedelic, exciting but also literary Christmas story with fantastic elements'. In 2014, two  collected works published: "A blood drenched dawn" and "In the cold morning light".
Edwin Mathlener
Ever since his childhood Edwin Mathlener has loved science fiction. Thus he became seriously  interested in astronomy and has studied the subject in the 80s. After graduating, he didn't  become a professional astronomer, but has always been active in popularizing astronomy  alongside his other work as a speaker, writer, editor and website creator. The past four years  he's been this full time as an employee of the Foundation 'The Dome' in Utrecht. Proptimum Proptimum is a shop started by cosplayers for cosplayers. Their goal is to make building  materials such as thermoplastics, foams and casting resins affordable for everyone. They also  want to organize workshops at events to exchange knowledge and experience and to offer  everyone the opportunity to work with these materials.
 Marlies Scholte-Hoeksema Marlies (30 years) has been a huge Trekkie for over half her life. Today she watches and reads a  lot more than just Star Trek (including Doctor Who), but old loves never die! She graduated from  the University of Utrecht and is a historian specializing in the history of (cultivated) imaging. For  her study, she's written a paper on the Utopian vision of Star Trek. She'll use material from this  text for its presentation.  The Steampunk Objective The Steampunk Objective is composed of people who like nothing better than  to enterain visitors on events and festivals. They're dressed in  Victorian/Steampunk/Adventurer style and even build props, vehicles and  backdrops to contribute to the atmosphere of any event they're invited to. Their main motto is  "Whatever you do, have fun doing it!"
http://english.imagicon.nl/index.htm
http://english.imagicon.nl/panels.htm
https://www.facebook.com/ImagiconNL