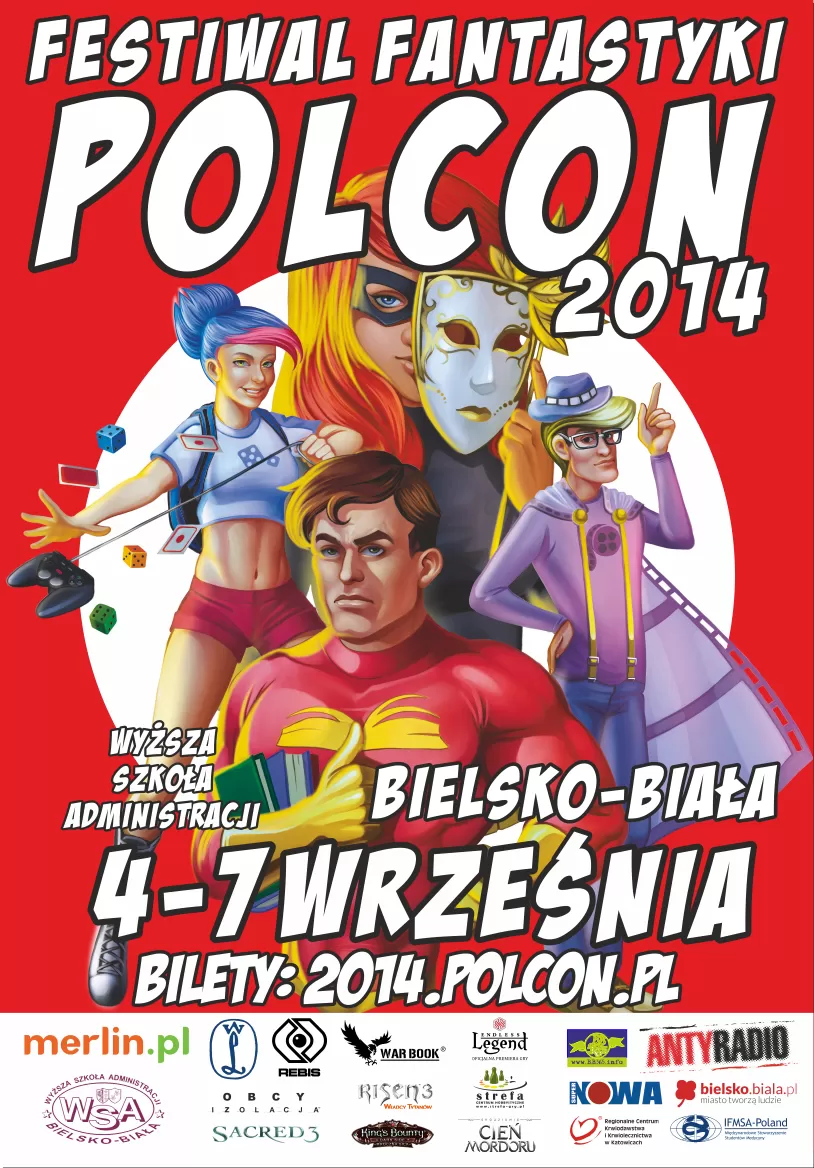 Polcon  is the oldest Polish science fiction Convention, organized each year in a different place by a different local science fiction club. The Janusz A. Zajdel Awards are granted during the convention. The first Polcon was held in 1985 in Błażejewko near Poznań.
Every year Polcon gathers many guests, each representing a different way of harnessing the power of Science Fiction&Fantasy – literature, comic books, movies, video games and many others.
During the four days of the event are held meetings and panels with SF&F authors, publishers and critics of science fiction, film screenings, role-playing games, contests and games, promotion of books and games, exhibitions of graphics and paintings and many other attractions.
This year Polcon is taking place in Bielsko-Biała (German: Bielitz-Biala; Czech: Bílsko-Bělá), a city in south-western Poland with 175,513 inhabitants.
Bielsko-Biała is composed of two former cities on opposite banks of the Biała River, Silesian Bielsko and Lesser Poland's Biała, amalgamated in 1951.
Both town names refer to the Biała River, stemming from biel or biała, which means "white" in Polish.
Bielsko-Biała is situated on the border of historic Upper Silesia and Lesser Poland at the eastern rim of the smaller Cieszyn Silesia region, about 60 km (37 mi) south of Katowice, 30 km from the Czech border, and 50 km from the Slovakia's border. Administrated within Silesian Voivodeship since 1999, the city was previously capital of Bielsko-Biała Voivodeship (1975–1998).
Bielsko-Biała's School of Administration (Polcon 2014)
The 2014 Polcon organizer is the Foundation for the Support of Social and Cultural Initiatives (Fundacja Wspierania Inicjatyw Kulturalnych i Społecznych).
Bielsko-Biała's School of Administration provides for the needs of Polcon  three  buildings, located right next to each other in a picturesque part of the city of Bielsko Old Town, and near by you will find Castle, the theatre and many restaurants and clubs. That's the heart of the city, also the center of nightlife !
Historically, Polcons had been organized by Silesian Fantastika Club (Śląski Klub Fantastyki : 1986, 1988, 1997, 2001, 2010), the Warsaw branch of the Polish Association of Fantastika Fans (Warszawski Oddział Polskiego Stowarzyszenia Miłośników Fantastyki : 1987), Gdansk Club of Fantastika (Gdański Klub Fantastyki : 1989, 1995 and 2000), Lidzbark Warmiński Club of Fantastika (Warmiński Klub Miłośników Fantastyki : 1990, 1993), Krakow Club of Fantastika Fans (Krakowski Klub Miłośników Fantastyki : 1991), Podlaskie Society of Fantastika's Friends (Podlaskie Towarzystwo Miłośników Fantastyki : 1992, 1998), Sirius, the Lublin Club of Fantastika (Lubelski Klub Fantastyki Syriusz : 1994), Rassun Confederation of Fantastika (Konfederacja Fantastyki Rassun : 1999, 2007), Galitia Guild of Fanstastika Fans (Galicyjska Gildia Fanów Fantastyki 2002), Elbląg Fantastika Club of Fremen (Elbląski Klub Fantastyki Fremen : 2003), Ad Astra Zielona Club Fantastika  (Zielonogórski Klub Fantastyki Ad Astra : 2004, 2008), Second Era Poznan Club of Fantastika (Klub Fantastyki Druga Era z Poznania : 2005), Sirius Citadel Club of Lublin (Cytadela Syriusza z Lublina : 2006), and Łódź Association ERpegów and Fantastika  (Stowarzyszenie Miłośników ERpegów i Fantastyki z Łodzi : 2009).
From left : Piotr W. Cholewa, Maciej Parowski, Wydawnictwo Literackie (The Literary Publishing Press)
Polcon 2014 GoHs are Piotr W. Cholewa (polish translator of SF&F, promoter and organizer, former secretary of the European Science Fiction Society), Maciej Parowski (polish SF publicist, essayist, writer,  translator, critic, chief editor of Nowa Fantastyka (1992–2003), chief editor of Czas Fantastyki, editor of several science-fiction series and anthologies), Wydawnictwo Literackie (The Literary Publishing Press; Kraków-based Polish publishing house founded in 1953, has been focused on publishing modern prose and poetry by renown and emerging authors, both Polish and foreign. In recent years it is primarily associated with editions of Polish language classics of the 20th century, world's best actual writers and of modern science fiction novels).
The Guests are the famous SF british writer Paul McAuley, Maksym Kidruk, Andrzej Pilipiuk, Marek S. Huberath, Jacek Inglot, Anna Kańtoch, Bolesław Kasza, Rafał Kosik,   Michał Mochocki, Izabela Ozga, Ilona "Iloon" Arends, Katarzyna "Kiciputek" Babis, Kamil Bartczak, Krzysztof "Korsarz" Biliński, Mateusz Budziakowski, Michał Cetnarowski, Michał Cholewa, Katarzyna Czajka, Konrad Czernik, Jakub Ćwiek, Grzegorz Gajek, Piotr Gociek, Karolina "Kayomi" Kurek, Aleksandra Mochocka, Romuald Pawlak, Bogusław Polch, Michał Stonawski, Kobieta Ślimak, Krzysztof Piskorski, Agnieszka Przybyła-Dumin, Marcin Przybyłek, Emil Strzeszewski, Wit Szostak, Wojciech Szyda, Aleksandra "Shappi" Tora, Mikołaj Wicher, Bartek Zioło.
Every year during Polcon are granted the Janusz A. Zajdel Awards,  by the vote of the convention participants.
 Janusz Andrzej Zajdel (born 15th of August 1938 in Warsaw , died 19th of July 1985 in Warsaw ) was a Polish writer, author of science fiction, a precursor of mainstream sociological fiction in Poland.
From 1986 the Polish SF Fandom Award was named in his honor.
This year the nominees to the Zajdel Awards are :
Novels
"Before Moon" vol.3 (Przedksiężycowi) – Anna Kańtoch
"Happy Land"(Szczęśliwa ziemia) – Łukasz Orbitowski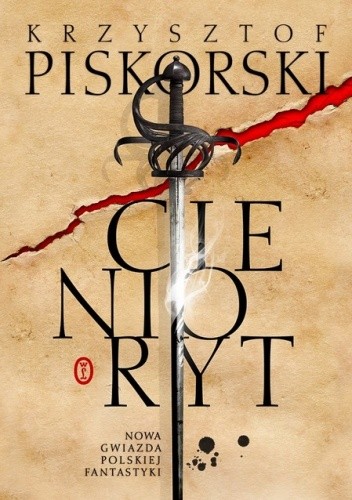 "Cienioryt" – Krzysztof Piskorski "Season of Storms" (Sezon burz) – Andrzej Sapkowski
"Holocaust F" – Cezary Zbierzchowski
Short Stories
"Cyberpunk" – Michael Cetnarowski
"Discontinuous Man" (Człowiek nieciągły) – Anna Kańtoch
"Window of  Myszogrod" (Okno Myszogrodu) – Anna Kańtoch
"Grewolucja" – Paul Majka
"Dronboustroje" – Piotr Mirski
"Edmund on the Other Side of the Mirror" ( Edmund po drugiej stronie lustra) – Marcin Podlewski
"Popiołun" – Wojciech Szyda
Polcon 2014 on Facebook : https://www.facebook.com/events/817291778290669/