Antwerp's one and only convention for SF, Fantasy and Horror-related computer & board games, costumes, toys, collectables, comics, literature, movies and other media. Coming to town again for its 4th edition ! Join  for a day of showcases, interviews, lectures, autographs, demo-sessions, tournaments, screenings, gaming, shopping… and of course: meeting fellow fans !
 Hilde Heyvaert : "It's nearly time for the already fourth edition of one of the best (possibly THE best) geek conventions in Europe: Antwerp Convention, on Sunday, April 27 !
Like previous years the convention is held at the, very easy to reach by both car and public transport, Antwerp Expo. Unlike previous years, the convention will now be spread over two halls instead of just the one.
Now why go to Antwerp Convention whilst there are so many geek/popular culture conventions out there ?
Well it's quite simple, this con combines the best of Sci-fi, Horror and Fantasy as well with everything else geeky such as manga, anime, J-culture, cosplay, guests, shopping, gaming, you name it !
There's lazer tag, competitions, exhibits, demonstrations: plenty of things to do and see aside from eat and shop !
Unlike many conventions of it's kind, it's truly a day by and for geeks of ALL fandoms, and the friendly atmosphere and general good cheer remains unsurpassed.
And all of this for the very reasonable price of € 10 in pre-sale and € 12 at the door.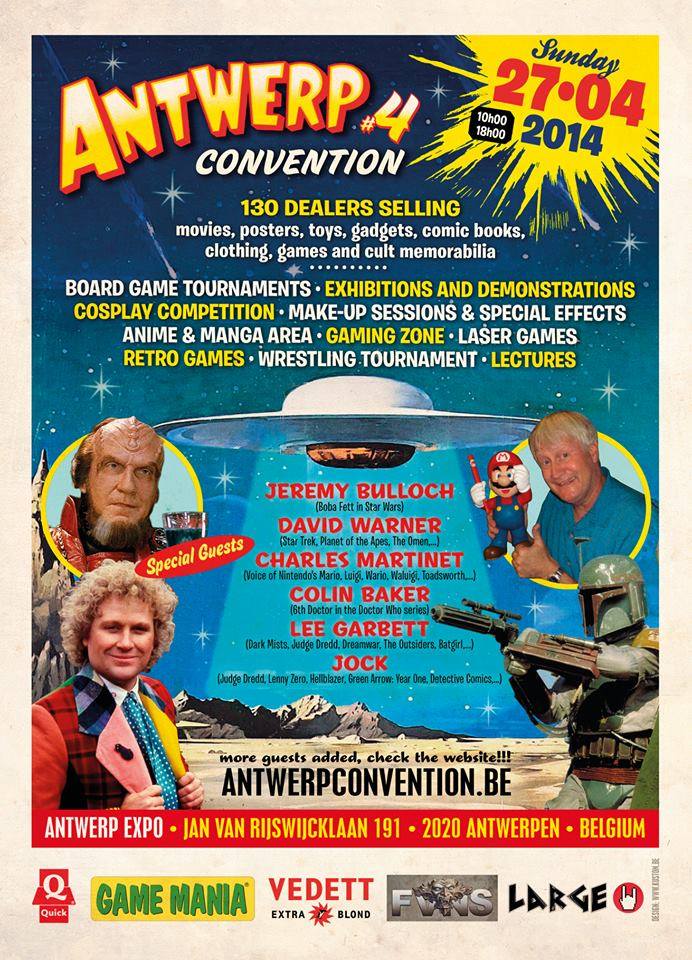 Guests this year include Jeremy Bulloch, David Warner, Charles Martinet (the voice of classic gaming brothers Mario & Luigi, who is a super nice guy, I met him at Japan Expo Belgium and I can recommend going to say hi to him to everyone!), Colin Baker (of Sixth Doctor from Doctor Who fame!), Lee Garbett, Jock and _many_ more from both Belgium and abroad !
And that's not all ! Traditionally this is the Belgian convention (and in this field one of the top in Europe too when it comes to non-steampunk specific cons) that traditionally not only caters to steampunks really well, but that is attended by large groups of steampunks. So it's also an ideal opportunity to meet up and get acquainted by others in the movement as well as enjoy a brilliant day out!
A small note for those that like to take photos/ or have photos of their outfits taken: when the weather is nice you can go outside in the nearby yards and take pretty nice photos there as well. Plus the organisation let us know earlier that this year there will be photo backdrops especially for this purpose! So you'll be sure to leave with a decent photos !"
WHEN
Visit the Antwerp Convention on 27th of April between 10am and 6pm.
 WHERE
The Antwerp Convention takes place in Antwerp, Belgium. Again we 've chosen the Antwerp Expo complex, a venue that has proven its reputation as a great location for the Convention.
 Address
Antwerp Expo
Jan van Rijswijcklaan 191
2020 Antwerpen, Belgium
http://www.antwerpconvention.be/2014/
http://www.antwerpconvention.be/2014/program
https://www.facebook.com/antwerp.convention?sk=wall
http://www.ottens.co.uk/gatehouse/2014/04/event-announcement-antwerp-convention/