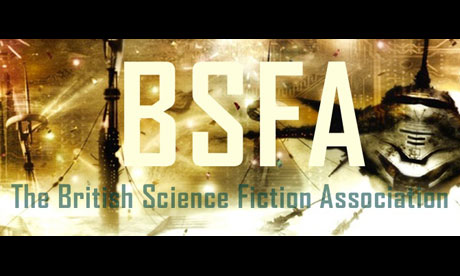 The British Science Fiction Association announced the winners for their annual BSFA Awards at Satellite 4 (EasterCon, the 65th British National SF Convention, 18th-21st of April 2014) in Glasgow (Crowne Plaza Hotel), Scotland. The ceremony was hosted by Alice Lawson and Steve Lawson with guest presenters Dame Jocelyn Bell Burnell, Jim Burns, Andrew J. Wilson and Stephanie Saulter.
The BSFA Awards are sponsored by the British Science Fiction Association and drawn up from the most popular titles selected by members of the BSFA. Those members join attendees of Eastercon to cast votes on the winners.
Congratulations to all the winners and nominees !
 Best Novel
Tie Winner: "Ack-Ack Macaque" by Gareth L. Powell (UK)
Tie Winner: "Ancillary Justice" by Ann Leckie (US)
Nominees :
"Evening's Empires" by Paul McAuley (UK)
"The Adjacent" by Christopher Priest (UK)
"God's War" by Kameron Hurley (US)
Best Short Fiction
Winner: "Spin" by Nina Allan (UK) :
 Nominees :
"Saga's Children" by E.J. Swift (UK)
"Boat in the Shadows Crossing" by Tori Truslow (UK)
"Selkie Stories are for Losers"  by Sofia Samatar (US) :
Best Artwork
Winner: Book cover for Tony Ballantine's "Dream London" by Joey Hi-fi (pseudonym of Dale Halvorsen, South Africa)
Nominees :
Editorial illustration for Aliette de Bodard's "The Angel at the Heart of the Rain" by Richard Wagner (UK)
Poster for Metropolis by Kevin Tong (US)
Best Non-Fiction
Winner: "Wonderbook" by Jeff VanderMeer (US)
Nominees :
"Going Forth by Night" by John J. Johnston (UK)
"Sleeps with Monsters" by Liz Bourke (Ireland)
Gareth Lyn Powell, born 1970, is an English author of Science Fiction. He is the author of the novels "The Recollection" and "Silversands", and the acclaimed short story collection "The Last Reef and Other Stories". He is currently working on a new novel for Solaris Books, entitled "Macaque Attack", the third volume in a trilogy inspired by his short story of the same name, which won Interzone magazine's 2007 Readers' Poll for best short story of the year. As well as regularly appearing in Interzone and other magazines, Gareth's work has also featured in a number of recent anthologies, including Future Bristol, Shine, Conflicts, Further Conflicts, StarShipSofa Stories Volume 3, and Dark Spires.
Born and brought up in the West Country, Gareth studied Humanities and Creative Writing at the University of Glamorgan. He has given guest lectures on creative writing at Bath Spa University, and has written a series of non-fiction articles on science fiction for The Irish Times. His first two novels were favourably reviewed in The Guardian by Eric Brown.
Nina Allan, british speculative fiction author :
"My stories have appeared regularly in premier British speculative fiction magazines Interzone, Black Static and Crimewave, and have featured in the anthologies Best Horror of the Year #2, The Year's Best SF #28 and The Year's Best Science Fiction and Fantasy 2012 and 2013.
My story 'Angelus' won the Aeon Award in 2007, and short fiction of mine has shown up on BFS and BSFA shortlists on several occasions.
A first collection of my short fiction, "A Thread of Truth", was published by Eibonvale Press in 2007, followed by my story cycle "The Silver Wind" in 2011.
My most recent books are the story collection "Microcosmos" (NewCon Press March 2013) the novella "Spin" (TTA Press 2013) and "Stardust: The Ruby Castle Stories" (PS Publishing April 2013). My first novel, "The Race", set in an alternate and near-future version of southeast England, will be published in summer 2014 by NewCon Press."
 E.J. Swift is a british writer of speculative fiction :
"I'm inspired by writers who bring the extraordinary to the ordinary, and for as long as I can remember I've been making up stories, from the ridiculous to the epic. Although my work has always contained elements of the fantastical, I came to writing science fiction almost by accident. My debut novel "Osiris" (Del Rey UK and Night Shade Books) is set in a far future ocean metropolis, a failed utopia whose inhabitants believe they live on the last city on earth. The second in the trilogy, "Cataveiro", expands the series to explore the world beyond Osiris. The series will be completed in a third volume to be published in 2015. My short fiction has appeared in Interzone magazine and in anthologies including The Best British Fantasy 2013 and Pandemonium: The Lowest Heaven."
Tory Truslow :
"I'm a writer of strange fiction, currently living in the East of England. I was born in Hong Kong, grew up in Bangkok, and have since moved back and forth between here and there.
I am a graduate of the Warwick MA in Writing, and my stories and poems have appeared in a number of magazine and anthologies, including Clockwork Phoenix 3, Stone Telling, Penning Perfumes andBeneath Ceaseless Skies – a full list can be found here. My work has been a finalist for the James White Award and the Parsec Award.
As well as being a writer I also wear a number of other (related) hats. With Claire Trévien, I'm the co-editor of Verse Kraken, a magazine for experimental, multimedia and cross-genre art of all kinds. I was Writer-in-Residence at Shrewsbury International School from 2008-2010, and have continued to run workshops and offer creative writing tuition since then (see my workshops page for more info). Currently, I'm running the Queer Fandom track at London's coolest new convention, Nine Worlds GeekFest.
When I was four I wanted to be a professional diorama-maker when I grew up; these days I think I'd like to be a genderfluid cyborg on Mars."