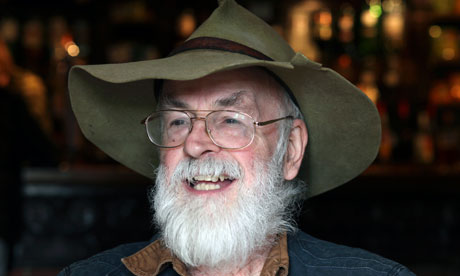 Terry Pratchett died on 12 March 2015, aged 66.
Sir Terence David John "Terry" Pratchett, OBE (28 April 1948 – 12 March 2015) was an English author of fantasy novels, especially comical works.
He is best known for his Discworld series of about 40 volumes. Pratchett's first novel, The Carpet People, was published in 1971, and since his first Discworld novel (The Colour of Magic) was published in 1983, he wrote two books a year on average. His 2011 Discworld novel Snuff was at the time of its release the third-fastest-selling hardback adult-audience novel since records began in the UK, selling 55,000 copies in the first three days.
Pratchett was the UK's best-selling author of the 1990s and has sold over 85 million books worldwide in 37 languages.
He is currently the second most-read writer in the UK, and seventh most-read non-US author in the US.
Pratchett was appointed Officer of the Order of the British Empire (OBE) in 1998 and was knighted for services to literature in the 2009 New Year Honours.In 2001 he won the annual Carnegie Medal for The Amazing Maurice and his Educated Rodents, the first Discworld book marketed for children.
He received the World Fantasy Award for Life Achievement in 2010.
In December 2007, Terry Pratchett announced that he was suffering from early-onset Alzheimer's disease. He later made a substantial public donation to the Alzheimer's Research Trust, and filmed a television programme chronicling his experiences with the disease for the BBC.
He will be greatly missed.
RIP !
BBC : "Sir Terry Pratchett, renowned fantasy author, dies aged 66"
The Guardian : http://www.theguardian.com/books/2015/mar/12/terry-pratchett-author-of-the-discworld-series-dies-aged-66
Telegraph : http://www.telegraph.co.uk/news/celebritynews/11467688/Sir-Terry-Pratchett-dies-aged-66.html