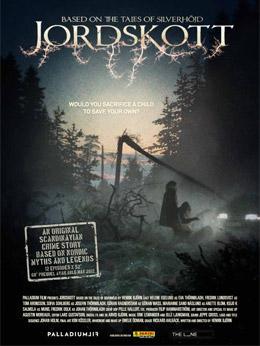 After international successes like "The Bridge" (co-produced with Danish TV) and "Real Humans" (BTW, no words yet about a new season) Swedish TV's new export seems to be the somewhat twinpeakish "Jordskott". Among the first to buy the series is ITV Encore:
http://www.itv.com/presscentre/press-releases/itv-encore-acquires-swedish-drama-jordskott
In "Jordskott" we met mysterious beings and traces of Nordic mythology. From the description on the site above:
"Jordskott is set deep in the ancient forests of Sweden. Seven years after the disappearance of her daughter Josefine, police investigator Eva Thörnblad is still trying to cope with the grief of her loss. Even though her daughter was said to have drowned, Eva knows in her heart that someone had taken her child on that fatal day by the Silverhöjd lake. So when a young boy goes missing in the same forest of Silverhöjd, Eva returns to delve into the dark mystery that haunts her.  As she is drawn into the investigation she learns that that there is a much deeper and darker force in operation but how far is she willing to go to protect the one she loves?"
ITV Studios Global Entertainment.manages the international distribution:
http://svtsales.com/programme-sales/jordskott-sold-by-itv-studios/
It's not clear yet what "Jordskott" will be called in English, it  seems. The Swedish title can be interpreted in several ways, perhaps "Earth shot", though "jord" also means soil, and "skott" also  means a bud, a fresh twig or a small root.
Scandinavian TV shows have become hot after the popularity of Nordic Noir crime fiction, especially Danish and Swedish crime series. "The Bridge" has also been re-made in local versions by both UK and US TV.
And "Let the Right One In", based on John Ajvide Lindqvist's vampire novel and already filmed in the US and Sweden, will now be developed into a US TV series:
http://www.hollywoodreporter.com/live-feed/let-right-one-remake-a-782087
We read: "The drama, which is in the development stage, is being produced in- house via A+E Studios and Marty Adelstein's and Becky Clements' (Teen Wolf, Aquarius) Tomorrow Studios. Davis, Boyce, Adelstein, Clements and Simon Oakes will executive produce. The property was optioned from Hammer Films Productions, which produced the 2010 English-language film adaptation Let Me In."
The settings will of course change to the US of A:
"The drama follows the boy and female vampire, who lives in secrecy with her mysterious guardian. When a series of strange murders pops up in their small Vermont town, it attracts the attention of a federal marshal with a mysterious past of his own."
The original story took place in a Stockholm suburb.
©Ahrvid Engholm
Ahrvid Engholm is a swedish author, editor, journalist and SF fan.