Ahrvid Engholm
The 15th of September this year Swedish fandom could celebrate it's 68th anniversary.
I've always, in a modest way, done some skiffy research. In the early 1990's I wrote the sort of Swedish Fancyclopedia (Fandboken, "The Fandbook").
I've come across an early near-sf magazine from 1682 (!) published in Sweden and Germany, named Relationes Curiosae ("Curious News") which I wrote an article about in the SF Foundation journal Foundation (No 72, 1998). And so on.
The traditional start of Swedish fandom has been seen as the founding of the SF club Futura, in 1950. (The oldest still active club is Club Cosmos, founded in Gothenburg in 1954.) About ten years ago I stumbled upon of an earlier club, founded in the spring 1949, named Strate-Organisation ("strate" as in "stratosphere"), by one Dénis Lindbohm. Dénis was still alive then so I could get the club confirmed and much more information.
But then I read a book about the Swedish Nobel laureate in literature (shared 1974 with Eyvind Johnson) and space poet, Harry Martinson, found an even earlier club, and an exact date of its birth!
The 15th of September 1945, shortly after Hiroshima a group of engineers from the Swedish electronics company ASEA founded Atom-Noak upa. ("Upa" means "limited responsibility") or in English, Atomic Noah (ltd). It happened in a summer house of one Gösta Rydbeck in Västerås, west of Stockholm.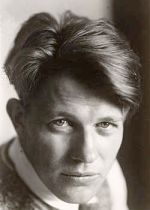 Harry Martinson
The members were afraid of the atomic bomb and envisioned themselves building spaceships to take humanity to a new world, in case of a full-scale atomic war. After a couple of years the club had Harry Martinson as a guest speaker and he became a member.
Later in the 1950's Martinson wrote the poetry epic "Aniara", about a spaceship taking humanity to a new world.
In 1945 science fiction had begun to make a mark in Sweden, with the pulp magazine Jules Verne Magasinet/Veckans Äventyr .
Exactly the things Atomic Noah – and later Aniara – described were found in several stories there, so they probably read it. Atomic Noah had much activities for maybe a couple of decades, club meetings with an invited speaker, round-robin club letters, and of course their speculations about their atomic rocket. There's evidence they were even active into the 70's, when they congratulated Harry Martinson on his 70th birthday. He also sent the club a dedicated copy if Aniara which the club promised to put in their spaceship when it was finished.
In my research I've had contacts with eg Svante Lindqvist, former boss of the Nobel Museum, where the left-over archives of Atomic Noah are kept. And I have written a long essay about the club and Harry Martinson, "Space-Harrry and Atomic Noah: Aniara's Dazzling Star Tracks" awaiting publication in the Finland-Swedish magazine Enhörningen which I hope will take it (but publishing is very irregular; it was years since latest issue).
Chairman was Gösta Rydbeck and on the founding meeting in 1945 were also Uno Lamm, Bertil Stålhane, Gunnar Dahlby and Sven Pyk, all engineers and/or scientists. Later members included Harry Martinson, Alf Ahlberg and one Pelle Isberg (who joined as late as 1975, which shows the club has activities up to then). The internal abbriveation for the club was…FAN! ("Föreningen Atom-Noak" ="The Association Atomic Noah"). The club might have heard that people who liked spaceships and strange speculations called themselves "fans".
They seem to have had some sort of internal newsletter, either mailed as a chain letter or carbon copied and during the earliest year such newsletters came as often as every week.
The meetings were several times per year, often in the form of a dinner, with an invited speaker. It was at such a meeting Harry Martinson came in contact with the club. His invitation meeting took place in Stockholm, in the Technologists House (a union for engineers), March 12th 1948. Apart from the five founders and Harry, present were also one Fingal Fallgren, a magazine editor with the big publisher Bonniers, Holger Carlsson, editorial secretary for the popular technology magazine Teknik för Alla, and Åke Vrethem (vice CEO of ASEA), nine all in all. This is a description:
Bertil Stålhane began with introducing the people present for Martinson and also took the effort to make the fact sound milder that all present members of the club's board were technicians, in other words representativs for the "tyrannic exactness". After the dinner Martinson held his opening speech and Gunnar Dahlby wrote in the protocol that Martinson showed to be in possession of great knowledge even in the area of atomic physics, eventhough his conclusions that the atomic structure of matter was a secondary phenomenon that could dissolve when traveling to space couldn't be shared by the board. What did Martinson mean with this? To the members of Atomic Noah and all natural scientists it is self evident that the laws of nature are the same all over the universe. But Martinson didn't belive so.
Gunnar Dahlby later said:
"He told us what we should bring on the trip, though he didn't belive the trip was possible, Despite being well-read in science he said that the laws for atoms are only valid for the solar system. Outside this, we will get nowhere. That amazed us, but it seemed so emotional to him that we didn't dare to inquire what he meant. You have to remember that he was a 40 year old self-taught sailor, a friendly companion and very emotional. Perhaps he felt a little oppressed, not at home with technicians and scientists. … What one should bring on a trip to deep space was according to Harry 'the big religions, the big philosophies and big social knowledge /And about building the new society…/ Martinson had already the city plan finished: long, narrow municipalities shaped like rods, where everyone lived close to nature."
After the dinner and debate the meeting moved to "a bomb-proof cellar, just in case" of the Electro-Heating Institute, where the debate continued until 3am. Harry Martinson read three more poems and the club got him a taxi so he'd get home safely. Afterwards they sent him a club scholarship worth 1000 Swedish crowns (more than two monthly wages at the time!) "to our friend Martinson, who has more problems than just bad health".
It must have been a very interesting meeting these guys had, who called themselves FAN !
Space-Harrry & Atomic Noah: Aniara's Dazzling Star Tracks
English abstract for my essay (which is in Swedish)
"Space-Harrry and Atomic Noah: Aniara's Dazzling Star Tracks" covers Nobel laureate Harry Martinson's (known for the space poetry of Aniara, about a spaceship sent on a trip to eternity after an accident) interest in science, technology and science fiction. Before the Second World War an optimistic, utopian interest prevailed, especially among the young.
Science and tehcnology developed fast. It would take a while before the drawbacks of the likes of Hitler and Stalin became obvious, but Harry became a pessimist early on, towards both technology and naive utopian ideas, especially after a Moscow visit and the Soviet attack on Finland in 1939 (where Martinson despite bad health was a volunteer). He read a lot about science, and often talked about it, which friends bear witness to.
In 1948 he held a lecture for the society Atom-Noak ("Atomic Noah"; possibly Sweden's first SF club), founded by engineers from ASEA after Hiroshima, with the aim to in fear of an atomic war design spaceships to let humanity emigrate to other planets. Martinson also became associate member of the society and they kept in touch well into the 1970's. The essay also describes different possible inspirations for Aniara, especially from stories in the 1940's Swedish sf pulp magazine JVM/VÄ, how it was received and how the influence of this work has spread – it has eg recently been translated to Chinese. When Martinson in 1974 received the Nobel Prize in literature (shared with Eyvind Johnson) there was an avalanche of criticism in media, since both were members of the Swedish Academy. The prize was a coup by the others in the Academy, and Martinson who was frail and never wanted the prize became acutely depressed. He finally ended his life by cutting up his stomach with a pair of scissors. Harry Martinson's life ended just as sadly as the spaceship Aniara's journey.
© Ahrvid Engholm