Kin-dza-dza! Director : Georgiy Daneliya, 1986
"European Science Fiction will heat up the big screen this August at the New York Film Society of Lincoln Center with a series highlighting innovative films from the renaissance of science fiction in the late '60s and '70s. From August 22nd up to August 28th.
Strange Lands: International Sci-Fi will feature cult classics and work from major auteurs, several of which will screen from rare imported 35mm prints.
What makes good science fiction? That might depend on who—and where—you ask. This eye-popping international assortment presents highlights of the genre that span multiple countries and styles, including a delightful hybrid Czech adaptation of Jules Verne, a campy dystopia from behind the Berlin Wall, the Soviet-era cult hit Kin-dza-dza!, and the rare Italian puzzler Morel's Invention.
Each day in the series spotlights a different country, and many are rare screenings of foreign 35mm prints, with work by film directors Aleksandr Sokurov, Andrzej Wajda, Ulrike Ottinger, and Elio Petri. The strong grounding of science fiction in literature is represented by adaptations of major authors such as Stanislaw Lem, Arkady and Boris Strugatsky, Jules Verne, and Adolfo Bioy Casares.
Aleksandr Sokurov's Days of Eclipse (1988), an adaptation of the Strugatsky Brothers' A Billion Years Before the End of the World, will be among the series' highlights. The film is about a scientist being prevented from completing a research project by a mysterious force.
Sokurov's film opens the series along with the absurdist Soviet interstellar comedy Kin-dza-dza! (1986).
Emidio Greco's Morel's Invention (1974), meanwhile, is an Italian feature starring Anna Karina about a castaway who stumbles upon a group of people living (and reliving) their days through a time-bending machine.
And Elio Petri's The 10th Victim (1965) stars Marcello Mastroianni and Ursula Andress as rivals and lovers in a televised game pitting assassins against one another. (It features a key bit borrowed by the Austin Powers series.)
Two films originating from East Germany's DEFA Studios include Herrmann Zschoche's Eolomea (1972), about a risky expedition to solve the mystery behind a series of disappearing spaceships, and Gottfried Kolditz's In the Dust of the Stars (1976), in which a space team responds to a distress call only to find themselves guests at an opulent party hosted by the wealthy ruler of the planet—but naturally all is not as it seems on the surface.
A pair of films from Czechoslovakia run the gamut from Karel Zeman's ingenious mix of live-action and beautiful illustrations in The Fabulous World of Jules Verne (1958), to Jan Schmidt's post-apocalyptic tale The End of August at the Hotel Ozone (1967). Zeman's delightful, droll Victorian adventure melds gadgetry and pirates with an exceptional in-camera approach and a production design that counted among its fans Pauline Kael, who said: "There are more stripes, more patterns on the clothing, the decor, and on the image itself than a sane person can easily imagine." The End of August at the Hotel Ozone follows a band of fierce and reckless women roaming the countryside and led by an elder member who remembers the world before the nuclear holocaust.
Film Comment Senior Editor Nicolas Rapold said of the series: "This is a dazzling collection of films that spans deep-space drama, groovy reality TV, ingenious live-action/animation hybrids, time-travel paradoxes, the apocalypse, existential crises, and the imaginations of literary greats like Stanislaw Lem, Jules Verne, and the Strugatsky Brothers. Each night in the series yields a trip to a different country and fresh proof of the vibrant diversity of visual styles, genre variations, and outfits in science-fiction film."
Strange Lands: International Sci-Fi films screening schedule :
Days of Eclipse (Дни затмения)
Aleksandr Sokurov, USSR, 1988, 35mm, 139m
The Strugatsky Brothers' A Billion Years Before the End of the World receives a visionary and mystical treatment in Sokurov's Tarkovskian chronicle of a worn-out scientist adrift in remote Central Asia.
August 22, 9:00pm
The End of August at the Hotel Ozone (Konec srpna v Hotelu Ozon)
Jan Schmidt, Czechoslovakia, 1967, 35mm, 79m
After the nuclear holocaust, a band of fierce women survive the wilderness in a queasy moral vacuum in this extraordinary New Wave outlier. Shot in black and white and dramatized with an unnervingly clear-eyed realism, the screenplay was written by Pavel Juráček (Daisies).
August 28, 8:45pm
Eolomea
Herrmann Zschoche, East Germany (East German/Soviet/Bulgarian coproduction ), 1972, 35mm, 82m
An epidemic of disappearing spaceships leads to a risky expedition to find some answers in this retro dose of deep-space (and deep-dish) sci-fi from DEFA Studios. Featuring a disaffected anti-hero, a lounge-jazz soundtrack, and very-long-distance relationships.
August 23, 9:00pm

Karel Zeman's The Fabulous World of Jules Verne
The Fabulous World of Jules Verne (Vynález zkázy)
Karel Zeman, Czechoslovakia, 1958, 35mm, 90m
In this dazzling and imaginative mix of live action and animated drawings, pirates kidnap a professor and an engineer in order to steal a new form of explosives and take over the world. A truly delightful 19th-century romp.
August 28, 7:00pm
Freak Orlando
Ulrike Ottinger, West Germany, 1981, DCP, 126m
Cross-breeding time-travel fantasy with gonzo theater, Ottinger's gloriously staged and costumed film unfolds in five episodes involving the Spanish Inquisition, traveling entertainers, Greek mythology, assorted bodily oddities, and general carnivalesque mayhem. Starring the formidable Magdalena Montezuma.
August 23, 4:15pm
Golem
Piotr Szulkin, Poland, 1980, 35mm, 92m
A post-apocalyptic program to engineer a new, pliable race of humans yields a rogue creation, in this surreal, paranoid precursor to Blade Runner.
August 25, 7:00pm
Hospital of the Transfiguration (Szpital przemienienia)
Edward Zebrowski, Poland, 1979, 35mm, 90m
In this adaptation of an unnerving World War II novel by science-fiction titan Stanislaw Lem, a new doctor at a grim psychiatric hospital faces an all-too-real horrific future when the Nazis take over.
Roly Poly (Przekladaniec)
Andrzej Wajda, Poland, 1968, 35mm, 30m
The Polish master undertakes science-fiction satire with this Stanislaw Lem adaptation about a racecar driver who receives so many transplants that he suffers from an identity crisis.
August 25, 9:00pm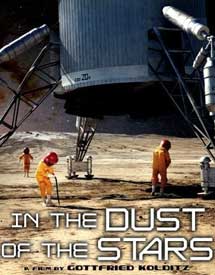 In the Dust of the Stars (Im Staub der Sterne)
Gottfried Kolditz, East Germany, 1976, 35mm, 95m
This colorfully camp, juicily scored treat from East Germany's DEFA Studio drops us onto a working-class planet enslaved by decadent rulers. Influenced by Zardoz and Logan's Run, the fantasy features gaudy visions of luxury and leisure as a band of astronauts attempt to engage with their unpredictable hosts.
August 23, 7:00pm
Kin-dza-dza! (Кин-дза-дза!)
Georgiy Daneliya, USSR, 1986, 35mm, 135m
A cult classic, this absurdist glasnost-era satire follows the misadventures of two Russians who are accidentally teleported to the desert planet Pluke—home to bizarre kowtowing customs, Mad Max junk-heap aircraft, and an economy based upon matchsticks.
August 22, 6:15pm
August 23, 1:30pm
Morel's Invention (L'Invenzione di Morel)
Emidio Greco, Italy, 1974, 35mm, 110m
A shipwrecked man stumbles upon a monumental mansion where a group of people live under the influence of a strange time-bending machine. From the book by Argentine author Adolfo Bioy Casares. With Anna Karina and John Steiner as Morel.
August 27, 7:00pm
The 10th Victim (La decima vittima)
Elio Petri, Italy, 1965, 35mm, 92m
Marcello Mastroianni is a playboy who joins a televised game in which paired participants hunt down and kill each other. His love-hate foe: Ursula Andress. Featuring pop-art design, an electronic score, and an opening shot on the demolition site of old Penn Station.
August 27, 9:20pm
Strange Lands: International Sci-Fi takes place August 22-28.

Located on the Upper West Side of Manhattan, the Film Society of Lincoln Center theaters are situated along 65th Street between Broadway and Amsterdam Ave, half a block away from the 66th Street stop on the 1 train and six blocks from the Columbus Circle (A, B, C, D, 1 trains) and 72nd Street (1, 2, 3 trains) stations. The M5, M7, M10, M11, M66 and M104 bus lines all stop within one block of Lincoln Center.
New York Film Society of Lincoln Center's Venues: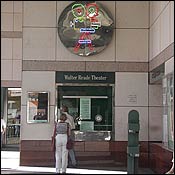 Walter Reade Theater (165 W. 65th Street, north side, upper level)
 Walter Reade Theater (268 seats)
Frieda & Roy Furman Gallery (Event space, learn more)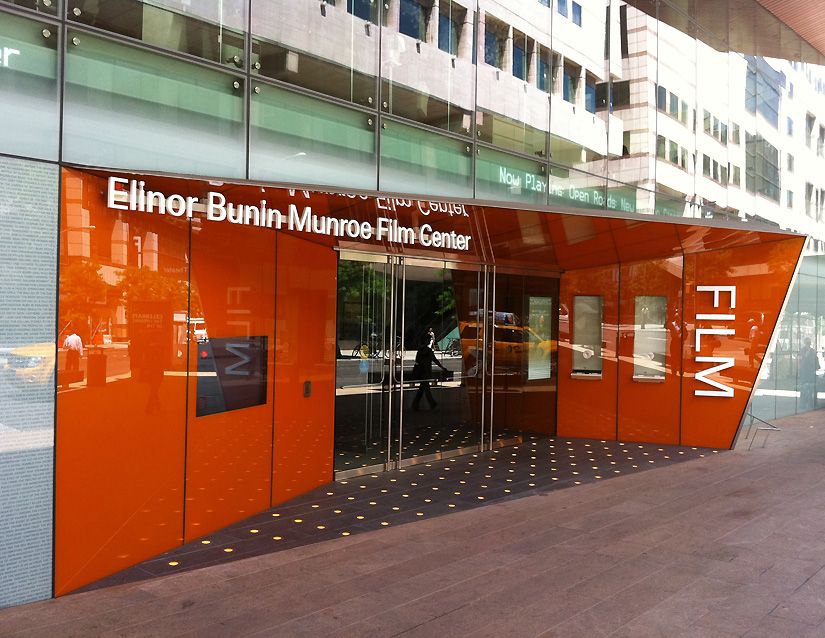 Elinor Bunin Munroe Film Center (144 W. 65th Street, south side)
 Francesca Beale Theater (140 seats)
 Howard Gilman Theater (85 seats)
 Amphitheater (75 capacity)
 Studio (Event Space)
It's a great chance to see movies from the genre's renaissance in the late 1960s and 1970s, plus innovative later experiments containing science-fiction elements."
http://www.filmlinc.com/films/series/strange-lands-international-sci-fi
Courtesy of the New York Film Society of Lincoln Center. Thank you !