"Solaris" (Sunny in Latin) is the most famous novel by Stanislaw Lem, the Polish master of science fiction literature. Written in 1961 and quickly becamed a "cult" novel around the world, the book has been beautifully brought to the big screen by the Russian filmmaker Andrei Tarkovsky and more recently by the American Steven Soderbergh.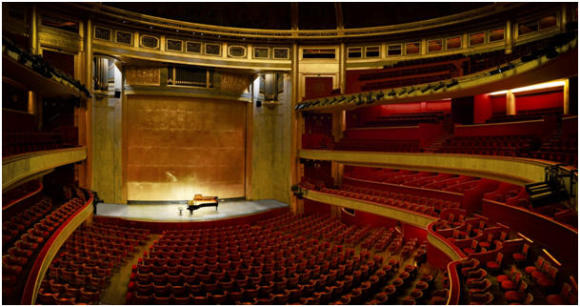 Théâtre des Champs-Elysées, Paris, France
The novel imagines the existence of Solaris, a planet whose surface is completely covered by an ocean, a vastness that has an advanced form of extraterrestrial intelligence. Beyond the simple scientific or technological adventure, the novelist explores through this philosophical reflection mirrored on human behavior. Since ancient "know thyself and you will know the gods and the universe" Socrates, this theme has fascinated man. Stanislaw Lem's novel probe our deepest fears and our hopes for the future: to understand an alien form, humans must learn to know themselves.
It was around this eternal human quest, that the composer Dai Fujikura and choreographer and set designer Saburo Teshigawara  created an operatic duet version of Solaris. A prolific composer as well as symphonic and chamber, Dai Fujikura, born in 1977 in Japan but educated in England, was early noticed in the circle of Pierre Boulez.
His countryman and elder, Saburo Teshigawara, has meanwhile already met many successes in France through his ballets presented at Chaillot and the Paris Opera or his staging of Handel's Acis and Galatea created at the Aix Festival in the summer of 2011. On the narrative invented by Stanislaw Lem more than half a century ago, with the help of the most "modern" musical and theatrical means, the collaboration of these two great creators has the colors and thedimensions of the universally human and resolutely contemporary zeitgeist.

"Solaris", An Opera in Four Acts by Dai Fujikura, World premiere : March 5th, 2015 at the Théâtre des Champs-Elysées, Paris, France
– Libretto by Saburo Teshigawara, based on the eponymous novel by Stanislaw Lem
– Solaris film material extracted from Andrey Tarkovsky's production (courtesy of Mosfilm)
– Erik Nielsen management
– Saburo Teshigawara staging, choreography, sets, costumes, lights
– Ulf Langheinrich design 3D lights and Collaboration
– IRCAM Computer Music Gilbert Nouno
Performers:
Sarah Tynan : Hari
Leigh Melrose : Kris Kelvin
Tom Randle : Snaut
Callum Thorpe : Gibarian
Marcus Farnsworth
– Saburo Teshigawara, Rihoko Sato, Václav Kuneš : dancers
– with the participation of Nicolas Le Riche
– Ensemble Intercontemporain
Théâtre des Champs-Elysées, Paris, France
"SOLARIS", an opera by Dai FUJIKURA :