News
SF Signal 's Eurocon 2016 Interview with Ian Watson by Rachel Cordasco
A relevant interview with the british SF writer Ian Watson on SF Signal by Rachel Cordasco. Congratulations, Ian and thank you, Rachel !
"One thing we're aiming for at our Eurocon is a sense of continuity with events elsewhere in Europe present and future.
We think it's specially important that the different SF traditions throughout Europe get a voice, to become deservedly better known, not only in the English-speaking world but also mutually within Europe itself.
'Eurocons' — European Science Fiction Conventions — have been happening every year (or, in the more distant past, every two years), presided over by the European Science Fiction Society (ESFS). The ESPS was founded at the first Eurocon—held in Italy 44 years ago. A Eurocon is attached to the annual national SF convention of whichever country wins the bid to hold a Eurocon.
We plan a mini-conference of European small press editors and publishers—provided there is enough enthusiasm—with the aim of making the best of each nation's SF better known, and published at small press level, mutually within Europe.
There will be 5 main tracks of programming for the Barcelona Eurocon, held in the rather splendid Center for Contemporary Culture (CCCB) as well as in the adjacent convention hotel. 2 tracks in English, an academic track in English and Spanish, plus 2 tracks in Spanish—as well as in Catalan, because Barcelona is in Catalonia.
There will be a good half dozen items pitched at academics, such as "Monsters and Post-Modernism" and "Gender and SF"—these ones in English—and others in Spanish.
Also, 2016 is the anniversary of the death of the great Polish SF author Stanislaw Lem, so we're offering our Polish colleagues the opportunity of an academic half-day hosted by the University of Barcelona which is approximately just over the street, as well as a screening of a new documentary about Lem at the Filmoteca cinema—did I mention our film programme?" – Ian Watson
There will be a panel about "The German SF Scene Today" because the 2017 Eurocon will take place in Dortmund, Germany, and a panel about the SF scene in France because of the bid to hold the 2018 Eurocon in Amiens, France, the home of Jules Verne. This bid will be voted in Barcelona." – Ian Watson
http://www.sfsignal.com/archives/2016/02/eurocon-2016-interview-ian-watson/
See you in Barcelona in November !
BCon (for Barcelona Con) is the name of the 2016 Spanish national convention Hispacon happening alongside the Eurocon. Most English speakers will pronounce this Beacon, as in lighthouse. Spanish speakers will tend to pronounce it bacon, as in breakfast or on pizzas.
For complete clarity, the Barcelona Eurocon happens on Friday 4, Saturday 5 and Sunday 6 November 2016, as the official website says.
We will have a Welcome Party in the convention hotel starting around 6.00 pm on Thursday 3 November, where people can register early. We will probably have a Dead Dog Party at the Moritz Brewery on Monday 7 November. The hotel's pdf gives the dates of the convention as 4 to 7 November because the 7th is check-out day, unless you wish to stay longer in Barcelona.
Also, bear in mind that Gigamesh bookstore will be organising activities, probably in the evening, starting on Monday 31 October.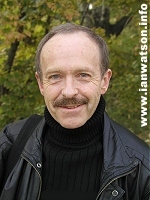 "Ian Watson has been perhaps the most impressive synthesizer of late twentieth-century SF; and (it may be, after the radically different J.G. Ballard) the least deluded."
Ian Watson (born 20 April 1943) is a renown British science fiction writer. He lives in Gijón, Spain.
Ian Watson graduated in English Literature from Balliol College, Oxford, in 1963; in 1965 he earned a research degree in English and French 19th-century literature.
Watson lectured English in Tanzania (1965–67) and Tokyo (1967–70), and taught Future Studies at the Birmingham Polytechnic from 1970 to 1976, one of the first academic courses in SF in the UK. After 1976 he devoted himself to his career as a professional writer.
His first SF published SF short-story was "Roof Garden Under Saturn" for New Worlds in 1969.
He published more than 170 short stories since 1969 at a gradually increasing tempo and with visibly increased mastery over the form.
His first novel, "The Embedding" ("a work which very early confirmed his stature as an sf writer of powerful intellect, one of the most demanding authors of the Scientific Romance"), winner of the Prix Apollo in 1975, is unusual for being based on ideas from generative grammar; the title refers to the process of center embedding.
A prolific writer, he has also written the novels "Miracle Visitors", "God's World", "The Jonah Kit" and "The Flies of Memory" and many collections of short stories. Watson is credited as author of the screen story for the motion picture "A.I. : Artificial Intelligence" (2001).
During 1980, Watson and Michael Bishop wrote the first transatlantic SF novel collaboration, "Under Heaven's Bridge", using typewriters and postal services.
He has also written a series of novels relating to the "Warhammer 40,000" line of games: "Space Marine", and the Inquisition War trilogy of Inquisitor, Harlequin and Chaos Child (republished in 2002 by The Black Library, with Inquisitor retitled Draco). Other recent stories have been published in US magazine Weird Tales, the Canadian anthology "Lust For Life, New Writings in the Fantastic", the Mammoth Book of Best New Erotica volume 7, and in a few more books. Some of these stories have been translated into non-English languages.
A collaboration with Italian surrealist writer Roberto Quaglia has recently produced a book, "The Beloved of My Beloved", launched during April 2009 during Eastercon.
His major work of recent years is "The Waters of Destiny" co-written with Andy Wes.
His collections include "The Very Slow Time Machine" (coll 1979), "Sunstroke" (coll 1982), "Slow Birds" (coll 1985), "The Book of Ian Watson" (coll 1985), "Evil Water" (coll 1987), "Salvage Rites" (1989), "Stalin's Teardrops" (coll 1991), "The Coming of Vertumnus" (coll 1994), "The Great Escape" (coll 2002), "The Butterflies of Memory" (coll 2006), "The Beloved of my Beloved" (coll 2009) with Roberto Quaglia, and "Saving for a Sunny Day and Other Stories" (coll 2012).