Apart from a horror flick or two the 58th Short Film Festival of Sweden (Sveriges Kortfilmsfestival, Stockholm, 11-12th of April 2015) had less than usual of genre interest.
However, a film  about a self-driving car won one of the two main awards as well as  many side awards.
It was the film "Mazda" from the Stockholm Dramatical Institute (and made by Markus Waltà and Stefan Henrikson) which won gold in the film school category, as well as being awarded for best script, photo, editing and best female actor (Evin Ahmad).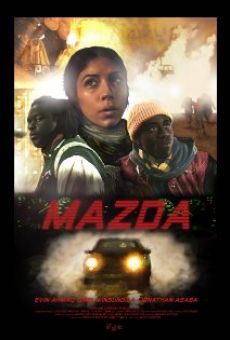 The plot is about a group of immigrant youngsters which flees when confronted by the police (hinting at the 2013 suburbian riots in Stockholm) and find an unlocked car. After they have started the car, the doors lock and the car itself takes control of where they are going. It's best not to reveal the interesting twist in the end.
Surely, there is some sort of  technological breakthrough or "magical realism"  with a car having a will of its own!
The festival was held in Bio Rio, a cinema well-known for "alternative films". The other main award, gold diploma in the individual category, was also won by a film about immigrant youngsters, titled "Jag har din rygg" ("I got your  back"), getting into trouble during a night out on town.
The Swedish Championships in "minute  films" (max 60 econds long) was won by "Anaecho", an experimental film connecting odd sounds to everyday actions. The special Cinemagiker grant was  awarded to Yana Martsynkevych who made the film "Abel".
A list (in Swedish) of all winners is here:
http://sverigeskortfilmfestival.se/2015/04/12/pristagare-2015/
"After a brutal police beating, riots has broken out in a suburb outside of Stockholm. Three friends, Sara, Victor and Billy join up to participate in the riots and to burn cars. Finding themselves trapped in the middle of the riots they are forced to escape, stumbling upon an old Mazda."
GENRE – SHORT FILM DRAMA / STUDENT SHORT FILM l  LANGUAGE – SWEDISH  l  COUNTRY – SWEDEN  l  LENGTH – 14 MINUTES   l  YEAR– 2015
DIRECTOR & WRITER – ALEXIS ALMSTRÖM  l
PRODUCERS – STOCKHOLM ACADEMY OF DRAMATIC ARTS with examining students STEFAN HENRIKSSON & MARKUS WALTÅ  l  DIRECTOR OF CINEMATOGRAPHY – KARIN STENWALL  l SOUND, SOUND DESIGN & SOUND MIX – MANNE KJELLANDER, MARTIN LINDSTRÖM & PHILIP ERIKSSON  COMPOSER – RICKARD AGE  l  CAST – EVIN AHMAD, GAEL KINSUNGILA & JONATHAN ASABA
Alexis Almström was born 1985 in Stockholm, studies directing at Stockholm Academy of Dramatic Arts (2012-2015). Alexis films has a focus on telling peoples stories and to play with visual aspects of reality vs. fiction in social realist situations.
©Ahrvid Engholm
Ahrvid Engholm is a swedish author, editor, journalist and SF fan.