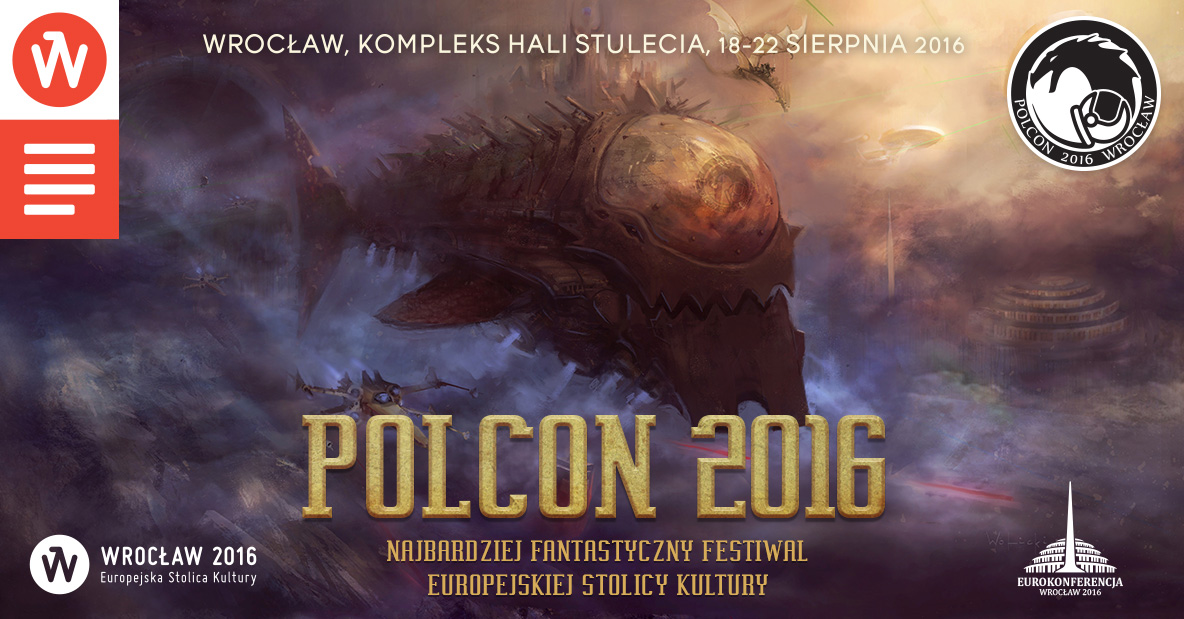 POLCON, the Polish National Science Fiction & Fantasy Convention and a SF Euroconference will be held in Wrocław between  18-22 of August in the Centennial Hall complex.
Centennial Hall, (Kompleks Hali Stulecia),Wrocław, Poland
In 2014, in Dublin, Ireland with the occasion of the EUROCON, the polish bid was placed second in competition with Barcelona. However, the polish candidature was appreciated enough to made Poland the organizer of a SF Euroconference in 2016. Ian Watson from the 2016 Eurocon's  Organizers Committee is the special guest in Wrocław and at the Barcelona's Eurocon, the polish delegation will organize a programme about Stanislaw Lem with the occasion of the 10th anniversary of his death.
In 2016 Wrocław is the European Capital of Culture. The city is going to become the cultural centre of Europe, filled with festivals, concerts, conferences and many other cultural and artistic enterprises.  The Polish National Science Fiction Convention – Polcon 2016 – will be a part of it.
A SFF convention will become a top rank European cultural event and Science Fiction & Fantasy will be presented as Polish cultural heritage, and a very important factor of European culture – in literature, film and comics.
The 2016 POLCON Guests of Honour are:
Writer : Andrzej Sapkowski
Writer : Maja Lidia Kossakowska
Film Director : Janusz Majewski
Artist : Bogusław Polch
Publisher : Prószyński
Promoter of Fantasy : Krzysztof Księski
Fan : Robert Karkoszka (left in the picture)
Special Guest : Siri Pettersen, Norwegian Fantasy writer, websites' designer and graphic artist
The POLCON SF Euroconference Guests of Honour are: 
Creator – Writer : Alastair Reynolds (UK)
Creator – Writer : Ian Watson (UK)
Creator – Graphic Designer : Chris Achilleos (UK)
Promoter : David J. Lally (UK)
Fans – a group of Ukrainian writers, translators, editors and fans – Volodymyr Arenev, Sergii Paltsun, Sergiey Legeza
Special Guests:
Peter V. Brett : American fantasy writer, born in 1973. Author of demonic cycle started with The Painted Man , which was published in 2008 – one of the most brilliant fantasy debuts in recent years. Fan of fantasy, comic books and role playing games. In 1995 graduated at Buffalo University in English literature and history of art. He spent following ten years working in pharmaceutical industry. He lives in Brooklyn (New York, USA) with his wife and daughter.
Jack Ketchum : The legend of horror literature. He had tried many careers as a young man, but after his debut novel Off Season, which sold like hot cakes, despite being considered a violence porn and withdrawn from bookshops, he became a full-time writer. He has written many great novels (e.g. A Girl Next Door, The Lost, Only Child, Red, The Offspring) and acclaimed anthologies (Peaceable Kingdom, Closing Time and Other Stories) He's been awarded with Bram Stoker Award and many of his novels were filmed. Stephen King called him, very accurately, the scariest guy in America.
Edward Lee : Bram Stoker Award nominee, has written many horror books, hardcore horror specialist, he meets the needs of readers who crave for extreme literature breaking all taboos. He spent some time serving in American army, then worked as a policeman in Maryland. He didn't like working as a cop as much as writing horrors but he wasn't able to quit his job for a long time. He shared fifteen years between his job and writing horror. In 1997 he finally managed to start writing full-time. So far in Poland three of his novels were published – Succubi, The Creekers and The Golem – plus a few short stories. Lee tries his hands at film directing now, his first horror flick The Walking Woman.
POLCON will present the surrealistic and emotionally realistic works of Maja Borowicz.
Maja Borowicz, born in 1980, is a very versatile artist, using diverse range of artistic expression. She creates art with digital techniques, traditional oil painting and audio-visual techniques. She's developed her talents by herself from early childhood. For many years she worked in film industry, realising animated projects.
Exhibited many times in Poland and abroad. She is the laureate of the international contest Art Revoution Tai Pei, where her painting Tęsknota (Longing) was awarded first prize. In 2015 her painting Ewa odchodzi (Ewa's Departure) won the international contest American Art Award and was honoured at Art-Competition Mind, Spirit & Emotion II.
The art of Maja Borowicz will be displayed in The Gallery of POLCON from Thursday to Monday (excluding meeting hours). Welcome to the opening gala on 20th of August at 2 p.m.
Ambassadors of Polcon are Wroclavian writers and renown fans, who support and helped the organization of POLCON. For the first time Polcon has its own Ambassadors, who are also the guests of the convention.
Eugeniusz Dębski : one of the most important writers of Wrocław, Russian SF&fantasy translator, cocreator of the online periodic Fahrenheit, President of Szedar (fantasy fans club) and the conqueror of Kilimanjaro. Born in 1952 in Truskawiec, lives in Wrocław),
Andrzej Drzewiński :physicist, writer, proponent of science, born in Wrocław in 1959. Graduated from University of Wrocław. Engaged in statystical physics. Debuted as a writer on air of Akademickie Radio Politechniki Wrocławskiej, in print in "Młody Technik" (1981). His first book published was an anthology titled Zabawa w strzelanego (1983). He wrote two novels in cooperation with Andrzej Ziemiański, and two anthologies with Jacek Inglot and Mirosław Jabłoński.  He's a member of Kareta Wrocławski – a group of Wroclavian authors writing together.)
Jacek Gdaniec : at the dawn of the new millenium he entered on editor duties of Gildia.pl and he's been succesfully continuing it. He supported culture earlier but becoming gildia's editor let him combine it with his passion about fantasy and comic. He's been given Zasłużony dla Kultury Polskiej title by the Minister of Culture for his hard work and commitment.)
Jacek Inglot : lives in Wrocław. Writer, critic, teacher and editor. Born in 1962. Debuted with Dira necesitas short story in 1986 in "Fenix". Author of Quietus (1997) and Inquisitor (1996) – both novels were Zajdel Award nominees. He also published in many magazines and anthologies.)
Szymon Kloska : the editor in The Book Institute, radio programmes author. He consider Henry David Thoraeu his spiritual guide. He blogs about books in cooperation with Tomasz Pindel. According to his own words he reads few books at the same time, doesn't use bookmarks, doesn't take notes and doesn't acknowledge divides inside literature.)
Rafał Kosik : born in 1971 in Warsaw. Studied architecture but left to start his own agency Powergraph, later transformed into a publishing company, where he took charge of creative director and graphic designer duties. He also draws satirical sketches. He writes mainly sf and horror. His debut was a short story Pokoje published by "Nowa Fantastyka". His first novel was Mars published in 2003 by Ares. His next novel, Vertical, was nominated to Zajdel Award. That novel won Nautilus in 2006.)
Maciej Parowski : the long time editor of "Nowa Fantastyka", writer, critic, co-creator of "Czas Fantastyki" and Funky Koval comic character. Born December 27th 1946 in Warsaw. Graduated from Warsaw University of Technology. Has been working as a journalist since 1974, long-time editor of "Fantastyka" (which later became "Nowa Fantastyka"). In cooperation with Bogusław Polch and Jacek Rodek he created first Polish sf comic book Funky Koval. In 2009 his novel Burza was published, in 2012 and 2013 anthologies of his essays, memories, interviews, reviews were published under one title Małpy Pana Boga.)
Wojtek Sedeńko : born in 1961 in Nidzica, publisher, editor, critic, edit or of anthologies, convention organizer, fan movement activist, coordinator of Encyklopedia Fantastyki. Founder of mail-order bookshop Verbum in 1991, later called Solarisnet.pl – the oldest and biggest fantasy mail-order bookshop in Poland.)
Witold Siekierzyński : he founded his first fantasy club (Rassun) in 1994, after his first convention. Initiator of Związek Stowarzyszeń Fandom Polski and its president. One of the Zajdel Award supervisors, main coordinator of Polcons 1999 and 2007 (for both awarded with śląkfa as a fan of the year), initiator of convention currency as a contest prize. Supporter of fan trend in fandom.)
Jadwiga Zajdel : she's been living in Warsaw-Bródno for many years. In 1987-1997 worked in Centralne Laboratorium Ochrony Radiologicznej, when earlier woked also her husband Janusz A. Zajdel. She is the supervisor of her late husband writings. In 2010 Relacja z pierwszej ręki anthology was published with her introduction and 33 stories she's chosen. She spends her time with her grandsons Kubuś and Franio, her daughter's Joanna's children. She'a an honoured patron of Zajdel Award and gladly takes part in conventions of her choosing.)
Andrzej Ziemiański : born in 1960, an architect, living in Wrocław. The author of Wojny urojone, Bramy strachu, Dziennik czasu plagi and many more. He took a break for over a decade and then his dark personality claimed its rights. New novels – Bomba Heisenberga, Autobahn nach Poznań, Achaja, Zapach szkła, Waniliowe plantacje Wrocławia or Legend – have been appreciated and awarded. The author has been honoured with Zajdel Award twice, Sfinks five times and Nautilus twice.)
From the very beginning, creators of the Fantastika could use their imagination in a wider scale, compared to other genres. It let them create fascinating, visionary worlds and alternative realities.
Diversity, curiosity and meticulousness or sometimes even the intellectual challenge of imaginary worlds they created are going to be the main theme of many events, lectures, contests, and presentations divided into our programme sections.
literature
science / humanities
music
film
tv series
comic & graphics
manga & anime
paranormal phenomena
RPGs & LAPRs
board games
wargaming
multimedia
fantasy for kids
Organizer: Fundacja Pro Fantastica
Co-organizer: Biuro Festiwalowe Impart 2016 
 Narodowe Forum Muzyki
HR & marketing coordinator: Hanna Bielerzewska
Logistics coordinator: Jakub Rzepecki
Programme coordinators
Literature:
Karolina Kaczkowska
Edyta Muł-Pałka
Dominika Repeczko
Film & TV Series:
Michał Lisiecki
współpraca:
Bartek Czartoryski
Comic:
Andrzej Jarczewski
Music & graphics:
Wojtek Sedeńko
Niucon section:
Monika Sodkiewicz
Board games:
Mirosław Kowalski
RPG:
Marcin Wroński
Wargaming:
Andrzej Pałka
Manga, anime, asian culture:
Dominik Przybyła
Paranormal phenomena:
Janusz Zagórski
International guests:
Bartek Czartoryski
Dominika Repeczko
Wojtek Sedeńko
Translation:
Michał Wnuk
Karolina Kaczkowska
Michał Lisiecki
Polish guests:
Edyta Muł-Pałka
Karolina Kaczkowska
Dominika Repeczko
Other events
Fan Village – cooperation with fandom:
Jakub Rzepecki
Paulina Mikołajczyk
Paulina Lis
Cosplay:
Sławomir Szakala
Media:
Piotr Skorok
Visual identification:
Michał Lisiecki
Helpers:
Robert Karkoszka
IT:
Jakub Rzepecki
Photos:
Sławomir Okrzesik
Main graphics design:
Sławomir Wolicki
Polcon logo design:
Rafał Kosik
https://www.facebook.com/polcon2016/
The European Capital of Culture is a city chosen by the European Union to represent the cultural life of the whole city, region and country. Cities take this opportunity and use European funds to enrich and widen its cultural offer to attract an international audience.
Supporting European integration with culture started in 1985 and was quickly accepted in Europe. The first European CoC was Athens.
The main idea of ECoC is mutual knowledge, friendly relations and intercultural dialog among Europeans. Europe is concentrated on ECoC cities. It's a unique chance to support important European issues, and accelerate the city's development and efficient promotion.
Other ECoC include cities such as Florence, Paris, Berlin, Madrid, Prague, Helsinki, Brussels and Krakow (Poland).
Wrocław was nominated for the ECoC title in 2011. During 2016 Wrocław is going to be a cultural center of Europe, filled with festivals, concerts, conferences and other artistic and cultural events.