LuxCon is the premiere Science Fiction (Sci-Fi), Fantasy & Horror Fantasy in Louxemburg and the second Louxemburgish National Science Fiction and Fantasy Convention.
The event was quadrilingual (Luxemburgish, English, German, French).
LuxCon opened its doors at 10:00 on Saturday, the 28th of March and close them at 18:00 Sunday, the 29th of March 2015.
LuxCon was located at the 'Schungfabrik' (Shoefactory) cultural centre in Tétange.
Luxcon's aim is to get the fans and fan groups of Luxemburg and neighbouring regions together and celebrate the various facets of the genres, to invigorate the local scene as well as build a network for fans of the genre from all over the World.
There are panels from the various industries i.e. Books, Comic Books, Graphic Novels, Movies, Tabletop Games, Roleplaying Games (RPG), Collectible Card games and more.
There were more attending Guests & Communities, panels, presentations, roundtables, gaming tables.
Guests of Honor : Aliette de Bodard, Adrian Tchaikovsky, Miltos Yerolemou (Actor&Director).
Guests : Pierre Stolze (Author), Raymond Milesi (Author), Sarah Verlaine (Author), Uschi Zietsch (Author, Photographer, Editor), V. Dubanniewicz (Author), Peadar O'Guilin (Author), Philippe Sombreval (Author/Illustrator), Verlag Torsten Low (Publisher), Astrid Méan (Author), Alexander Knörr (Author), Cara D'Lestrange (Author), Dirk Van Den Boom (Author), Marc Hoffmann,  Pierre Heinen (Author), S. Vanweddingen (Author), Tom Daut (Author),  Sven Wohl (Author), Emilie Derfernez (Artist),  Lynn Schockmel (Body Art), Anthony Darr (Artist), Sabrina Kaufmann Artist, MediArts, Toru Weber (Musician), Root 25 Brass (Musicians), Marco Mond (Miniatures Painter), Esmeraude Cosplay, Harui (Cosplayer/Photographer), Dennis Kirps, Lady Shu (Cosplay), Atashi Cosplay, Alex Greenwood (Games Developer), Jürgen Lautner (Presenter), Fabien Steines (Game Developer), Lieven L. Litaer (Klingon Teacher), Robert Vogel (Freelance Journalist), Ogardonix, Game Studio Nexus VI, 501st Legion, Roger Murmann (Convention Organiser), Bell Calssara (Cosplayer), Planet-Costumes (Costume Team), Antonio Martija (Musician/Fan), Benjamin Kiehn (Con Organiser), Yves Steichen (Graphic Literature Fan), David Draut (Researcher), Gérard Kraus (Convention organizer).
Programme :       
Talks
New to Conventions (Gérard Kraus)
Saturday 10:00 – Main Stage
EN: A look at conventions in general and a guide to con-newbies.
DE: Eine Conventionübersicht und Erklärungen für Neulinge.
FR: Une vue d'ensemble sur les conventions en général et un guide pour les non-initiés.
Gérard Kraus, Convention Organiser
DDR Science Fiction (David Draut)
Saturday 11:00 – Workshop Room
EN: David Draut explores the Science Fiction output of Germany's now defunct Democratic Republic.
DE: David Draut stellt Science-Fiction aus der ehemaligen Deutschen Demokratischen Republik vor.
FR: David Draut propose de découvrir la science-fiction venant de l'ancienne république démocratique allemande (RDA).
Mittelerde kommt zum Leben (Robert Vogel shows the many ways in which J.R.R. Tolkien's imagination has come to life)
Saturday 12:00 – Main Stage
DE: Robert Vogel ergründet die verschiedenen Arten und Weisen, in denen J.R.R. Tolkiens Werke zum Leben erweckt wurden.
FR: Robert Vogel montre les multiples productions qui ont donné vie à l'imagination de J.R.R. Tolkien.
Learning Klingon 'en francais' (The Klingon Teacher from Germany)- Lieven L. Litaer
Saturday 13:00 – Main Stage
EN: A basic Klingon lesson for people who want to explore it from the French angle.
DE: Ein Klingonischgrundkurs auf französischer Basis.
FR: Les bases du klingon pour les personnes francophones.
Saturday 16:00 – Main Stage – Lieven L. Litaer, Klingon Teacher
EN: Learn the language of the Star Trek Universe's fierce warrior race with an insightful and fully qualified teacher.
DE: Lerne die Sprache der Kriegerrasse aus dem Star Trek Universum von einem qualifizierten Lehrer.
FR: Apprenez la langue de la race guerrière de l'univers de Star Trek avec un enseignant qualifié et édifiant.
My 2014 Con-Marathon (Jürgen Lautner)
Saturday 17:00 – Main Stage
EN: Jürgen Lautner presents his very convention heavy year 2014. Starting with last year's LuxCon, London's WorldCon and others along the way.
DE: Jürgen Lautner blickt auf ein sehr conventionlastiges Jahr 2014 zurück (unter anderem auf die erste LuxCon und die WorldCon in London).
FR: Jürgen Lautner présente son parcours de convention de l'année 2014 en commençant avec la LuxCon précédente, la WorldCon de Londres en passant par d'autres en cours de route.
Evil in Cinema (Benjamin Kiehn)
Saturday 19:00 – Workshop Room
EN: A look at the many incarnations of evil in cinema
DE: Eine Übersicht über die vielen Inkarnationen des Bösen im Kino.
FR: Une vue d'ensemble des incarnations du mal au cinéma.
A history of cinema trailers (Patrick Ernzer)
Saturday 20:00 – Workshop Room
EN: Trailers: the short film to whet one's appetite for bigger, better things to come. Join us on a journey through their evolution.
DE: Filmtrailer sollen Lust auf mehr machen. Patrick Ernzer zeigt, wie sich das Medium entwickelt hat.
FR: Les bandes-annonces: ces petits films qui nous donnent envie. Rejoignez-nous sur la route de leur évolution à travers le temps.
Superheroes (Yves Steichen)
Sunday 10:00 – Workshop Roome
EN: Superheroes are everywhere as of late. But which parts of our psyche have they escaped from originally?
DE: Superhelden sind in aller Munde, doch was sind ihre Ursprünge?
FR: Les superhéros sont omniprésents de nos jours, mais quelles sont leurs origines?
Fantastic London (Roger Murmann)
Sunday 12:00 – Main Stage
EN: With 2014's World Science Fiction Convention held in London's Docklands it was the opportunity to discover everything SF & Fantasy the British capital has to offer.
DE: Die World Science Fiction Convention fand letztes Jahr in London statt und bot einen guten Einstiegspunkt, um zu entdecken, was die Hauptstadt an Science-Fiction und Fantastik zu bieten hat.
FR: La World Science Fiction Convention 2014 à Londres était l'endroit idéal de découvrir ce que la captiale britannique peut offrir du côté de la SF&F.
Cosplaying & the Net (Bell Calssara)
Sunday 12:00 – Workshop Room
EN: How to be safe as a cosplayer in the bright new world of the Internet.
DE: Hier erfahrt ihr, wie man sich als Cosplayer im Internet sicher fühlen kann.
FR: Comment se protéger en tant que cosplayeur sur le net et les réseaux sociaux.
Science Fiction Music (Antonio Matija)
Sunday 13:30 – Reading Room
EN: Discover the vast world of Science Fiction- inspired music.
DE: Entdeckt die Welt der Science Fiction inspirierten Musik.
FR: Découvrez l'univers de la musique inspirée par la science-fiction.
42 Years of Fandom (Robert Vogel)
Sunday 16:00 – Main Stage
EN: Robert has been an active fan for 42 years, enough time to amass an impressive amount of memories and photo material.
DE: Robert ist seit 42 Jahren ein aktiver Fan. In dieser Zeit hat er so Einiges an Anekdoten und Fotomaterial zusammengetragen.
FR: Robert est actif depuis 42 ans maintenant. Sûrement assez de temps pour amasser une pléthore de photos, de souvenirs et d'anecdotes.
Ogardonix – Videogames made in Luxembourg
Saturday 10:00 – Workshop Room
EN: The team behind Luxembourg's games studio presents itself, its projects and answers questions.
DE: Das Team der luxemburgischen Spielewerkstatt stellt sich und seine Projekte in einer Frage- und Antwortrunde vor.
FR: L'équipe du studio de jeu se présente et répond à vos questions.
The State of Fantastic Film
Saturday 12:00 – Reading Room
EN: Romain Roll and Gérard Kraus discuss the year in fantastic movies.
DE: Romain Roll und Gérard Kraus diskutieren über die "fantastischen" Filme des Jahres.
FR: Romain Roll et Gérard Kraus font le tour des films fantastiques de l'année.
 Nexus VI
Saturday 18:00 – Workshop Room
EN: Meet the team behind the recently launched Nexus VI web series from nearby France.
DE: Die französischen Schöpfer der kürzlich erschienenen Nexus VI Webserie stellen sich vor.
FR: Rencontre avec l'équipe française de la nouvelle série web Nexus VI.
Videogames in Luxembourg
Sunday 11:00 – Workshop Room
EN: Join three young people involved with interactive software development and chat about their ideas.
DE: Drei junge Software-Developer geben euch die Gelegenheit mit ihnen ihre Arbeitswelt zu ergründen.
FR: Rencontre et discussion avec trois jeunes gens de l'univers interactif.
 Comparing Fantasy
Sunday 12:00 – Reading Room
EN: Thomas Halsdorf is joined by Guests of Honour Aliette De Bodard, Adrian Tchaikovsky and Peadar O'Guilin to talk about their conception of Fantasy as a genre.
DE: Thomas Halsdorf spricht mit den Ehrengästen Aliette De Bodard, Adrian Tchaikovsky und Peadar O'Guilin über ihr Verständnis des Fantasy Genres.
FR: Thomas Halsdorf discutera avec nos invités d'honneur Aliette De Bodard, Adrian Tchaikovsky et Peadar O'Guilin de leur conception du merveilleux en tant que genre littéraire.
 Anime 101 (Anilux)
Sunday 16:00 – Workshop Room
EN: The Anime experts from Luxembourg's AniLux society talk about which Japanese animation shows are unavoidable to SF&F fans.
DE: Die Animeexperten der luxemburgischen AniLux Gruppe klären auf, welche japanischen Animeserien für Fans der Science-Fiction unverzichtbar sind .
FR: Les experts luxembourgeois de l'anime, AniLux, présentent les animations japonaises incontournables pour les fans de SF&F.
 LuxCon listens (SFFS)
Sunday 17:00 – Reading Room
EN: As LuxCon's 2015 edition comes to an end it's time to look back and forward. This panel is aimed at providing fans and the organisers with feedback about the con and ideas for future editions.
DE: Auch die LuxCon 2015 wird unweigerlich ein Ende haben und dies gibt uns die Gelegenheit zurück und nach vorne zu blicken. Diese Diskussionsrunde gibt jedem die Möglichkeit den Organisatoren, Feedback und Tips für zukünftige Veranstaltungen zu unterbreiten.
FR: Comme la LuxCon2015 arrive à sa fin, il est temps de regarder en arrière et aller de l'avant. Cette discussion sert à l'échange entre le public et les organisateurs pour améliorer la convention dans le futur.
Workshops
LED/Maker Workshop (Marc Teusch)
Continuous – 1st floor landing
EN: Learn to make ordinary things glow and generally make them more awesome.
DE: Lerne, wie man alltägliche Gegenstände zum Leuchten bringt und sie damit ordentlich aufmotzt.
FR: Apprenez l'art de l'illumination pour rendre vos créations encore plus impressionnantes.
Waterdancing(Miltos Yerolemou)
Saturday 11:00 + 14:00 / Sunday 11:00 – Main Stage
EN: Join Syrio Forel – as played by our guest Miltos Yerolemou and learn the secret to the waterdancing style of fencing.
DE: Lerne von Syrio Forel, gespielt von unserem Gast Miltos Yerolemou, die geheime Kunst der Wassertanz Schwerttechnik.
FR: Rejoignez Syrio Forel, joué par Miltos Yerolemou et apprenez les secrets du style d'escrime de Braavos, la dance de l'eau.
LARPLux Demo
Saturday 11:00 & 16:00 / Sunday 11:00 & 14:00 – Tent Stage
EN: Luxembourg's Live Roleplaying Club demonstrate the hobby and allow insights into the fascination behind it.
DE: Luxemburgs Live-Rollenspiel Club stellt sein Hobby vor und zeigt, was so faszinierend daran ist.
FR: Le club de jeu de rôle grandeur nature de Luxembourg partagent son loisir et vous laisse entrer dans son univers.
Audiobook and Audioplays (Timeshift)
Saturday 12:00 – Workshop Room
EN: The team behind the successful TimeShift series offers LuxCon visitors the opportunity of a behind the scenes look and participation in one of their productions.
DE: Das Team hinter der erfolgreichen TimeShift Serie bietet einen Blick hinter die Kulissen einer Hörspiel Produktion.
FR: L'équipe derrière la série à succès permet aux visiteurs de jeter un regard derrière les coulisses de leur production.
 Young Jedi Workshop (SFFS)
Saturday 14:00 – Workshop Room
EN: Aspiring Padawan should come along to this lightsaber building workshop, followed by lightsaber training.
DE: Junge Padawans sollten an unserem Lichtschwertbau Workshop teilnehmen, der im Anschluss ein Lichtschwerttraining beinhaltet.
FR: Jeunes Padawans, rejoignez cet atelier pour construire votre propre sabre laser et suivre un vrai entraînement.
Cosplay 101 (Atashi & Esmeraude Cosplay)
Saturday 15:00 – Workshop Room
EN: Come and join Luxembourg's cosplayers Atashi and Esmeraude and discover the many facets of cosplay along with some tips to apply to your own cosplay experience.
DE: Die beiden Cosplayerinnen Atashi und Esmeraude stellen die fassenreiche Welt des Cosplay vir und geben Tips, wie man sein eigenes Cosplay erstellen kann.
FR: Les cosplayeuses luxembourgeoises Atashi et Esmeraude vous emènent sur un voyage à travers leur univers. Découvrez les facettes de ce loisir et apprenez des astuces pour faciliter votre vie de cosplayeur.
A book in three easy steps (Claude Peiffer)
Saturday 17:00 – Workshop Room
EN: A workshop for aspiring authors, aiming to provide help with writing and publishing.
FR: Un atelier pour auteurs aspirants qui vise à vous aider à composer et à mettre en page votre roman.
DE: "Vom Exposé übers Manuskript hin zum Buchlayout – Ein druckreifer Roman in drei 3 Schritten"
Ein Workshop für werdende Autoren, die Hilfe beim Schreiben und der Veröffentlichung ihrer Werke brauchen.
Miniature Painting (Marco Mond)
Sunday 13:00 – Workshop Room
EN: Award winning miniatures artist Marco Mond is leading a workshop on how to get your small soldiers and figures to look good.
DE: Der mehrfach ausgezeichnete Minaturenkünstler Marco Mond zeigt in seinem Workshop, wie man seine eigenen Figuren künstlerich aufwerten.
FR: Le peintre de miniatures décoré Marco Mond vous donnera des astuces pour réussir la coloration des vos armées.
Roleplaying Game Sessions
Saturday 12:00, 16:00 and 20:00 start – RPG Room
Sunday 11:00 and 15:00 start in the RPG Room
EN: Take on the role of a noble warrior, detective or anything else in one of the many RPG sessions on offer at LuxCon.
DE: Übernimm die Rolle eines Kriegers, eines Detektivs oder anderer Geschöpfe in einer unserer Rollenspielsessions.
FR: Entrez dans le rôle d'un noble guerrier, dêtective ou autre dans une de nos innombrables sessions de jeu de rôle à la Luxcon.
Live Escape
Both days every other hour – Live Escape space
EN: Experience the thrill of a live escape session. Teams are 'locked' away and need to puzzle, think and use their dexterity to find a way out.
DE: Erlebe ein Fluchtszenario am eigenen Leib. Teams werden "eingeschlossen" und müssen sich ihren Weg frei rätseln und mithilfe ihres Denkvermögens und ihrer Geschicklichkeit entkommen.
FR: Pour amateurs de sensations fortes! Des équipes seront "enfermées" et devront résoudre des puzzles, des énigmes avec réflexion et agilité pour sortir.
 Retro Arcade Corner
Both days 10:00-1:00 and 10:00-18:00 – downstairs stage
EN: Good old video game entertainment on arcade cabinets and old-school consoles.
DE: Nostalgiespieler werden sich hier wohlfühlen. Spielarcaden und Retrokonsolen lassen Spielerherzen höher schlagen.
FR: Arcades et consoles rétro pour les nostalgiques des jeux vidéo.
 Board and Card games
Both days 10:00-1:00 and 10:00-18:00 – downstairs dancefloor
EN: Join into any of a number of new boardgaming experiences. Lord of the Rings Monopoly this ain't!
DE: Wer gerne spielt bekommt jederzeit die Gelegenheit an einem von zahlreichen Brett- oder Kartenspielen teilzunehmen.
FR: Essayez une panoplie de jeux de société durant toute la convention.
HMB Demonstrations
Saturday 13:00 and 17:00
Sunday 12:00 and 16:00 – Tent Stage
EN: The HMB Team representing Luxembourg at the Battle of Nations Medieval martial arts tournaments demonstrate their no holds barred approach to sword-slashing and skull-bashing.
DE: Das HMB Team, die Luxemburg beim Kampf der Nationen (einem mittelalterlichen Kampfturnier) vertreten, geben eine Kostprobe ihrer erbarmungslosen Schwertkünste.
FR: L'équipe nationale luxembourgeoise de HMB prouvera ses prouesses de combat médiéval qui font son succès lors de la bataille des nations.
 Fantastic Music
Saturday 19:00 – Main Stage
EN: Toru Weber on Piano and the Root 25 Brass Sextet take you on a musical journey through time and space.
DE: Toru Weber am Klavier und das Root 25 Blaß Sextet nehmen euch mit auf eine Reise durch Raum und Zeit.
FR: Toru Weber au piano et le sextet de cuivre Root 25 vous transporteront dans un univers musical au delà du temps et de l'espace.
Author D&D
Saturday 19:00 – Reading Room
EN: Roleplaying games are not meant as a spectator sport, but when our guests of honour sling dice it should be worth it. How are they going to cope with what the GM throws at them?
DE: Rollenspiele sind überlicherweise kein Zuschauersport, aber wenn sich unsere Ehrengäste die Würfel um die Ohren hauen, lohnt es sich sicher vorbeizuschauen. Werden sie sich dem Spielleiter widersetzen können?
FR: Généralement, les jeux de rôle sont des moments intimes d'immersion personnelle, mais lorsque nos invités d'honneur s'y lancent, le public appréciera. Comment se défendront-ils contre les aussauts de notre maître de jeu?
The 2nd LuxCon PubQuiz of Awesome
Saturday 20:30 – at the bar
EN: Teams of four go head to head in the ultimate SF,F&H trivia challenge.
DE: Viererteams kämpfen um den Titel des Quizmeisters in den Bereichen Science-Fiction, Fantastik und Horror.
FR: Des équipes de quatre personnes se lanceront dans un affrontement intellectuel et culturel dans ce quiz de science-fiction, merveilleux et horreur.
Geekaraoke
Saturday 22:30 – at the bar
EN: Bring your best karaoke voice talent and belt some classic cartoon, TV-Show or Film tunes, or sing along to some of the classic SF&F inspired songs, from Bowie to Queen, there should be something for you.
DE: Hier dürft ihr euer Fandasein auch musikalisch ausleben. Von der Titelmusik bis zu klassischen Science-Fiction inspirierten Rocksongs ist alles dabei.
FR: La Star Ac' était hier! Montrez votre talent vocal lors de notre karaoke inspiré par vos films, séries et séries animées favoris, de Bowie à Queen, de Bioman aux Chevaliers du Zodiaque, il y en aura pour tout le monde!
 LuxCon Cosplay Contest
Sunday 15:00 – Main Stage
EN: Come and admire the work put into costume as competitors launch onto the stage vying for the prestigious LuxCon Cosplay Championship Crown.
DE: Eines der Highlights ist unser Cosplay Contest, bei dem man sich von den Kostümkünsten der Teilnehmer überzeugen kann, die um den Titel des LuxCon Cosplay Champions kämpfen.
FR: Venez admirer la passion, l'assiduité et le talent des cosplayeurs lorsqu'ils se lanceront sur scène pour le concours ultime de Cosplay à la LuxCon.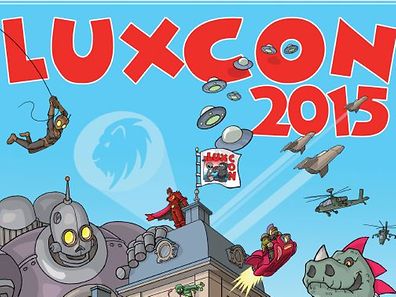 http://luxcon.lu/?page_id=10293
Location :
Schungfabrik (shoe factory)
The origins of this building can be traced back to the years 1912-13, when Mathias Hubert decided to install a shoe factory in it. Production of shoes constituted a flourishing business then. Already in 1917, the building was extended and 70 people worked in the factory. This growth was due to the strong demand of safety shoes with iron tips for the mines. Unfortunately, the story fo the factory lasted only half a century. Because the demand for shoes dropped, the factory had to be closed in the year 1966. After being used as storage space for a furniture manufacturer, the local authorities bought the building in 1980. Ten years later, 19th of january 1990, the building was officially opened to the public and became the Cultural Center Schungfabrik (meaning Shoefactory) for the villages of Kayl and Tetange.
The old shoe factory thus became a meeting place for the local cultural organisations. This success is due to the different halls able to accomodate all kinds of cultural activities. Unfortunately, the frontside of the building was less attractive, a fact that changed only recently. Now, the frontside being restored, the building looks splendid, with a lot of care given to details such as ornaments and the window borders finished in red bricks.
The Luxemburgish Science Fiction & Fantasy Society aims to offer an environment where every fan of Science Fiction, Fantasy and Horror, can meet like-minded individuals.
To do this SFFS provides a monthly meeting (every second Sunday of each month) and organizes trips to various events of interest. In addition to this there is a regular set of events that aim to please more specific sets of preferences, like regular sessions of Artemis Spaceship Bridge Simulator, Boardgame Afternoons, Roleplaying sessions, etc. Anybody interested can come by and suggest other acitvities.
The society is looking back on nearly 20 years of existence. Originating in 1995 under the name 'Magic Association Luxembourg', the society allowed Magic: The Gathering players to enjoy official tournaments, counting towards international rankings, national championships, sending the winners to the world championship events. and prerelease events, a first in Luxembourg. Subsequently, through the growing exchange with many interested parties, and the influence of the excellent, but now defunct, Fantasy Bazaar in Esch, the society and its members hosted and attended roleplaying events and grew interested in the vast spectrum of Science Fiction, Fantasy and Horror culture. Adding to firsts, a series of live roleplaying events were organized and lead to the society ialso being a long time participant in the 'Butschebuerger Buergfest' where kid-friendly entertainment is provided.
Since 2008, SFFS's activities have really picked up pace, helped by the fact that a lot of its members returned from university at that point, and/or started to live a more stable life. In a move to attract some attention and show the versatility of our hobbies, SFFS approached Radio ARA with the concept of a radio show dedicated to Science Fiction, Fantasy & Horror. The result, Sci-Fan, can be heard every other week, on Saturday, from 13:00 to 14:00, on Radio ARA's wavelenghts (103.3, 105.2 or online at www.ara.lu) The team around it has now produced over one-hundred shows in which news of the genres in all possible media are covered, along with reviews, and reports on various events, trends and past icons.
https://www.facebook.com/LuxConvention
Grand Duchy of Luxembourg (Groussherzogtum Lëtzebuerg/Großherzogtum Luxemburg/Grand-Duché de Luxembourg) : http://en.wikipedia.org/wiki/Luxembourg
Luxemburgish (Lëtzebuergesch) is the national language of Luxembourg and one of three administrative languages, alongside French and German.
Luxemburgish is a High German language (belongs to the West Central German group of High German languages and is the primary example of a Moselle Franconian language), about 400,000 people worldwide speak Luxemburgish.