"Kallocain" is a classic 1940 dystopian novel by Swedish novelist Karin Boye which envisions a future of drab terror.
In 2016, the novel was nominated for the Retro Hugo award for the best science fiction novel of 1941.
Finalists for the 1941 Retro Hugo Awards, honoring work from 1940, have been announced by MidAmericon II, the 74th World Science Fiction Convention, to be held in Kansas City MO, August 17-21, 2016.
Best Novel (352 nominating ballots)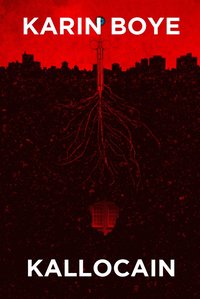 "In Boye's novel, the "World State" is locked in a condition of perpetual war with the "Universal State" to the East; both states – each of them claustrophobic warren-like male-dominated repressive societies – are gripped by paranoia and fear, with Thought Police ubiquitous. The protagonist's fatal invention of the eponymous truth drug only generates further repression in the "World State", as the involuntary self-betraying inner thoughts of everyone are now punishable. He eventually becomes a prisoner scientist in the "Universal State", where he continues his work. As in Orwell's novel, there is no light at the end of the tunnel." – The Encyclopedia of Science Fiction
"Kallocain" by Karin Boye (Bonnier)
Seen through the eyes of idealistic scientist Leo Kall, "Kallocain's depiction of a totalitarian world state may draw on what Boye observed or sensed about the bolshevic dictatorship of Soviet Union, which she visited in 1928 and the Nazi Germany. An important aspect of the novel is the relationships and connections between the various characters, such as the marriage of the main character and his wife Linda Kall, and the feelings of jealousy and suspicion that may arise in a society with heavy surveillance and legal uncertainty.
One of its central ideas coincides with contemporary rumors of truth drugs that ensured the subordination of every citizen to the state. Both Aldous Huxley's "Brave New World" (1932) and Boye's "Kallocain" are drug dystopias, or societies in which pharmacology is used to suppress opposition to authority. However, unlike "Brave New World", where a drug is used to suppress the urge to nonconformity generally, in Kallocain a drug is used to detect individual acts and thoughts of rebellion.
"Kallocain" has been translated into more than 10 languages and was adapted into a television miniseries in 1981 by Hans Abramson.
Plot
The plot centers on Leo Kall, written in the form of a diary or memoir. Kall lives with his wife Linda Kall in a city intended for chemical industry. Leo is a scientist, who is initially very loyal to the government and develops the truth drug Kallocain. It has the effect that anyone who takes it will reveal anything, even things of which they were not consciously aware.
Major themes include the notion of the self in a totalitarian state, the meaning of life, and the power of love. Apart from the laboratory work and testing by Leo Kall, much of the novel takes place in the home of Leo and Linda.
"Kallocain" by Karin Boye
Karin Maria Boye (26 October 1900 – 24 April 1941) was a Swedish poet and novelist.
Boye was born in Göteborg (Gothenburg), Sweden and moved with her family to Stockholm in 1909. She studied at Uppsala University from 1921 to 1926 and debuted in 1922 with a collection of poems, "Clouds" (Swedish: Moln). During her time in Uppsala and until 1930, Boye was a member of the Swedish Clarté League, a socialist group in those days very anti-Fascist.
In 1931 Karin Boye, together with Erik Mesterton and Josef Riwkin, founded the poetry magazine Spektrum, introducing T. S. Eliot and the Surrealists to Swedish readers. She translated many of Eliot's works into Swedish; she and Mesterton translated "The Waste Land".
Karin Boye is perhaps most famous for her poems, of which the most well-known ought to be "Yes, of course it hurts" (Swedish: Ja visst gör det ont) and "In motion" (I rörelse) from her collections of poems "The Hearths" (Härdarna), 1927, and "For the sake of the tree" (För trädets skull), 1935. She was also a member of the Swedish literary institution Samfundet De Nio (The Nine Society) from 1931 until her death in 1941.
Karin Boye's novel "Crisis" (Kris) depicts her religious crisis and love. In her novels "Merit awakens" (Merit vaknar) and "Too little" (För lite) she explores male and female role-playing.
Outside Sweden, her best-known work is probably the novel "Kallocain". Inspired by her visits to Soviet Union and Germany during the rise of Nazism, it was a portrayal of a dystopian society in the vein of George Orwell's "Nineteen Eighty-Four" and Aldous Huxley's "Brave New World" (though written almost a decade before Orwell's magnum opus). In the novel, an idealistic scientist named Leo Kall invents Kallocain, a kind of truth serum. The novel was filmed in Sweden in 1981 and was the main influence on the movie "Equilibrium".
Boye died in an apparent suicide when swallowing sleeping pills after leaving home on 23 April 1941. She was found, according to the police report at the Regional Archives in Gothenburg, on 27 April, curled up at a boulder on a hill with a view just north of Alingsås, near Bolltorpsvägen, by a farmer who was going for a walk. The boulder is now a memorial stone.
The statue of Karin Boye on Kungsportsavenyn, outside the Gothenburg City Library
Karin Boye was given two very different epitaphs. The best-known is the poem "Dead Amazon" (Död amazon) by Hjalmar Gullberg, in which she is depicted as "Very dark and with large eyes". Another poem was written by her close friend Ebbe Linde and is entitled "Dead friend" (Död kamrat). Here, she is depicted not as a heroic Amazon but as an ordinary human, small and grey in death, released from battles and pain.
Karin Boye's statue in Huddinge, Stockholm.
A literary association dedicated to her work was created in 1983, keeping her work alive by spreading it among new readers. In 2004, one of the branches of the Uppsala University Library was named in her honour.
The last line of Karin Boye's poem "Of course it hurts" is found on a work of art in Ystad, Sweden.
Of course it hurts when buds burst.
Otherwise why would spring hesitate?
Why would all our fervent longing
be bound in the frozen bitter haze?
The bud was the casing all winter.
What is this new thing, which consumes and bursts?
Of course it hurts when buds burst,
pain for that which grows
  and for that which envelops.

Of course it is hard when drops fall.
Trembling with fear they hang heavy,
clammer on the branch, swell and slide -
the weight pulls them down, how they cling.
Hard to be uncertain, afraid and divided,
hard to feel the deep pulling and calling,
yet sit there and just quiver -
hard to want to stay
  and to want to fall.

Then, at the point of agony and when all is beyond
  help,
the tree's buds burst as if in jubilation,
then, when fear no longer exists,
the branch's drops tumble in a shimmer,
forgetting that they were afraid of the new,
forgetting that they were fearful of the journey -
feeling for a second their greatest security,
resting in the trust
                         that creates the world.

Translated into English by Jenny Nunn


Copyright © 1997


Karin Boye Society