"The Blood of Angels" by Johanna Sinisalo (Finland)
"The Blood of Angels"  : Another haunting novel of eco-speculation from Johanna Sinisalo, the award-winning author of Troll and a powerhouse of the Finnish science fiction and fantasy scene
 "The phenomenon of colony-collapse disorder, the sudden mass disappearance of bees, has become so widespread that much of the world – although not, as yet, Finland – is facing agricultural and ecological disaster.
Amateur beekeeper Orvo, devastated by the recent death of his eco-warrior son, finds two of his hives deserted and begins to fear that the 'epidemic' has reached Scandinavia. Then, in the attic of the old barn, he makes a mystical and frightening discovery: a pathway to a parallel world. Is it a hallucination stimulated by sorrow and loss – or is it something very real and connected with the bees' disappearance? His research teaches him that in practically every culture bees are viewed as half-supernatural messengers that can travel between worlds and are associated with resurrection and the afterlife. He begins to wonder if this portal could reunite him with his dead son and whether he can himself escape the ecological meltdown of this world.
The Blood of Angels reworks the Orpheus myth while analysing modern man's need to deny his mortality and raise himself above the rest of nature, to compare himself to the angels – but at what price ?"
'The Blood of Angels artfully combines existential crisis with environmental crisis.' – Le Monde
 'The Blood of Angels reinforces one's belief in the power of fiction to debate matters of global significance.' – Turun Sanomat (Finland)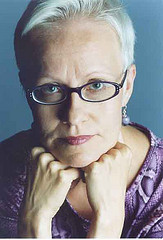 Johanna Sinisalo studied comparative literature and drama, amongst other subjects, at the University of Tampere, Finland. Professionally she worked in the advertising business, rising to the level of marketing designer.
An important figure in the Finnish science fiction scene in the late 1980s and early '90s (winning a rare back-to-back collection of Atorox prizes for short fiction in the genre), she was also the first to make a breakthrough by bursting the genre barriers.
Sinisalo was awarded the Finlandia Prize for literature in 2000 for her first novel, "Ennen päivänlaskua ei voi" , translated as "Not Before Sundown" in 2003 and again as "Troll — A Love Story"  in 2004 for the American market.
Johanna Sinisalo is a Finnish science fiction and fantasy writer who won the James Tiptree Jr. Award, as well as the most acclaimed Finnish literary prize, the Finlandia, for her novel "Troll". Her novel "Birdbrain" was one of Publishers Weekly's Top 10: Science Fiction & Fantasy titles and Locus's Top 10 Fantasy Novels in 2011. She also edited "The Dedalus Book of Finnish Fantasy" and was nominated for a Nebula Award for her short story "Baby Doll".
Tomorrow is Johanna's birthday, so let's congratulate her and wish her "Happy Birthday !" and "Many Happy Returns ! "
Source : courtesy of Peter Owen Publishers, London ("the Best European and World Writers")
http://www.peterowenpublishers.com/product-category/authors/johanna-sinisalo/
http://www.amazon.co.uk/exec/obidos/ASIN/0720610044/sfsi0c-20