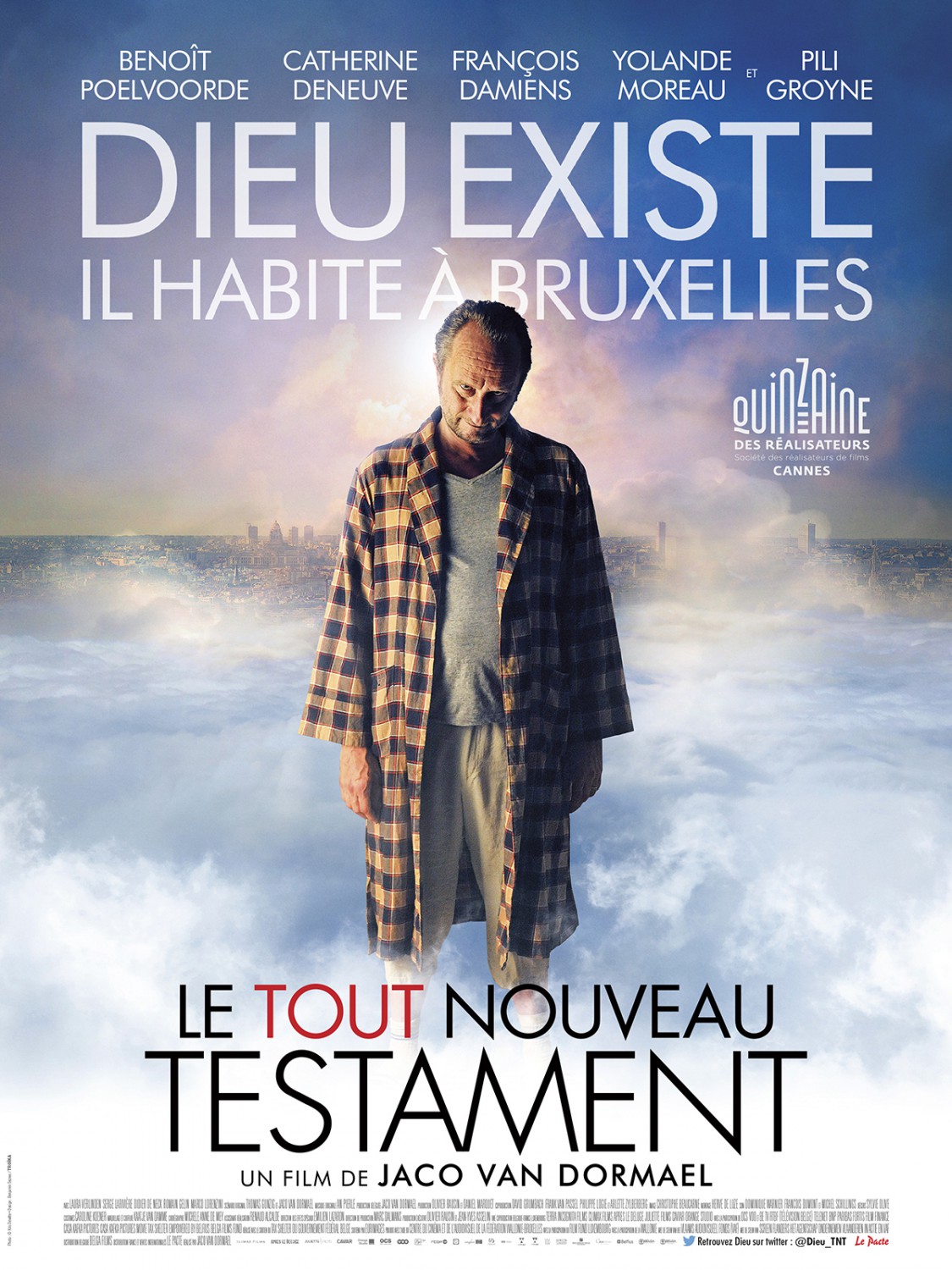 "A sweet and blasphemous satire, a blazing storytelling momentum and a highly creative visual scheme. Everyone on Earth is ultimately doomed, but this is a vision of optimism, of people being given the opportunity to help one another and doing it with tenderness."
"Le Tout Nouveau Testament" (The Brand New Testament) is a 2015 Fantastic/Surrealist film directed by the Belgian director Jaco Van Dormael and was screened at the Directors' Fortnight section at the 2015 Cannes Film Festival. The film is a co-production between France, Belgium and Luxembourg.
"Le Tout Nouveau Testament" was selected as the Belgian entry for the Best Foreign Language Film at the 88th Academy Awards.
Trailer :
Jaco Van Dormael (born 9 February 1957) is a Belgian film director, screenwriter and playwright. His complex and critically acclaimed films are especially noted for their respectful and sympathetic portrayal of people with mental and physical disabilities.
Van Dormael spent his childhood travelling around Europe, before going on to study filmmaking at the INSAS in Brussels, where he wrote and directed his first short film, "Maedeli la brèche" (1981), which received the Honorary Foreign Film Award at the Student Academy Awards. Van Dormael's feature debut, Toto le héros (1991), was an immediate hit and won the Caméra d'Or at the Cannes Film Festival.
Five years later Van Dormael was among the prizes again at Cannes with "Le huitième jour"/The Eighth Day (1996), when his two leading actors, Daniel Auteuil and Pascal Duquenne, were jointly awarded the prize for Best Actor.
His third feature film, "Mr. Nobody" (2009), received further critical acclaim and many accolades, winning six Magritte Awards, including Best Film and Best Director.
"Mr. Nobody" is a remarkable science fiction film and utilizes nonlinear narrative and the many-worlds interpretation to tell the life story of the last mortal on Earth, Nemo Nobody, portrayed by Jared Leto.
"Mr. Nobody" had its world premiere at the 66th Venice International Film Festival on 12 September 2009, where it won the Biografilm Award and the Golden Osella for Outstanding Technical Contribution. It has received high praise from film critics and was named by many one of the best films of that year. It received seven Magritte Award nominations, winning Best Film, Best Director, Best Screenplay, Best Cinematography, Best Original Score and Best Editing. It also won the André Cavens Award and the People's Choice Award for Best European Film at the 23rd European Film Awards.
Since its original release, "Mr. Nobody" has become a cult film, noted for its philosophy and soundtrack, personal characters and Christophe Beaucarne's cinematography.
"Le Tout Nouveau Testament" (The Brand New Testament) :
"This irreverent, idea-filled satire asks what if everything the Bible says is wrong, and God's daughter came down to earth to set the record straight."
God is real and lives in an apartment in Brussels, which he shares with his meek wife and his 10-year-old daughter Ea, to whom he is emotionally and physically abusive. God is a grumpy sadist who created mankind specifically to have something to torment. He manipulates reality via a personal computer, which he strictly forbids his family from accessing. One day, Ea sneaks into his office and discovers how He has been mistreating humans. This enrages God, who whips Ea with his belt.
Ea decides to rebel against her father. She steals the key to His office and accesses the pre-destined dates of death of every human in the world and releases it to the world. Everyone in Brussels receives a text message informing them when they are destined to die. Ea then locks God's computer and escapes the apartment through a chute in the laundry room. Wandering the streets of Brussels, Ea decides to follow in Jesus' footsteps and write the Brand New Testament in order to spiritually uplift the human race. She selects six apostles.
The first is a vagrant, whom she chooses to be her scribe.
The second apostle is a reclusive woman who lost her left arm in an accident and feels nobody will love her.
The third apostle is a sexually-frustrated old man who is awkward around women. He is perpetually lovesick over a girl he met once as a boy. On Ea's encouragement, he becomes a voice actor for porn movies, where he coincidentally meets the girl of his youth. They form a relationship which they consummate.
The fourth apostle is a man who is fascinated with death. When he learns that everyone's death is pre-destined, he purchases a rifle with plans to shoot pedestrians, believing that he will not really be at fault for their deaths. Ea prods him to shoot a woman, who happens to be the second apostle. He hits her in her prosthetic arm. Believing this to be a divine signal, he courts the woman and forms a relationship, and learns to embrace life instead of death.
The fifth apostle is an elderly woman trapped in a loveless marriage. Ea persuades her to cheat on her husband. She first does so with a male prostitute, then with a gorilla. The gorilla beats up her husband, to her delight.
The sixth apostle is a sickly boy who discovers he has only days left to live. Ea encourages him to stop conforming to society and live his few remaining days according to his inner desires. He chooses to dress and act like a girl.
God is horrified when he discovers what Ea has done. With everyone now aware of the time they have left, he can no longer torment humans through their fear of death. Worse still, with His computer locked, He is powerless. He leaves the apartment for the first time in His life through the chute in the laundry room. Because of His rude manners, he is abused by everyone He meets. He discovers to his horror that the chute to his apartment is gone and He is trapped in the outside world, powerless and alone. He is forced to take shelter in a church, and is eventually deported to Uzbekistan after being mistaken for an illegal migrant.
Ea and her apostles go to the seaside, where hundred of people have gathered to spend the last hours of their lives. An airplane, which just so happens to be carrying God under police escort, falls out of the sky, threatening everyone on the beach. At this moment, however, God's wife, who has grown accustomed to life without her husband, accesses God's computer and repeals everyone's destined date of death. The airplane regains altitude and everyone has a new lease on life.
The first apostle publishes the Brand New Testament, which becomes a bestseller, lifting him out of poverty. God winds up in Uzbekistan, where he vainly searches washing machines for a passage back to his apartment.
Cast : Benoît Poelvoorde as God, Catherine Deneuve as Martine, François Damiens as François, Yolande Moreau as God's Wife, Pili Groyne as God's daughter, Romain Gelin as Willy, Didier De Neck as Jean-Claude, Serge Larivière as Marc, Marco Lorenzini as Victor, Laura Verlinden as Aurélie, Anna Tenta as Xenia, Johan Leysen, Johan Heldenbergh, Viviane De Muynck, Emylie Buxin, Cyril Perrin
Jaco van Dormael's films, while few, have strong common themes between them. They make distinctive use of naive voiceover and examine the world from an innocent perspective (the young Thomas in Toto le héros (Toto the Hero), the mentally handicapped protagonist of Le huitième jour (The Eighth Day), and the unborn child of Mr. Nobody). These characters views are often colorful, imaginative, and somewhat removed from reality, with slight elements of surreal imagery used to illustrate their active imaginations.
His films also typically end with a death, which is portrayed not as a tragedy, but as a happy moving on where the deceased looks down happily at the world below. Between Heaven and Earth ends with a birth, but it is similarly handled the passing of a character into a new world. This pattern is continued in Mr. Nobody, where two deaths open the film and a unique twist on death at the end of the film conveys a wistful sense of happiness.
Van Dormael makes prominent use of nostalgic standards music, as well, featuring "Boum!" by Charles Trenet in Toto le héros and "Mexico" by Luis Mariano in Le huitième jour as recurring themes. Mr. Nobody used "Mr. Sandman" as its recurring musical theme.
All of Van Dormael's films contain surreal elements. In his first two films, these moments were few, like dancing flowers in Toto le héros or Georges flying around the room in Le huitième jour. Mr. Nobody makes much more extensive use of surreal imagery throughout the film.