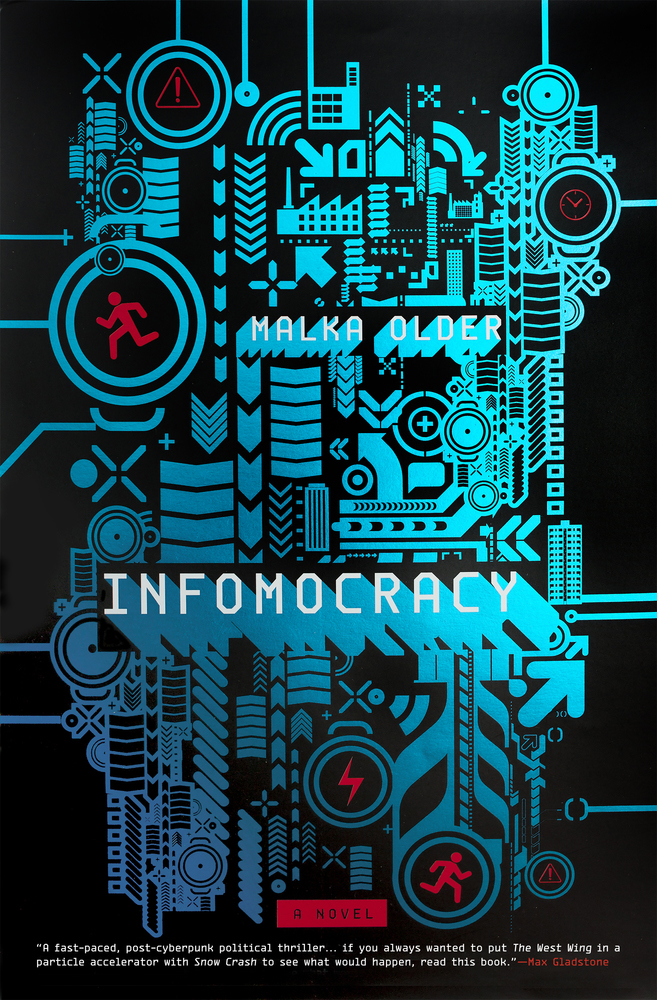 "It's been twenty years and two election cycles since Information, a powerful search engine monopoly, pioneered the switch from warring nation-states to global micro-democracy. The corporate coalition party Heritage has won the last two elections. With another election on the horizon, the Supermajority is in tight contention, and everything's on the line.
With power comes corruption. For Ken, this is his chance to do right by the idealistic Policy1st party and get a steady job in the big leagues. For Domaine, the election represents another staging ground in his ongoing struggle against the pax democratica. For Mishima, a dangerous Information operative, the whole situation is a puzzle: how do you keep the wheels running on the biggest political experiment of all time, when so many have so much to gain?
Infomocracy is Malka Older's debut novel."
File Size:1608 KB
Print Length:382 pages
Page Numbers Source ISBN:0765385155
Publisher:com (June 7, 2016)
Publication Date:June 7, 2016
Sold by:Amazon Digital Services LLC
Language:English
"Sometimes you need to escape from the news by plunging into a fictionalized version of it.
Malka Older's debut novel Infomocracy (UK) is a SF thriller about the third election cycle in the world's first global government, a data-driven "microdemocracy." The first in a trilogy, Infomocracymanages to be incredibly action packed while also exploring plausible political futures you may never have imagined.
Election integrity in the world of Infomocracy is guaranteed by a techno-political organization called "The Information" (think Google merged with Facebook). Committed to non-partisan transparency, The Information is supposed to give citizens the data they need to vote wisely. Its real mission, of course, is more ambiguous. The action reaches a fever pitch and stays there, as our protagonists race to find out who is behind a series of bombings aimed at shutting down the election."
"The debut novel by Malka Older, it projects a future where the game of politics has become streamlined yet infinitely more complex — with the added variable of advanced tech making the system that much more volatile. As election-year reads go, it's both enlightening and horrifying."
http://www.tor.com/author/malka-older/
Malka Older is a writer, aid worker, and PhD candidate. Named Senior Fellow for Technology and Risk at the Carnegie Council for Ethics in International Affairs for 2015, she has more than a decade of experience in humanitarian aid and development, ranging from field level experience as a Head of Office in Darfur to supporting global programs and agency-wide strategy as a disaster risk reduction technical specialist. She has responded to complex emergencies and natural disasters in Sri Lanka, Uganda, Darfur, Indonesia, Japan, and Mali, in the last three as Team Leader.
Her doctoral work on the sociology of organizations at the Institut d'Études Politques de Paris (Sciences Po) explores the dynamics of multi-level governance and disaster response using the cases of Hurricane Katrina and the Japan tsunami of 2011. She has an undergraduate degree in literature from Harvard and a Masters in international relations and economics from the School of Advanced International Studies (SAIS) Johns Hopkins University.
Her short story "The Rupture" is now available for reading for free at Capricious. This far-future story is about danger and belonging, emigration and ethnography and the end of the world.
https://malkaolder.wordpress.com/
https://www.facebook.com/MalkaOlderAuthor/
http://arstechnica.com/the-multiverse/2016/07/this-science-fiction-novel-is-a-perfect-antidote-to-the-u-s-election-season/
http://www.npr.org/2016/06/08/480477941/infomocracy-is-a-sci-fi-thriller-with-election-year-chills
https://www.kirkusreviews.com/book-reviews/malka-older/infomocracy/
http://www.publishersweekly.com/978-0-7653-8515-4