"To please the majority is the requirement of the Planet Cinema. As far as I'm concerned, I don't make a concession to viewers, these victims of life, who think that a film is made only for their enjoyment, and who know nothing about their own existence. The only progress in film nowadays is in technology. Technology leads the industry, or the industries. You have three solutions, and in between, once every five or six years, you can see a film which is a film, which is something to see, to hear, to get moved by in a way or another. I'm still very much against the mainstream commercialism. But what can we do? Personally I like Surrealism. It's an interesting interpretation, Romanticism pushed to the point of absurdity, which is called Surrealism"– Andrzej Żuławski
"Not only the hegemonic film industry, but also internationally renowned film auteurs have been contributing to the history of audiovisual science fiction – one might recall Fritz Lang, Chris Marker, Jean-Luc Godard, Stanley Kubrick, Andrei Tarkovsky, Hiroshi Teshigahara, Andrzej Żuławski, Alexander Kluge, Piotr Szulkin, Werner Herzog, Wim Wenders, Volker Schlöndorff, Hugo Santiago, David Cronenberg and David Lynch, among many others, as well as the Brazilian filmmakers Nelson Pereira dos Santos and Walter Lima Jr."
The Polish film director Andrzej Żuławski who spent much of his career working in France after falling foul of the Communist authorities at home, has died. He was 75. The director died after a long struggle with cancer, according to the Polish Filmmakers Association.
Andrzej Żuławski was a master of the European visual Fantastika, author of relevant films as "Diabeł" (The Devil, 1972), "Possession" (1981), "Na srebrnym globie" (On the Silver Globe, 1988),  "Szamanka" (She-Shaman, 1996), "Cosmos" (2015).
"Andrzej Żuławski was a very original artist, sometimes controversial, but always true to himself." –said Jacek Bromski, Head of the Polish Filmmakers Association.
Known for his highly artistic and intellectually challenging films, Andrzej Żuławski was one of the best world film directors.
He was born in Lwów, Poland, son of the poet, writer and diplomat Mirosław Żuławski (1913-1955).
Andrzej Żuławski studied cinema at IDHEC (Institut des hautes études cinématographiques /Institute for Advanced Cinematographic Studies, Paris) from 1957 to 1959. In 1958, he shot his first 35mm short, "La Sorcière" (The Witch), adapted from a short story by Chekhov. Back in Poland, he became assistant of the famous polish film director Andrzej Wajda.
Andrzej Żuławski followed philosophy courses at the Warsaw University and studied political science at the Sorbonne University (Paris) writing about film, composing poems. He directed a short film for television in 1967 (Pieśń triumfującej miłości/The Song of Triumphant Love) and his first feature, "Trzecia częśc nocy" (The Third Part of the Night), in 1971. Many of his projects are abandoned (L'Archer/The Archer, the story of a shooter on the roofs of Paris, a film about Vietnam that Cannon had to produce, another of Joan of Arc …)
Żuławski often went against mainstream commercialism in his films, and enjoyed success mostly with European art-house audiences.
His second feature "Diabeł" (The Devil, 1972) was banned in Poland, and Żuławski went to France.
After the success of "L'important c'est d'aimer" (That Most Important Thing: Love) in 1975, he returned to Poland where he spent two years making "Na srebrnym globie" (On the Silver Globe, 1988) based on a book by his great-uncle Jerzy Żuławski.
The work on this film was interrupted by the Polish communist authorities. After that, Żuławski moved again to France where he became known for controversial and violent art-house films.
His films have received awards at various international film festivals. Żuławski had also written several novels, for example: "Il était Un Verger", "Lity Bór" (a.k.a. La Forêt Forteresse), "W oczach tygrysa", and "Ogród Miłości".
Being a rebel who always defied mainstream commercialism, Żuławski enjoyed success mostly with the European art-house audiences. His wild, imaginative, and controversial pictures have received awards at various international film festivals.
On 17 February 2016, Andrzej Żuławski died at a hospital in Warsaw, after a long battle with cancer.
R.I.P. !
Selected filmography
Trzecia częśc nocy (The Third Part of the Night) (1971)
Diabeł (The Devil) (1972)
L'important c'est d'aimer (That Most Important Thing: Love) (1975)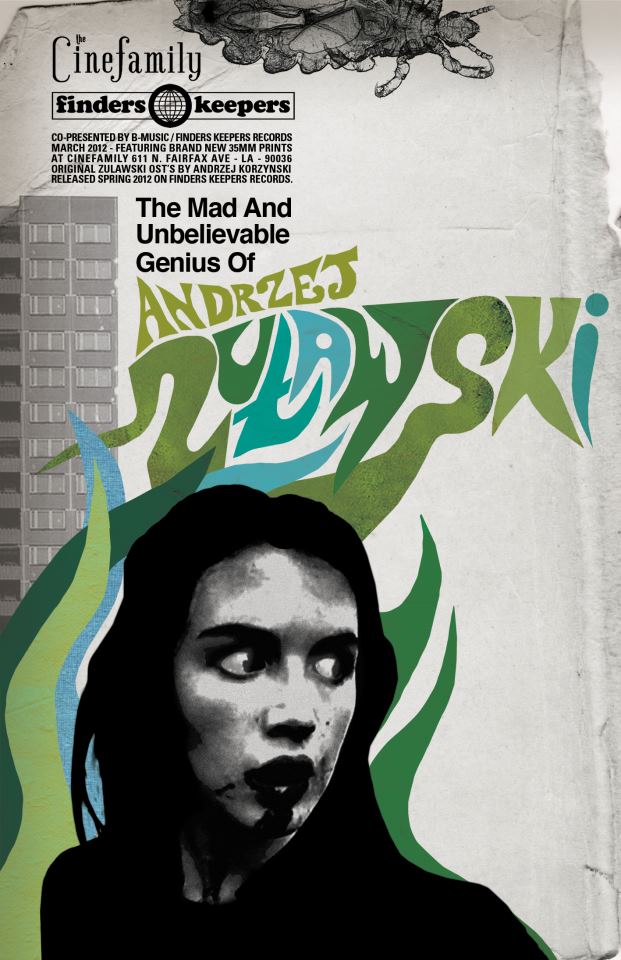 Possession (1981)
La femme publique (The Public Woman) (1984)
L'Amour braque (Mad Love) (1985)
Na srebrnym globie (On the Silver Globe) (1988)
Mes nuits sont plus belles que vos jours (My Nights Are More Beautiful Than Your Days, 1989)
Boris Godunov (1989)
La Note bleue (The Blue Note) (1991)
Szamanka (She-Shaman) (1996)
La fidélité (Fidelity) (2000)
Cosmos (2015)
"Na srebrnym globie" (On the Silver Globe) is a Polish SF film premiered in 1988, directed by Andrzej Żuławski and adapted from a novel by Jerzy Żuławski.
A group of astronauts leaves Earth to find freedom, and their spaceship crashes on an unnamed Earth-like planet. The astronauts, equipped with video-recorders, reach a seashore, where they build a village. After many years, only one member of the crew, Jerzy, is still alive, watching the growth of a new society, whose religion is based on mythical tales of an expedition from the Earth. The first off-Earth generation calls him the Old Man, treating him as a demi-God. The Old Man leaves them and before his death sends his video diary back to Earth in a rocket. A space researcher named Marek (Andrzej Seweryn) receives the video diary and travels to the planet. When he arrives, he is welcomed by the cast of priests as the Messiah, who can release them from the captivity of the Szerns, indigenous occupants of the planet. Shortly afterwards, Marek organizes an army and enters the city of the Szerns. Meanwhile, the priests start to believe that Marek was an outcast from the Earth, rather than a messiah who came to fulfill the religious prophecy.
Cast: Andrzej Seweryn as Marek, Jerzy Trela, Grazyna Dylag, Waldemar Kownacki, Iwona Bielska, Jerzy Gralek, Elzbieta Karkoszka, Krystyna Janda as The Actress, Maciej Góraj, Henryk Talar, Leszek Dlugosz, Andrzej Frycz, Henryk Bista, Wieslaw Komasa, Jerzy Golinski
Jerzy Żuławski wrote the novel on which the film is based, "On the Silver Globe", around 1900 as part of "The Lunar Trilogy".
Żuławski was the granduncle of Andrzej Żuławski.
Andrzej Żuławski left his native Poland for France in 1972 to avoid Polish government censorship.
After Żuławski's critical success with the 1975 film "L'important c'est d'aimer", the Polish communist authorities in charge of cultural affairs reevaluated their assessment of him. They invited him to return to Poland and produce a project of his own choice. Żuławski, who had always wanted to make a film of his grand uncle's novel, saw the offer as a unique opportunity to achieve this aim.
Between 1975 and 1977, Żuławski adapted the novel into a screenplay. He shot the film at various locations, including the Baltic seashore at Lisi Jar near Rozewie, Lower Silesia, the Wieliczka Salt Mine, the Tatra Mountains, the Caucasus mountains in Georgia, the Crimea in the Ukraine, and the Gobi Desert in Mongolia.
In the fall of 1977, the project came to a sudden halt when Janusz Wilhelmi was appointed vice-minister of cultural affairs. He interpreted the film's battle between the Selenites and the Szerns as a thinly-veiled allegory of the Polish people's struggle with totalitarianism. Wilhelmi shut down the film project, which was eighty percent complete, and ordered all materials destroyed.
Żuławski went back to France, saying that he was in despair over the loss and waste of so much artistic effort. The reels of the unfinished film were ultimately not destroyed, but preserved, along with costumes and props, by the film studio and by members of the cast and crew. Although Wilhelmi died a few months later in a plane crash, the film was only released after the end of communist rule.
In May 1988, a version of the film, consisting of the preserved footage plus a commentary to fill in the narrative gaps, premiered at the 1988 Cannes Film Festival.
http://www.andrzej-zulawski.com/