Helsinki in 2017 is a bid to bring the World Science Fiction Convention, Worldcon to Helsinki, Finland in 2017. Our proposed time is fromWednesday 9 August to Sunday 13 August, 2017 and our proposed venue is Messukeskus, the Helsinki Exhibition and Convention Centre. In addition to being a Worldcon bid, Helsinki in 2017 is our attempt to bring together European fans of science fiction and fantasy, and to connect all of us together as Worldcon fans.
Europe is full of fannish activity, but we lack cohesion; we lack a collective that we might all call our own. In other words, while there are many national fandoms, there is no truly European fandom. Our little project is about fixing that, by bringing together these separate groups, and introducing them to fandom at large. We want Worldcon fandom to be truly international, and we believe the way to do that is to bring Worldcon to Europe more than once or twice a decade.
We believe in Worldcon; we believe in its scope and format. If those were to change too much or too fast, the world would soon have a Worldcon-shaped hole in it. But we do want to add to its membership, and its reach, by giving European fans a chance to join this community. We also believe Nordic and Finnish fandom in particular has a lot to show to the rest of the world, and we'd very much like the opportunity to shine. And the right place and time for that is Helsinki in 2017.
To stay up to date, please follow us on Twitter, Facebook or Tumblr! You can also email us at info@helsinkiin2017.org.
Like any other bid, ours can only survive with the support of other fans. Giving this bid money gives us the ability to have great parties and give away great Finnish prizes at bid tables, hopefully at a convention near you! Most of all, you help us convince the international community that Helsinki would be a fantastic place to have Worldcon in 2017. We appreciate any such help you can provide.
Our list of current supporters is available on this site, along with a list of our sponsors.
If you'd like to give us your support online, you may join us as a pre-supporter either via Holvi in Finland, or PayPal in the USA:
If you'd like to support us, but would prefer a different payment method than those offered above, please email us at info@helsinkiin2017.org or talk with one of our representatives at a convention where we have a bid table. Alternatively, you can also always print and fill out this pre-support form and mail it with a check made out to "Helsinki in 2017" to the following address:
Helsinki in 2017
c/o Crystal Huff
PO Box 400928
Somerville, MA 02140
USA
If you'd like to donate a different amount of money to the bid, that's possible online via PayPal. For donations in euros, please get in touch with at info@helsinkiin2017.org.
To turn this bid into a con, we'll also need your votes! The 2017 Worldcon site selection takes place at Sasquan, the 2015 Worldcon. You, too, can participate and vote for us, even if you won't be there in person!
---
Our first pre-supporter hotel room raffle was drawn on February 28, 2014, Kalevala Day. Congrats to our first winner, Michael Pargman, and all of our subsequent winners! If we win the bid for Worldcon in 2017, they will have a free hotel stay.
We will do more raffle drawings in the future, so if you want to be assured of your inclusion then, you should pre-support us sooner rather than later. 🙂
---
Our list of current supporters is available on this site, along with a list of our sponsors.
Helsinki is a modern pocket-sized metro­polis, one of the world's most livablecities with 450 years of history. It's famous for its design, and for combining cultural influences from both East and West. It's currently host to fiveMichelin-starred restaurants, and it's fronted by one of the largest sea fortresses in the world. It's a small, intimate city with something for everyone.

A Worldcon in Helsinki would be the northernmost Worldcon yet, at 60°N. It would therefore also be the sunniest Worldcon, with approximately 17-hour long days. July and August are the best time to visit Helsinki, with average temperatures ranging from 13°C (55°F) at night to 22°C (72°F) during the day.
http://www.helsinkiin2017.org/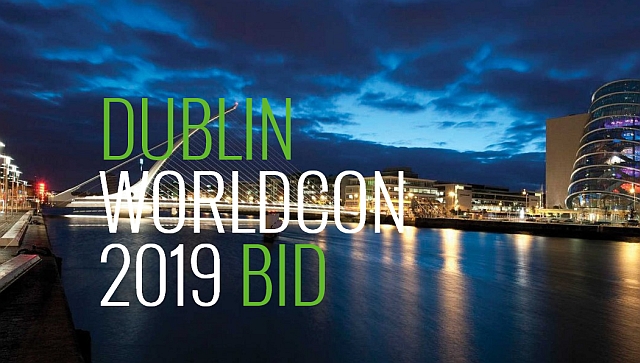 Ireland officially launched its bid to host the Worldcon in 2019 at Loncon 3 (Worldcon) and Shamrokon (Eurocon) in 2014. The proposed dates are Thursday 15th August – Monday 19th August 2019.
Welcome to Ireland, to Dublin, to our facilities and most importantly to our hopes and aspirations for the future – for a Worldcon in Ireland.
Ireland has a rich tradition of storytelling. It is a land famous for its ancient myths and legends, great playwrights, award-winning novelists, innovative comics artists, and groundbreaking illustrators. It has a well established science fiction and fantasy fandom, and active gaming scene. Celebrating Ireland's rich cultural heritage, contemporary creators and future directions at a World Science Fiction Convention in Dublin would be an honour.
Ireland has been the home of many science fiction and fantasy writers. Historically, Bram Stoker, Lord Dunsany, Flann O'Brien and Sinéad de Valera are among our ranks, through to more recent authors such as Eoin Colfer and Kate Thompson. Anne McCaffrey and Harry Harrison have joined those who have made Ireland their home.
Dublin is a superb location for a Worldcon; a wonderful city with easy travel links, a great atmosphere, and a long history of fandom.
The Convention Centre Dublin (CCD) sits on the north side of the River Liffey and is less than a mile east of O'Connell Bridge, the absolute centre of the City.
The CCD is part of the continuing development of the Dublin Docklands area and is built on what used to be a railway yard, next to the Royal Canal. This makes it not only a thriving and innovatively developed area, but also culturally and historically significant.
In the immediate area there are a number of restaurants to suit all budgets. Currently, the closest is the MV Cill Airne, a boat with a bistro, cocktail bar and restaurant which is less than 100 metres away. As well as eateries, there are numerous historic venues to visit in the quays including the chq building, The Custom House orThe Jeanie Johnston Tall Ship and Famine Museum.
Behind the CCD (260 metres) there is a LUAS (Dublin tram) stop, which has trams running to Busáras (central bus station), Connolly Train Station, the city centre and westward, also calling at CollinsNational Museum and Heuston Train Station. Dublin Ferry Port, with links to the UK, is only three miles from the venue and Dublin airport is an easy bus ride with direct links from the CCD.
Ireland's literary heritage includes Gothic writers such as Sheridan Le Fanu, Bram Stoker, Regina Maria Roche, and Charles Maturin, as well as fantasists such as Jonathan Swift, C.S. Lewis, and Edward John Moreton Drax the 18th Baron of Dunsany. Today, writers including Michael Scott, C.E Murphy, Ruth F Long, Celine Kiernan are continuing Ireland's fantasy tradition. Irish contributors to the science fiction field include James White, Bob Shaw, and Ian McDonald writing in English and Cathal Ó Sándair writing in Irish. From W.B. Yeats to Oscar Wilde, Flann O'Brien to Elizabeth Bowen, much of the work of Irish writers has been suffused with the fantastic.
Ireland has always attracted those with literary genius from beyond its shores. Harry Harrison and Anne McCaffrey both made Ireland their home, while Morgan Llywelyn spent part of her childhood here and has lived here for more than 25 years.
Ireland has had fantastic children's work from Sinéad de Valera, Eoin Colfer, Kate Thompson and Darren Shan, and in comics, storytellers and artists include Garth Ennis, Michael Carroll, Will Simpson, John McCrea, Declan Shalvey, Will Sliney, Stephen Mooney, and Maura McHugh. Filmmaker Neil Jordan and playwright Conor McPherson are Dublin born and bred, as are the artists Jim Fitzpatrick and Harry Clarke. The academic tradition has also been represented by the likes of Ella Young, who was a professor at Berkley in the 1920s on celtic mythology, and more recently by scholars like Aphra Kerr, who examines videogaming and players.
If you are interested in finding out more about the SF/F/H horror tradition in Ireland, we run a weekly 'Irish Fiction Friday' on our Facebook page. Every week this links a free piece of writing from an Irish author or creative, from Sarah Rees Brennan to George Bernard Shaw.
Ireland has an interesting fan history, with Northern Irish fans breaking into the world scene in the late Forties, led by legendary fanzine editor Walt Willis and writer James White. 'Irish Fandom', as this was known, had a direct connection with later iterations of fandom in Ireland, with White being supportive of both incarnations of the Irish Science Fiction Association and also becoming a regular attendee at the national con; Octocon.
Octocon has been a constant in Irish fandom since 1990, and those organising it have also gone on to larger conventions including the two Time Warp cons, Shamrokon (the Dublin Eurocon), and now the Dublin 2019 bid. We were pleased to first announce our plans to bring a World Science Fiction Convention to Ireland at the closing ceremony of Octocon in 2012.
Annually Ireland hosts two literary SF cons and many multimedia, comic, anime, manga and gaming conventions including ArcadeCon, Eirtakon, Gaelcon, Warpcon and Nom-Con. In Northen Ireland there is also the famous TitanCon. We also have more niche groups such as the Emerald Garrison, a Star Wars cosplay group who have run Family Days attracting thousands of people. Finally, but by no means least, numerous college societies in Dublin host a wide variety of cons including Ireland's longest running gaming convention; Leprecon.
Comics have an actively strong presence with indigenous publishers and a wide variety of conventions and markets.
At the recent Dublin 2019 site visit to the CCD, we welcomed people who joined fandom in the 1970s, 80s, 90s, and the 21st century. It is crucial to our plans for a Worldcon in Dublin to be as welcoming and engaging as possible to all science fiction-related activities and organisers. As such, our endeavour will require engagement across all communities in fandom. Likewise, Irish fans will warmly welcome and encourage international fans who wish to help by bringing expertise, experience, and support to an Irish Worldcon and this excellent community.
http://dublin2019.com/support-us/