Sad new, folks !
Hans Rudolf "Rüdi" Giger, the famous Swiss surrealist painter, sculptor and set designer passed away yesterday in a Zürich hospital from injuries he obtained after suffering a fall, an employee of the H.R. Giger Museum said, confirming reports in Swiss media. The "Alien" artist was 74.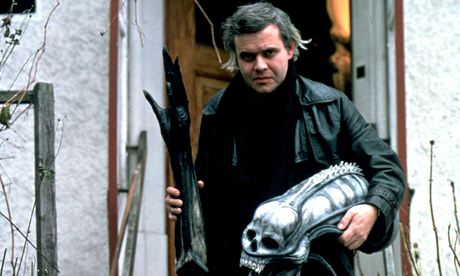 Photo: Twentieth Century Fox
He was named to the Science Fiction and Fantasy Hall of Fame in 2013. Giger designed the revolutionary science fictional sets for the film "Alien", 1979 (directed by Ridley Scott) and was awarded an Oscar for Best Achievement in Visual Effects in 1980 (the chest-bursting "xenomorph", the film's central focus, the derelict spacecraft, the unfurling alien eggs, and the masked 'Space Jockey' gunner discovered on it.)
His design for the Alien was inspired by his painting Necronom IV who was seen by Ridley Scott who used it as the inspiration for his sci-fi horror film Alien.
In 1975 he was hired by the visionary film director Alejandro Jodorowsky to design the world for his film adaptation of the science fiction novel "Dune", which at one point was slated to star Salvador Dali.
"My paintings seem to make the strongest impression on people who are, well, who are crazy. A good many people think as I do. If they like my work they are creative… or they are crazy," Giger said in an 1979 interview with Starlog magazine.
Giger is often referred to in popular culture, especially in science fiction and cyberpunk. William Gibson (who wrote an early script for Alien 3) seems particularly fascinated: A minor character in Virtual Light, Lowell, is described as having New York XXIV tattooed across his back, and in Idoru a secondary character, Yamazaki, describes the buildings of nanotech Japan as Giger-esque.
Born in 1940 in Chur, Switzerland, Giger studied architecture and industrial design in Zurich, before beginning a successful career in art and interior design from the mid-1960s onwards. Beginning with ink and oil paintings, first experimented with ink drawing and polyester works before moving onto large freehand airbrush works showcasing nightmarish dreamscapes which helped articulate his vivid, often disturbing style, characterised by dark sexuality and cyberpunk energy.
His work explored the relationship between the human body and the machine, and he created surrealist images of humans fused with industrial parts, a style he described as "biomechanical".
Giger was also known for his sculptures, paintings and furniture and many of these works are on display at his own museum (opened in 1998) in the Chateau St. Germain medieval castle in Gruyères (Fribourg canton), central Switzerland, which is run by his second wife Carmen Maria Scheifele Giger. The museum, which opened in 1998 also houses Giger's private art collection (the largest collection of his work), including works by Salvador Dali, Ernst Fuchs and Bruno Weber amongst others.
In Chur and Gruyères (Switzerland) there are "Giger Bars", using his designs for their interiors and built under Giger's close personal supervision, reflecting his original concepts for them accurately.
RIP !
http://www.swissinfo.ch/eng/index.html
H.R. Giger Aliens Drawing : http://www.youtube.com/watch?v=xRuDBx3hOnE
https://giger.com/gigerframeset.php
Pic works of Giger © H.R.Giger