The "Full Moon" (Luna Plina) Festival organized by Romanian Film Promotion Association and presented by the Transylvania International Film Festival, will offer this year to the public the best fantasy and horror productions, both classical and modern films that either have become landmarks of cinema's genres or are about to become.
The third edition of the "Full Moon" Fantasy & Horror Film Festival, the first and only film festival in Romania dedicated exclusively to H&F genres, is taking place between 23rd -27th of July 2014, at Biertan, Sibiu County, in a extended formula: five days of movies (in four projection spaces – two indoor and two outdoor), exhibitions, workshops, special effects workshops, concerts and parties. The Short Film competitive section's winner will be chosen by the public and the Competitive Section's best feature will receive the international jury prize, the "Full Moon" trophy.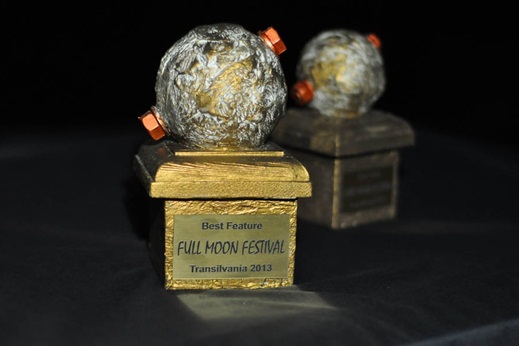 The Opening Gala took place on Wednesday 23rd at 21.30, outdoors at Méliès Garden , with the screening of SF movie,  "The World's End", the latest production (the last part of the "Three Flavours Cornetto" trilogy) directed by Edgar Wright , Simon Pegg and Edgar scenario Wright, Simon Pegg, Nick Frost, Paddy Considine, Martin Freeman, Pierce Brosnan and Eddie Marsan.
Six feature length movies by directors that are somewhat at the start of their careers will compete this year for the festival's trophy.
The movies, coming from the United Kingdom, the United States of America, Argentina and New Zealand have been chosen by the festival's artistic director Andrei Crețulescu and will have exclusive premiere screenings in Romania.
This year's jury is composed of Artur Brzozowski (Fantasy FilmFest programmer – Germany), Tom Lukaszewicz (Black Bear Filmfest co-director –  Poland) and Mihai Chirilov (TIFF artistic director) and will choose the winner from the following titles:
 Coherence (U.S.A., 2013) – eight friends meet up for a very Buñuel-like dinner on the evening in which a comet gets dangerously close to Los Angeles; any additional words about James Ward Byrkit's semi-improvised low budget debut would ruin the viewer's pleasure and frights. This year's mindfuck, for sure. Best screenplay, Sitges 2013.
 https://www.youtube.com/watch?v=kxAOewNzz-8
In Fear (United Kingdom, 2013) – a couple is being harassed on a highway in rural Ireland; Jeremy Lovering (a british TV veteran – Sherlock, MI-5) makes the leap to the big screen with an atmospheric chiller that involves a car, two (well, three) characters and a neverending road. World premiere Sundance 2013.
 https://www.youtube.com/watch?v=D5ZbJgUOwwU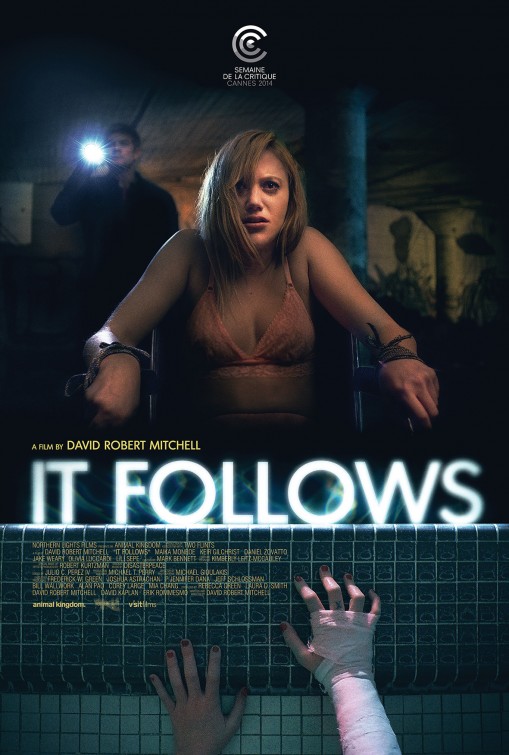 It Follows (U.S.A., 2013) – a not so subtle but extremely appropriate metaphor about STDs; David Robert Mitchell's film fascinated and frightened Cannes' critics and viewers, where it was exclusively shown in the Semaine de la critique section. Before Biertan, the movie screened only in Karlovy Vary.
Sonno profondo (Argentina, 2013) – a gloved killer, a dead prostitute, a macabre accident, ultra-saturated color palette, moriconnesque score, a lot of blood and little dialogue; an extremely pulpy and very 70s giallo, written, directed, edited, acted and scored by first timer (!) Luciano Onetti. World premiere Sitges 2013.
 https://www.youtube.com/watch?v=4-wqMldOOT4
Summer of Blood (U.S.A., 2014) – a slimy, deadbeat and rather boring individual gets bitten by a vampire and turns into a sex machine; Onur Tukel's satire behaves as if Woody Allen had started a low-budget True Blood remake. The movie premiered at Tribeca, in April.
 https://www.youtube.com/watch?v=hsWxdAmsc1g
 What We Do in the Shadows (New Zealand, 2014) – Vladislav (Jemaine Clement), Viago (Taika Waititi) and Deacon (Jonathan Brugh) are old-school vampires, sharing an apartment in Wellington and happily/thirstily agree to be filmed for a made-for-TV documentary. This /bonkers mockumentary co-directed by Waititi and Clement (Flight of the Conchords) world premiered at Sundance 2014.
 https://www.youtube.com/watch?v=Cv568AzZ-i8
Taika Waititi (Oscar-nominated in 2005 for his short film, Two Cars, One Night and author of the cult-comedy Eagle vs Shark) and Jemaine Clement (whom you've seen in Men in Black 3 and heard in Rio) are this year's special guests and will be in Biertan for the whole festival.
Apart from the feature length competition, the festival will present, again, a selection of horror and fantasy short films that will have exclusive showings in Romania. The short film competition's programmer, Cristi Mărculescu, chose 15 films that will compete for the audience award:
 Cualquier (Andrew Gipson Richardson, U.S.A., 2013)
Dive (r. Kaveh Nabatian, Canada, 2013)
 Dystopia St. (David Cave, U.S.A., 2013)
Evil Twin (Christian Pfeil, Germany, 2013)
Figures (Miklos Keleti, Belgium, 2014)
Foxed! (James Stewart, Canada, 2013)
 Horizonte (Aitor Uribarri, Spain, 2012)
 M Is for Malnutrition (Peter Czikrai, Slovakia, 2013)
 Mack Blaster ( René Schweitzer & Sebastian Utech, Germany, 2014)
 Mona (Alexis Barbosa, France, 2013)
 Moritz and the Woodwose (Bryn Chainey, Germany, 2013)
 Someone for Dinner (Desi Andras Gyorgy & Moray Gabor, Hungary, 2013)
 Subterraneo (Miguel A. Carmona, Spain, 2013)
 Svetovar Brewery (Vojta Zak, Czech Republic, 2012)
 The Landing (Josh Tanner, Australia, 2013)
Apart from the already established feature-length and short film competitions and sidebars, the 3rd edition of the FULL MOON Horror & Fantasy Film Festival has prepared a series of extremely special events…
FOCUS: ROMANIAN SHORTS – seven films from the past two years that demonstrate the new generation's growing interest in genre cinema: 12 Minutes (director Nicolae Constantin Tănase), Dim Light (director Florina Dumitrache), Square One (director Emanuel Pârvu), Omnivore (director Laurențiu Răducanu), The Missing (director Ion Bădescu), Kazimir (director Dorian Boguță), Bad Penny (director Andrei Crețulescu). The films will be screened in the presence of their respective directors.
EDUCATIFF FANTASTIC – during July 25 – 27, the cinema education program returns to Biertan with fantasy films for children and animation workshops. Every child deserves a movie experience!
"SINBOY & BONY PRESENT: "MORBID OBSESSIONS, DEMONIC POSSESSIONS" EXHIBITION – step through the gates of hell into an underground world in which we celebrate the macabre, the weird and the monstrous. Discover two artists established in the underground culture through graffiti, graphic novels, installations, punk and metal.
AFTER MIDNIGHT – after midnight, "La Țăruș" will once again host the FULL MOON parties: Wednesday, the 23rd of July, ECLECTICFM has concocted a playlist that will keep us awake until dawn; Thursday, the 24th of July, CAMIL proposes a musical ingression through horror movie soundtracks, abstract tunes and soundscapes for the modern-day angst; Friday, the 25th of July, ROCK DJ (Cătălin Cristuțiu) will terrorize the innocent dancers with dark disco, abstract funk and adventurous sounds from uncharted meridians; Saturday, the 26th of July, POETRIP, the musical project that has unshackled itself from rules and regulations, will restate the fact that their music is, at once, sexperimental pop, electronic supersonic and comic glam punk.
Every day, starting with Thursday until Saturday, in the Central Plaza and in the Camping site, the FULL MOON FANTASTIC WORKSHOPS will take place (involving monsters, voodoo dolls and a lot of special effects), alongside a brand new program called FUNNY GAMES that ranges from the traditional (volleyball, badminton, water pistols, board games, trivia) to the unconventional (ghostbusting, watermelon carving, the horror tunnel and a few fanged surprises).
This year, we will extend the BIERTAN FANTASTIC LIBRARY. Those who desire to contribute to this project are welcome to bring one book (Sci-Fi, horror, policier, fantasy) for which they will receive one special Full Moon cocktail. For those that are a bit more cinematographic, an original VHS tape or a recorded one with a genre film will have the same effect.
Headliners of the season are the two competitions (six films and fifteen shorts), the special program "Focus Romania", which brings together seven of the most important fantasy short films made ​​in the last two years, and the parallel sections "Darkness" and "Grindhouse", all these films being presented for the first time in Romania.
Other festival events include project EducaTIFF Fantastic, Fantastic workshops, sports activities, and Ghost Hunting, The Dungeon, TransyBike projects and parties each night.
Full Moon Horror and Fantasy Film Festival is organized by Romanian Film Promotion Association and the Association of Film Victoria, with the support of the National Center of Cinematography (CNC) and Biertan Hall. Also, starting with this edition, the Biertan EducaTIFF program will be launched, focused on media and film education for children and adolescents.
The film projections will be held outdoors (the Méliès Garden – 1000 seats and Cinema Vertigo – 400 seats) and inside (the Karloff Hall – 120 seats and the Ion Hobana Studio – 180 seats).
The remaining selection, the specific titles and other special events in the competition will be announced in the coming weeks. The first edition of "Full Moon" Film Festival took place from 16th to 19th of August 2012 and gathered more than 3,000 spectators.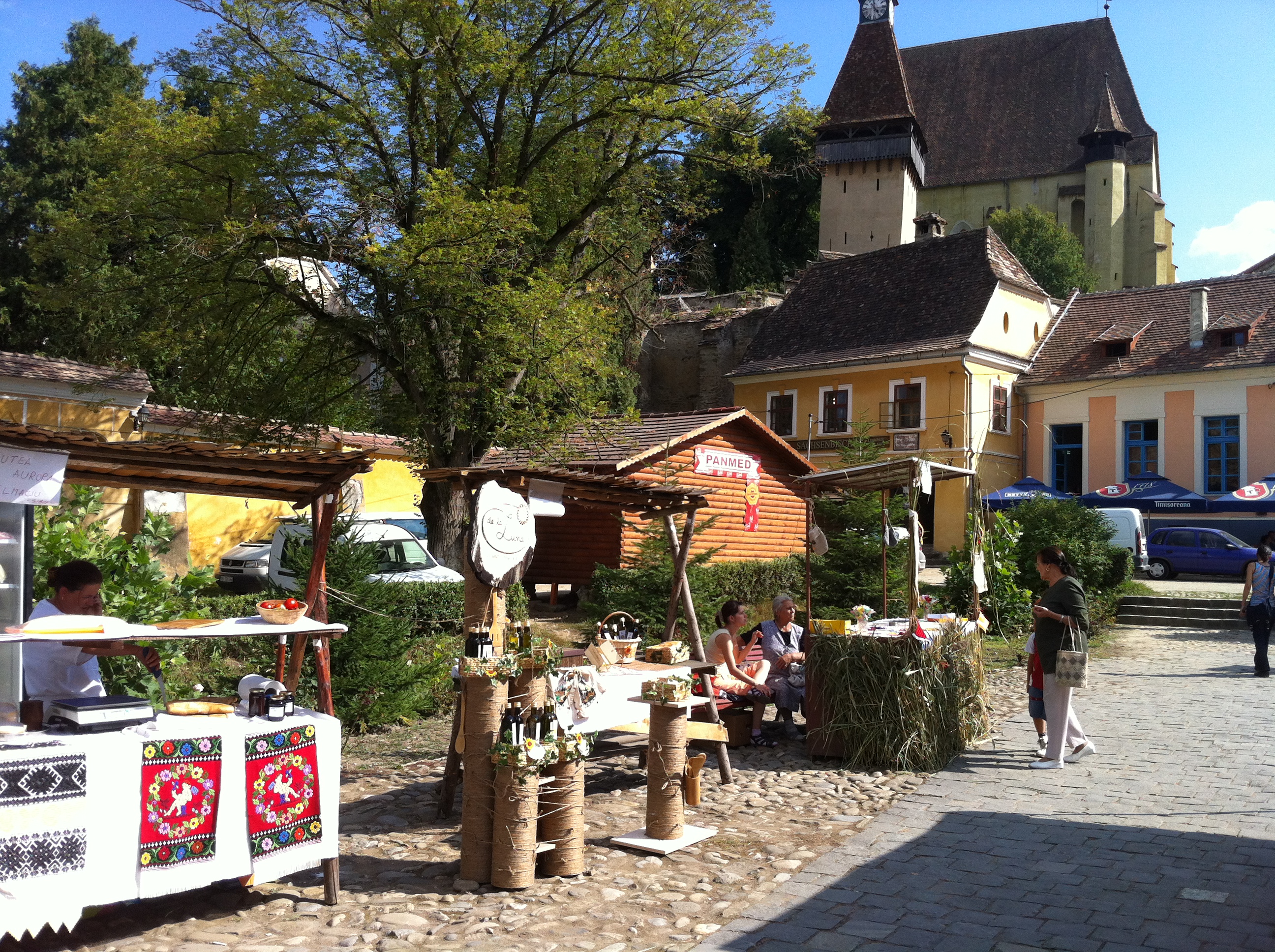 The Full Moon is organized by Romanian Film Promotion Association and Victoria Film Association , with the support of the Romanian National Center of Cinematography (CNC) and Biertan City Hall.

Biertan is one of the first German settlements in Transylvania (Birthälm, 1283), situated in a hilly area, only 25 km away from Sighișoara (Schäßburg) and Mediaș (Mediasch) . An ideal space for outdoor views, Biertan has a medieval central square to watch a splendid fortified gothic church, a UNESCO protected architectural masterpiece.