Francesco Verso :
"I've launched this Future Fiction editions with two main ideas: Future Fiction is a multicultural-transmedia project:
As Editor, I constantly scout English and non-English high-quality fiction. So far, I've translated and published American author James Patrick Kelly (Bernardo's House), Robert J. Sawyer (The Hand You're Dealt) from Canada, Michalis Manolios (Aethra & The Quantum Mommy) from Greece, and soon Cristian Teodorescu (Big Bang Larissa & Case 74) from Romania.
Moreover we collaborate with theatre. Together with performer Katiuscia Magliarisi, actress Chiara Condrò and theremin musician Simone De Filippis, we bring on stage in Roma the SF show "The Milky Way: A show on diversity quite unlike itself", with stories from Fredric Brown, Robert Sheckley, James Patrick Kelly and myself.
Last but not least, I work with New Media Agency BCAA to develop the most suitable stories into crowdfunded webseries, live-interaction installations and motion-capture performances, always with the same intention: spread the SF seeds wherever it's possible thanks to every means of expression available by current and upcoming technology.
We're scouting the best SF & Speculative authors around Europe, we would like to read some of their stories (in English) and we're looking for reviewers our english language e-books."
© Francesco Verso
Born in Bologna, Italy, in 1973, Francesco Verso has a major in Environmental Economics at the University of "Roma Tre" and worked at IBM (PC Division) until 2005 then for Lenovo until 2008.
Since 2008 he has worked as a full-time writer/publisher of Italian science fiction. His novel, Human Antidotes (Antidoti umani), was a finalist in the 2004 Urania Mondadori Award.
In 2009, he won the Urania Mondadori Award for his book, e-Doll. In 2011, he wrote short stories as Flush, 90 Cents, Sogno di un future di mezza estate (Midsummer Future Dream), Due mondi (Two worlds) and La morte in diretta di Fernando Morales (Fernando Morales, This is Your Death!) and finished his third novel Livid (Livido) which went on to win the Odyssey Award 2013 from Delos Books. Livid is his first novel to be translated into English.
http://www.francescoverso.com/en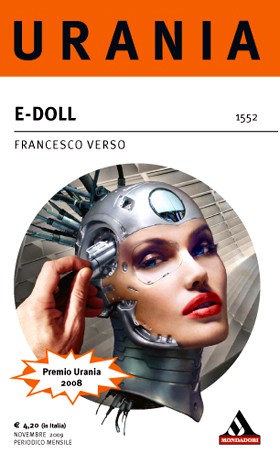 Novels :
Antidoti umani (Human Antidotes), Edizioni Diversa Sintonia, 2009, (finalist, Urania Award 2004) ; versione in ebook, Kipple Officina Libraria, 2011.
e-Doll, Mondadori, 2009 (Urania Award, 2008)
Livido (Livid), Delos Books, 2013, Odissea Award, 2013
Bloodbusters, 2011
I Camminatori (The Walkers)