Ghod save our gracious spleen  
Long live our noble spleen  
Ghod save the spleen  
Send it victorious  
Happy and glorious  
Long to reign over us  
Ghod save the spleen
It rained.
And I don't mean a drizzle. It rained moon cats and space dogs! Luckily we were indoors.
In a diesel engine workshop (Dieselwerkstaden).
A workshop converted to a cultural centre in one of Stockholm's newlly built, modernistic suburbs a short bit to the southeast, with the new tram line reaching *almost* all the way.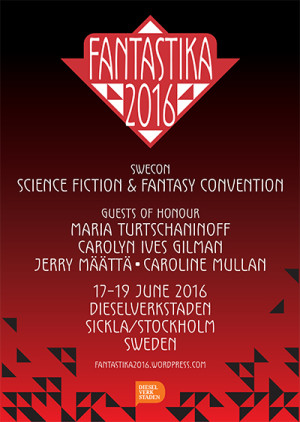 It was Fantastika 2016, this year's Swecon. I had rehearsed my speech and booked a table, to sell some books and  inform the fannish populous about the SKRIVA writers' E-mail list.
About 360 people had gathered, in the final tally with day members and walk-ins; of these perhaps 25 foreigners, half of them Finns but also people from Norway, UK, Denmark, Germany and Poland.
I only sold two books, but that's not the point. It was nice to have a book table (there were ca 20 dealers in the dealers' room). You unfolded your laptop, connected to the WiFi and you could sit there, checking your E-mail and Twitter, take it easy and people would come to you – instead of you having to run around. The Green Room where I could get some coffee was nearby. I was a lot at my table, when I didn't attend some program item.
My first one was by me.
Ahrvid Engholm
Friday evening I lectured about Harry Martinson (Nobel laureate and author of the "Aniara" space poetry epic) and his contacts with the first Swedish sf club, Atomic Noah. It was founded in 1945 by a group of engineers who toyed with the idea of constructing giant spaceships to save humanity from an atomic war. 15-20 in the audience (GoH interview with Finland-Swedish writer Maria Turtschaninoff was at the same time) and I think it went rather well. (Ask me for my notes and slides from the speech, if you're interested.)
Went back to my table after this, but remembered I should hear the "The Feminac Fight" panel so I went there  to hear its second half. That was about a feminist group almost 40 years ago and I was sort of involved in the "fight", or rather the mimeoed newsletter Vheckans Ävfentyr was (forefather of @SFJournalen, now on Twitter). Thiis fuss is too long to recapitulate, but I must have thrown slightly fewer punches since I contributed material to the Feminac zine, incl some of my best cartoons!
Throughout the con I kept my tweets running. I spread a little news and commented the program. You can find them here, in English (dates 17-19th of June) https://twitter.com/sfjournalen. In one of the first tweets I mention meeting John Ĺgren, which I haven't seen in at least 30 years, together with Ulf Westblom author of the sf novel Porten mot Evigheten ("Gate to Eternity"). I got some news about  Ulf's vineyard in the US and we talked about a number of fans working at the Royal Technical Institute that he also knew.
Guests of Honour (from left) : Carolyn Ives Gilman (US),  Caroline Mullan (UK), Maria Turtschaninoff (Finland), Jerry Määttä (Sweden)
It rained.
On Saturday too. In fact, the rain would last well into the Sunday afternoon.
I listened a little to "When Journalists Meet Fans". There hadn't been much media buzz around Fantastika. OK, one week ahead there were two pages in the morning paper DN with con chair Carolina Gomez Lagerlöfand a map of "fantasy places" in Stockholm, and on Saturday Swedish TV was there – but only the Finnish language department, who made short interviews regarding that Helsinki has next year's Worldcon.That was about it. (When I was press officer of the 2000 Swecon I counted to over 50 articles and other mentions in media.)
There was a con newsletter, done by Karl Johan Norén, which I thought could have been better. The editor tried to make jokes rather than gather news and he'd compile lists of computer games mentioned in a panel. Gaming *isn't fandom*, I'd like to point out!
Through the con I made little hand written posters about  SKRIVA, our short story competition and @SFJournalen, and put them here and there. Some had terribly funny jokes on them and of course my patented beanied fan man.
Listened to Fan-GoH Caroline Mullan. She talked about eg her earliest experiences with cons. As she's originally from Northern Ireland I managed to squeeze in a question about if there was any legacy left from the legendary Irish Fadom, ie Walt Willis, Bob Shaw, James White and the guys,from the 1950's and early 1960's. She knew about them but had to confess that most people had by now forgotten about the Big Wheels of IF and Hyphen and Ghoodminton.
"Could Sweden Take a Lead in the New Space Race" was the boosting subject of another panel. As an old activist in The Swedish Space Movement I had to go. A couple of news pieces is that the Swedish government is investigating launching small polar orbit satellites from the ESA space base Esrange near Kiruna in the north. It could happen in 2019 and would be the first satellites launched from European soil outside Russia. Also, a Swedish project of making heat resistant chips were mentioned, CPUs and stuff that would work on the surface of Venus. (A fan is involved in that project, Carl-Mikael Zetterling, former editor of the SFSF newsletter.)
I missed the author-GoH interiew with Carolyn Ives Gilman, since I instead favoured the rather interesting panel about the history of Jules Verne Magasinet/Veckans Äventyr (the 1940-47 pulp, in 1969 revived by Bertil Falk, then taken over by Sam J Lundwall).  I have actually met and interviewed JVM's last editor, one Rolf Ahlgren.  A highlight was Maths Claesson reading the sulphur oozing frontal attack on this trash and gutter literature, made in 1941 in a school magazine by one headmaster Oscar Cronholm. And then the committee member Tomas Cronholm release his bomb! The writer was – his grandaddy! Tomas who has become one of the leading fans (active since the late 1950's) had a granddad who hated skiffy. Interesting.
When the audience was let in I mentioned why JVM/VÄ folded in 1947: paper rationing, in force 1947-49, due to that paper-rich Sweden wanted to reserve it for export. In 1947 62 Swedish writers also launched another vicious attack on this "trash literature" which may have contributed to JVM/VÄ's demise. Bertil Falk has written a piece about it (in Swedish, but Google Translate may help: http://tidningenkulturen.se/index.php/ovrigt-kat/ovrigt-kat-2/ovrigt-kat-4/5255-tidskrift-avsikten-nr-32-september ).
  In the evening it was decided and voted upon (but there was only one bid) that next year's Swecon is Kontur, in Uppsala, 26-28 of May 2017 with GoHs Ann Leckie, Kameron Hurley, Sladin Ahmed and Siri Pettersen.
The main fan award, the Alvar Appeltofft Memorial Award, was announced: Fia Karlsson won, against Hĺkan Wester. Fia is active in the new Malmöfandom and Hĺkan has been reviving Västerĺsfandom. (Later i gave Hĺkan a short summary of the old Västerĺsfandom, the Bernander brothers and Michael Svensson who later became active in the Stockholm SF Bookstore.)
Went to the Fandom Panel. One drawback with panels is that panelists tend to talk too long. This one let the audience questions in when the program's 45 minutes were officially over. Panels need to be snappier! There should be a chess clock or something, limiting talk to 1 minute. It is as if when someone starts to talk, he/she is afraid never to get the chance again so the talking lingers on and even starts to repeat itself.
As said, I also spent time in the book room. It was nice to see Tora Greve, known from the SKRIVA list, author and known for her space inspired textiles. My neighbouring table was run by one Steven Riddarlans, a nice man of Italian-American descent who has written the novel I ondskans klor ("In the Claws of Evil") and I talked a lot with him. His book (which I hav begun to read) suffered from a very strange error: semicolons have been sprinkled at random points in the text! He didn't put them there, so it must been a software error, from transforming his original word processor file to a format for printing. Steven shall also have huge thanks for taking photos I can use since my own mobile had some sort of battery problem.
Another one who came by my table was Stellan L, formerly active in the Swedish Space Movement. We exchanged our sad stories about that certified lunatic Mr H Starlife… I took many rounds in the dealers' room, speaking to the Small Press Publishers, of which I know many, eg promoting the Fantastic Short Story Competition (deadline 4th of September info in Swedish http://www.skriva.bravewriting.com). We had eg Cecilia W there, buddy from the the Short Story Masters (Novellmästarna) society and publisher with Wela förlag. We have Alf Yngve who was active in fandom in the 80's and I could mention Lisa Rodebrand, Fantasiförlaget (who I mailed my latest longer story), Eva Holmquist from Ordspira, Elin Holmerin with Undrentide and many more. There's a multitude of new Swedish Small Press Publishers doing sf, fantasy or horror. They pick up the genre interest that the big pulishers miss. (See my list at https://www.freelists.org/post/skriva/Smfrlag-inom-sffh-ny-version ).
I missed all GoH interviews, also the one with sf-PhD Jerry Määttä. But I really appreciated that during the con (but only then!) a PDF of his  PhD thesis and book Raketsommar ("Rocket Summer") was made downloadable. It's an excellent study analysing how this "new" thing called "science fiction" – or possibly teknovision 🙂 – was received over here. And in it was that Magnus Gerne drawing of the Aniara spaceship I've been looking for. Jerry has BTW received a grant to write a study about Swedish sf fanzines (I have mailed him some info; he'll begin working on it this autumn).
My last program thing Saturday was the filking session, lead by Karl Johan Norén (who runs a Swedish filksong archive and with participation by Wolf von Witting, Per Lindberg and…Yours Truly  I've been slighly involved in this stuff – having appeared in the Salingsĺsfandom filk cassettes and writing some filk texts – and contributed to the session with this extremely advanced composition:
Ghod save our gracious spleen  
Long live our noble spleen  
Ghod save the spleen  
Send it victorious  
Happy and glorious  
Long to reign over us  
Ghod save the spleen
If you ask who wrote it, blame it on one Comet Johan Bensin jr.   Otherwise, I like Wolf's modernistic sf author choir canon, but he took too ghodamn long time to make it work.
I sat and translated some of the stuff sung for the Polish fan Marcin who for some reason had joined us.
Sunday. The rain was lighter.
Photo : Steven Riddarlans
I attended two program items beside the closing ceremony. One was "Morality of Robots" and the other "Sf/Fantasy Stockholm". The first talked about the Three Laws, military drones, self-driving cars and such. As you might know, Stephen Hawking and other scientists have warned against a super-intelligent Artificial lIntelligence taking over and deciding that humanity is unnecessary. The panel didn't seem too afraid of that.
The other panel discussed places in the Swedish capital what have inspired skiffy, fanty or horry works. We have for instance John Ajvide Lindqvist who has written about vampires in the suburb Blackeberg, also made into two films (one in English). Anders Fager is a horror writer who has found monsters lurking below the streets of Stockholm. There have been modern legends spun around the Stockholm underground/subway mysterious, unfinished Kymlinge station. And we have of course Stieg Larsson. If his books are sf is a matter of definition; that he was an sf fan isn't. Stieg has made Stockholm sceneries known around the world. Myself, well I couldn't resist mentioning some famous sf-related addresses at the end of the discussion: Tunnelgatan 3 where JVM/VÄ had its office (BTW close to where Olof Palme was murdered!), Pontonjärgatan 45 where SFSF had a clubhouse and the SF Bookstore began and finally Folkskolegatan 22 where Lars-Olov Strandberg lived and and throughout the 1960's treated fandom with tons of peanuts.
Ahrvid Engholm and Lars-Olov Strandberg (Photo : Steven Riddarlans); Lars-Olov Strandberg  was one of the founders of the Scandinavian SF Association (SFSF).
Lars-Olov,  86 years old, was BTW on the con, and seemed in good health. After a successful knee operation he's more mobile now. The only  fan alive who also  attended Sweden's first sf con, Luncon in 1956. (There will be an 60th anniversary Luncon in Lund, 22-23 of October.) It was also nice to meet Barbara who held a memorable little post-Loncon3 party, though I discovered her too late to have much time to talk.
I talked a little with Jukka Halme, about if there were any sensational news about Worldcon 75. There wasn't. They run their budget on an assumption of ca 3500 attendees. Many memberships came in early on, but it has now become slower. However, it will all work out and he seems in very good spirits about it.
Saw Kristina Hĺrd and congratulated her for winning 100 000 SEK (10 000+ euros) with the City of Gothenburg literature award. Took a stroll through the Alvar foundation book room (which was separate from the dealers' place) but I've gone through their boxes ten times already. The local library, next to Fantastika, had a shelf of giveaway books, where I found a title by Dénis Lindbohm I didn't have. Grabbed it. (Otherwise I have too many books already, so I tend to not acquire many these days.)
Outside the Green Room, Anna Davour sat up a badge making station. You could draw or write something and make it into a badge. I made one for the modern mobile phone generation, with a beanie man saying "3G, 4G is nothing. Rockets reach 10 G!" We talked a little about popular science journalism, me from the perspective of old Teknikmagasinet (http://www.bokborsen.se//Teknikmagasinet-1983-Nr-1/1798153) which also published sf stories. Anna mentioned she liked an old article about humour that I apparently had written, but can't remembe. She has read quite a lot in old fanzines, since she was once responsible for cataloguing the Alvar Foundation collection. It seems I had launched the daring idea that humour should be funny,
The closing ceremony was lead by a choir from the Stockholm Tolkien Society. They sang nice and a capella without orch-estra…. Finally, the con-committee thanked guests, gophers, each other and probably Roscoe too. Con chair Carolina took out the bottle containing The Spirit of Swecon, opened it to catch the spirit of Fantastika, closed the bottle and passed it to representatives from Kontur.
The con was over. So was the rain.
A few endnotes.
Fantastika/Swecon 2016 was very successful despite not reaching all the way to the 4-500 the concom had hopes for. Maybe the rain made some stay home, but more work with pestering the media might have helped. Apart from the DN piece the week before, there was pratically nothing in the press or other media. I checked the Finnish news on Swedish TV, and it seems they canned the Worldcon 75 interviews from Swecon (google "Uutiset" for June 20th). The program booklet was also too thin. It had nothing but the very basic info about the program and the con. It would have been nice with material by the GoHs, an article explaining fandom, and things like that.
The program was well-planned, in three "lines". But as said, panel participants should be snappier. What I missed was more fannish program. There were filksongs and Jukka's guiz, but that was about it. Panel discussions are very Serious and Constructive, but people also need to be entertained. The Great Peanut Race used to be one of the most popular events on the old Nasacons. There are other Silly Games one can pick up. Stuff with jokes and spontaneity makes people open up and would be especially fitting in the evenings, after a long day of Serious Scientific Talk.
And BTW, it's 60 years now since the first Swedish sf convention. He has documented all of the history with his camera. So where was Lars-Olov Strandberg's slideshow?
© Ahrvid Engholm
Swecon is a title annually awarded to the Swedish National Science Fiction Convention.
Since 1998, one Swedish science fiction convention per year has been elected to host national awards in science fiction and has been awarded the title "Swecon" in addition to its actual name. This is not necessarily the largest Swedish science fiction convention, but in practice it often is, and it's the most important of the Swedish conventions.
The name Swecon is part of a larger tradition and similar conventions are held in Norway, Denmark and Finland under the names Norcon, Dancon and Finncon.
https://www.facebook.com/events/483027878527154/
https://sites.grenadine.co/sites/swecon/en/fantastika-2016