"Alex Garland's taut, tense directorial debut Ex Machina is many things: it's a high-concept science fiction story, a claustrophobic thriller, a character-driven chamber play, an exploration of the possibilities of artificial intelligence and a treatise on human consciousness."
"Ex Machina" (sometimes stylised EX_MACHINA) is a 2015 British science fiction thriller film (108 minutes)  written and directed by Alex Garland, marking Garland's directorial debut, and starring Domhnall Gleeson, Oscar Isaac, and Alicia Vikander.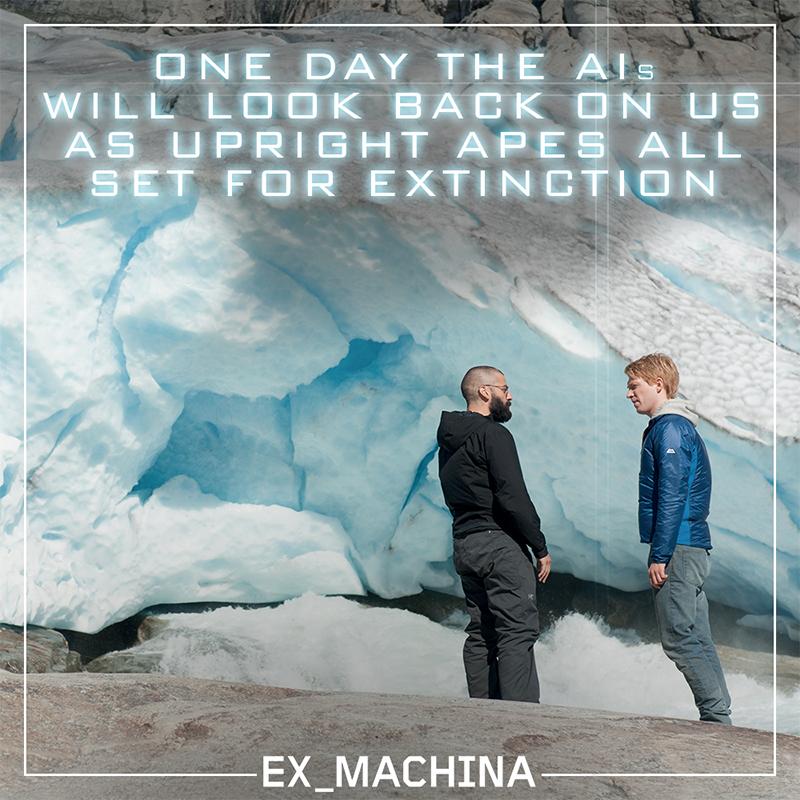 "People are paranoid about AI and robots in general. I approach it from a slightly different angle because I don't feel paranoid about it. In this film, I'd say, my sympathies lie with the robot. An artificial intelligence in the shape of a thinking robot  it's around the corner in the same way that a cure for cancer is around the corner. The complexities of the problem only become more manifest as we go deeper into it. I'm pretty sure it will happen, but probably during my children's lifetime, not next year." – Alex Garland
"Ex Machina it's also breathlessly entertaining, representing a very smooth transition to directing for veteran writer-producer Alex Garland, whose past CV highlights include Danny Boyle's Sunshine, Kazuo Ishiguro adaptation Never Let Me Go and 2012's good-against-the-odds Dredd reboot. Ex Machina is essentially a three-hander – with another key character coming into play later on – centred on everyman programmer Caleb (Domhnall Gleeson), who is selected to take part in a groundbreaking artificial intelligence experiment. The AI in question is Ava (Alicia Vikander), created by the reclusive Nathan (Oscar Isaac) to be the world's first genuinely conscious machine."
"Audiences instantly objectify Ava because she has a woman's face and shape, but she is also a machine. However, I think it's important to feature sexuality in the film. There is no consciousness in nature that doesn't involve sexuality in some way, so it should be explored within artificial intelligence." – Alicia Vikander
Ex Machina tells the story of a computer coder who wins the chance to spend a week at the house in the mountains belonging to the CEO of the company he works for, only to find he has to participate in an experiment involving a new brand of artificial intelligence.
Cast: Alicia Vikander (as Ava), Domhnall Gleeson (as Caleb), Oscar Isaac (as Nathan), Sonoya Mizuno (as Kyoko), Symara A. Templeman (as Katya), Elina Alminas (as Amber).
"A new film, Ex Machina, from the author of The Beach puts two humans on a collision course with a seductive "fembot". It's clearly a fantasy, but is the reality far away ?"
"Ex Machina it throws up so many ethical questions of who we are and fundamentally, what our future will be.
"I'm not particularly interested in the AIs that already exist in smartphones and computers, but sentient, self-aware AIs. Artificial intelligence is about consciousness. So a film about it is also a film about us, because we are also our minds. It's a rich area for a SF thriller." – Alex Garland
Alex Garland was born in 1970 in London, England, the son of psychoanalyst Caroline (née Medawar) and political cartoonist Nicholas Garland. His maternal grandparents were zoologist Peter Medawar and author Jean Medawar. Garland attended the independent University College School, in Hampstead, London.
Career : Garland received his BA (History of Art) in 1992 from the University of Manchester. His first novel, The Beach, was published in 1996 and drew on his experiences as a backpacker.
The novel was made into a film in 2000, by Danny Boyle, starring Leonardo DiCaprio.
The Tesseract, Garland's second novel, was published in 1998. This was also made into a film, starring Jonathan Rhys Meyers.
In 2002, he wrote the screenplay for Danny Boyle's SF movie 28 Days Later (2002), starring Cillian Murphy.
His third novel, The Coma, was published in 2004 and was illustrated with woodcuts by his father, Nicholas Garland.
In 2005, Garland wrote a script for a film adaptation of Halo; he was paid $1 million. D. B. Weiss and Josh Olson rewrote this during 2006 for a 2008 release, though the film remains in development hell. In 2007, he wrote the screenplay for the SF film Sunshine (2007) – his second screenplay to be directed by Danny Boyle and to star Cillian Murphy.
Garland also served as an executive producer on 28 Weeks Later, the sequel to 28 Days Later. He is the co-writer on the video game Enslaved: Odyssey to the West for the PlayStation 3 and Xbox 360.
He wrote the screenplay for the SF film Never Let Me Go, based on the novel by Kazuo Ishiguro. The 2010 film was directed by Marek Romanek.
Alex Garland also wrote the script for Dredd (2013 film, directed by Pete Travis), an adaptation of the Judge Dredd comic book series from 2000 AD.
In 2014 Garland made his directorial debut with Ex Machina,  a feature film based on his own story and screenplay.
Trailer 1 : https://www.youtube.com/watch?v=XYGzRB4Pnq8
Trailer 2 : https://www.youtube.com/watch?v=EoQuVnKhxaM
Photos@DNA Films, Film 4