Anita Ekberg, star of Federico Fellini's La Dolce Vita, has died aged 83. Ekberg died in Rome on Sunday morning, 11th of January 2015, her lawyer confirmed. She had been in hospital since Christmas following a series of illnesses. According to several reports, the actress was almost penniless at the time of her death. She had been robbed of jewellery and furniture and her villa was badly damaged in a fire, forcing her to move, temporarily, into a care home.
Anita Ekberg (29 September 1931 – 11 January 2015), Blonde Swedish Bombshell and actress, model, and sex symbol, was primarily active in Italy and star in many  sf/f/h films.
Ekberg was born on 29 September 1931, in Malmö, Skåne, Sweden, the eldest girl and the sixth of eight children. In her teens, she worked as a fashion model. In 1950, Ekberg entered the Miss Malmö competition at her mother's urging, leading to the Miss Sweden contest which she won. She consequently went to the United States to compete for the Miss Universe 1951 title (an unofficial pageant at that time, the pageant became official in 1952) despite speaking little English. Although Ekberg did not win the Miss Universe pageant, as one of six finalists she did earn a starlet's contract with Universal Studios, as was the rule at the time. As a starlet at Universal, she received lessons in drama, elocution, dancing, horseriding and fencing. She appeared briefly in the 1953 Universal films, Abbott and Costello Go to Mars and The Golden Blade. Ekberg skipped many of her drama lessons, restricting herself to horseriding in the Hollywood Hills. Ekberg later admitted she was spoiled by the studio system and played instead of pursuing bigger film role.
The combination of Ekberg's physique and colourful private life (such as her well-publicized romances with the likes of Frank Sinatra, Tyrone Power, Yul Brynner and Rod Taylor, appealed to gossip magazines, such as Confidential, and to the new type of men's magazine that proliferated in the 1950s,  and she soon became a major 1950s pin-up. Additionally, Ekberg participated in publicity stunts. For example, she famously admitted that an incident wherein her dress burst open in the lobby of London's Berkeley Hotel was prearranged with a photographer.
By the mid-1950s, after several modelling jobs, Ekberg finally broke into the film industry. She guest-starred in the short-lived TV series Casablanca (1955) and Private Secretary. She had a small part in the film Blood Alley (1955) starring John Wayne and Lauren Bacall. She appeared alongside the Dean Martin and Jerry Lewis comedy act in Artists and Models (1955) and Hollywood or Bust (1956), both for Paramount Pictures. And for a while she was publicized as "Paramount's Marilyn Monroe".
Ekberg featured in five films released during 1956. Paramount cast her in War and Peace (1956) which was shot in Rome, alongside Mel Ferrer and Audrey Hepburn. Meanwhile, RKO gave the actress her first leading role in Back from Eternity (also 1956). The last two were Man in the Vault and Zarak, both minor productions thatt had a limited impact on her career.
In 1957, Ekberg starred in the British drama Interpol with Victor Mature and in Valerie with Sterling Hayden. In 1958, she appeared in two high-profile films, co-starring with Bob Hope in Paris Holiday, and with Philip Carey and Gypsy Rose Lee in Screaming Mimi. A European film, Sheba and the Gladiator (1959), followed.
Federico Fellini gave Ekberg her greatest role in La Dolce Vita (1960), in which she played the unattainable "dream woman" of the character played by Marcello Mastroianni. A former Miss Sweden, she was branded a "sex goddess" for her performance in Federico Fellini's 1960 movie.
"I'm very proud of my breasts, as every woman should be," Anita Ekberg once said. "It's not cellular obesity, it's womanliness."
Swedish actress Anita Ekberg died January 11th in Rome, where she lived since the 1960's, at age 83. She is probably seen as the quintessential "Blonde Swedish Bombshell" (Britt Ekland would be a strong contender for that title), Miss Sweden in 1951 and most famous for her part in Fredrico Fellini's "La Dolce Vita" (1960).
But glancing through her filmography, I realise she's been in quite a lot of science fiction, fantasy and horror films!
These could be mentioned:
Abott & Costello Goes to Mars (1953)
The Golden Blade (1953)
Zarak (1956)
Back from Eternity (1956)
Screaming Mimi (1958)
Sheeba and the Gladiator (1959)
The Mongols (1961)
Call Me Bwana (1963)
Way…Way Out (1966)
Fangs of the Living Dead (1969)
Northeast of Seoul (1972)
Gold of the Amazon Women (1979)
The Killer Nun (1979)
S+H+E: Security Hazards Expert (1980)
The Red Dwarf (1998)
Genre can in some cases be discussed. I have included historical costume films (their free relations to historical accuracy often borders fantasy), psychological horror, international spy conspiracy thrillers and generally "weird" flicks.
Anita Ekberg may be the Swedish actor appearing in most fantastic genre films. (Max von Sydow could be a contender here.)
Ekberg did not live in Sweden after the early 1950s and rarely visited the country. However, she welcomed Swedish journalists into her house outside Rome and in 2005 appeared on the popular radio program Sommar, and talked about her life. She stated in an interview that she would not move back to Sweden before her death since she would be buried there.
On 19 July 2009, she was admitted to the San Giovanni Hospital in Rome after falling ill in her home in Genzano according to a medical official in the hospital's neurosurgery department. Despite her condition's not being serious, Ekberg was put under observation in the facility. Ekberg had been living in Italy for many years, at that point.
In December 2011, it was reported that the 80-year-old Ekberg was "destitute" following three months in a hospital with a broken thigh in Rimini, during which stay her home was robbed and badly damaged in a fire. Ekberg applied for help from the Fellini Foundation, which also found itself in difficult financial straits. Kerstin Anita Marianne Ekberg died on 11 January 2015, at age 83, at the clinic San Raffaele in Rocca di Papa, in Castelli Romani, Italy. Her death was caused by complications from a longtime illness.
May her spirit forever dance in Fontana di Trevi! RIP !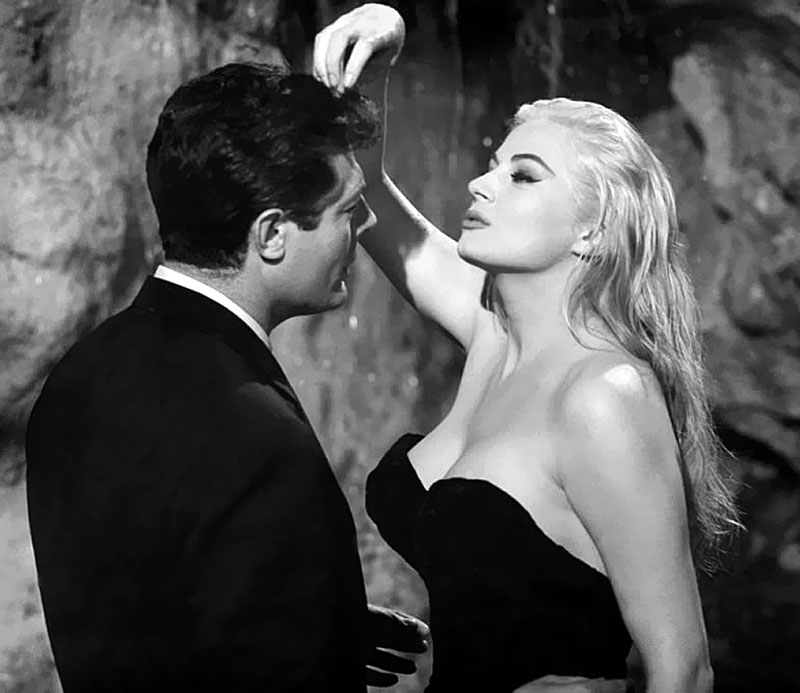 "I don't know if paradise or hell exist, but I'm sure hell is more groovy." – Anita Ekberg
© Ahrvid Engholm
Ahrvid Engholm is a swedish author, editor, journalist and SF fan.