ConFuse is the national Swedish science fiction and fantasy Convention for 2015 (Swecon) that took place at the Scandic Hotel Frimurarehotellet, Linköping (aprox. 200 km south-west from Stockholm).
Swecon is a title annually awarded to a Swedish SF Convention.
Since 1998, one Swedish SF per year has been elected to host national awards in science fiction and has been awarded the title "Swecon" in addition to its actual name. This is not necessarily the largest Swedish science fiction convention, but in practice it often is, and it's the most important of the Swedish conventions.
Guests of Honour:
Kristina Hård (Sweden)
Kristina Elisabet  Hård (born on February 8, 1966) is a Swedish writer of fantasy and science fiction. She debuted with the novel "Alba" (2009) and has since published other novels, "Himalayabreven" (Himalayas Letters) and "Kleptomania" (2014). She studied at the Creative Writing at the University of Lund and has also written non-fiction books.
Ben Aaronovitch (Great Britain)
Ben Denis Aaronovitch (born 1964) is a London-born British author of the best selling Rivers of London series of urban fantasy novels.
Madeline Ashby (USA/Canada)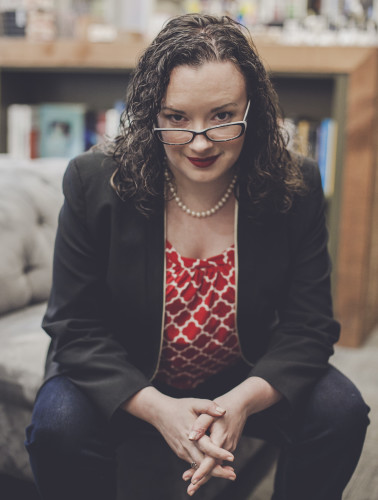 Photo credit: Kayleigh McCollum Photography
Madeline Ashby (born on the 24th of April 1983) is an American science fiction writer and strategic foresight consultant living in Toronto, Canada. She was born in Los Angeles (Panorama City), but she spent most of her life just outside Seattle, in a little community that looked a lot like Twin Peaks. During her second project at Seattle University she met Ursula K. LeGuin, and decided that she wanted to become a science fiction writer. In 2006, she immigrated to Canada. She is the author of "vN: The First Machine Dynasty" (Angry Robot Books, 2012), "iD (The Machine Dynasty Book 2)" (2013), "The Tomorrow Project: Imagining the Future and Building It" (2012), "The Tomorrow Project: White House Office of Science & Technology Policy's Grand Challenges" (2013), "2020 Media Futures" (Strategic Innovation Lab, 2010-2011), and "Economic Futures for Ontario" (Strategic Innovation Lab, 2011-2012). Her novel "Company Town" will be published in 2016 by Angry Robot.Her short fiction has appeared in Nature, FLURB, Escape Pod, and multiple anthologies. Her non-fiction has appeared at BoingBoing, WorldChanging, Creators Project, io9.com and Tor.com. As a futurist, she has worked for Intel, the Ontario government, and design and communications firms in Toronto.
Her GoH speech to Confuse : "The Privilege of the Future (SweCon 2015 GoH Speech)" ; http://madelineashby.com/
From the program:
"Not long before the end? SF and the economics of resource scarcity", kafeeklatsch with Kristina Hård
"AI and Robotics: A look into the future", kafeeklatsch with Ben Aaronovitch
"E-books and other alternative forms of reading", kafeeklatsch with Madeline Ashby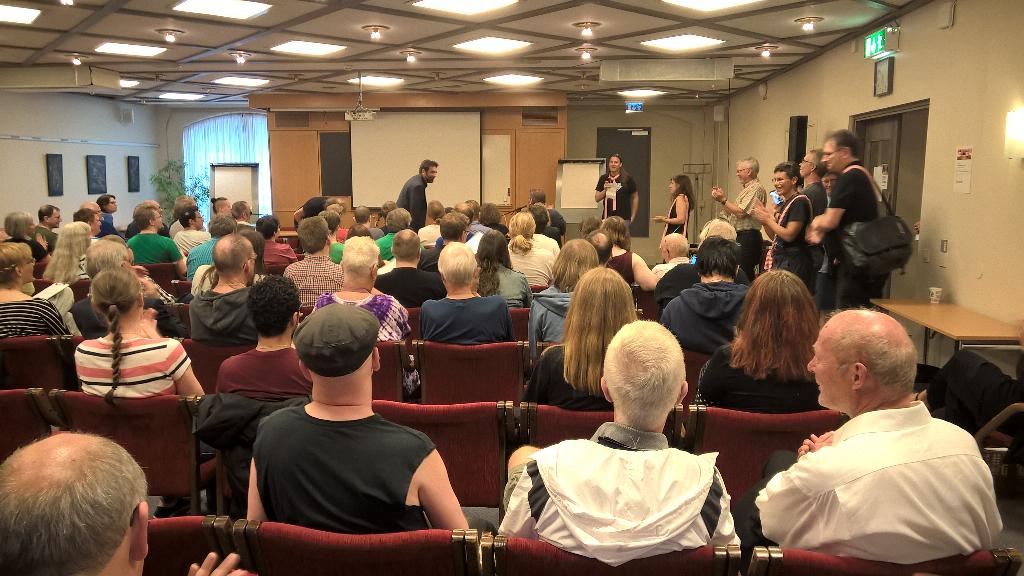 The Confuse Committee : Jonas Wissting, Anna Davour (Guests of honor), Tomas Cronholm (Treasurer), Hans Persson (Secretary), Britt-Louise Viklund (Program), Carolina Gómez Lagerlof (Program), Magnus Redin (Local), Leif Stensson (Congress Booklet), Maria Nygård (Web), Roger Klein (Graphics), and members of Linköping Science Fiction Association.
http://www.confuse.nu/in-english/
Linköping [ˈlɪnːˌɕøːpɪŋ] is a city in southern Sweden, with 151,881 inhabitants in 2015. It is the seat of Linköping Municipality and the capital of Östergötland County. Linköping is also the episcopal see of the Diocese of Linköping (Church of Sweden) and is well known for its cathedral. Linköping is the center of an old cultural region and celebrated its 700th anniversary in 1987.
Dominating the city's skyline from afar is the steeple of the cathedral. Linköping was a small town until 1937, when the Saab aircraft industry was formed, starting a period of rapid expansion. Linköping University was established in the 1960s. Today the city is a center of high-technology and software industry : one of the biggest employers in Linköping is Saab which among other products manufactures the SAAB Gripen fighter jet and where the SAAB 340 twin-engine commuter turboprop was produced. The city also has a strong presence in information technology based industries such as Sectra, IFS (Industrial and Financial Systems), Motorola, Ericsson, Cambio Healthcare Systems AB, and many others. Toyota Industries Sweden AB has a presence in Linköping, as one of its subsidiaries, BT Industries, is located in nearby Mjölby. The Swedish Air Force Museum is located near the town.