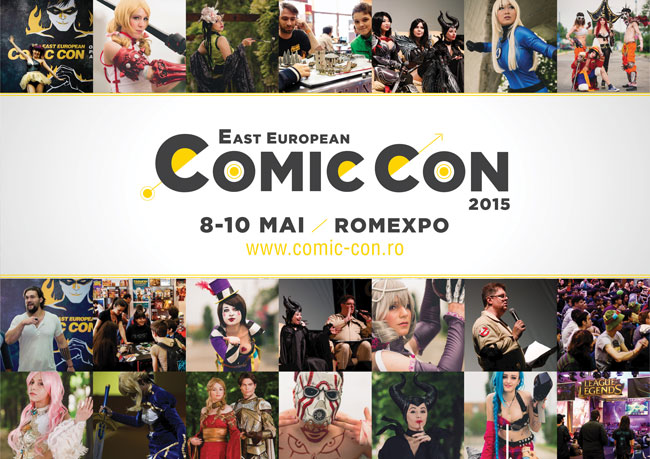 Bucharest East European Comic Con (Romania) is a multigenre convention held annually in Bucharest, Romania since 2013. It is one of the most important event (25.000 attendees in 2014) dedicated to fans of comics, animations, video games, as well as SF&F TV series and movies in Eastern Europe together with Pyrcon (Poznan, Poland) and Moscow Comic Con.
This year Bucharest East European Comic Con is taking place in four pavilions/halls at Romexpo Exhibition Centre, the biggest exhibitional surface from Romania.
The International Guests of Honor are Manu Bennett, Robert Knepper, John Noble, Osric Chau, Kristian Nairn – Hodor, Dan Starkey – Strax.
From left : Florin Stanciu, Alexandru Lamba, Andreea (Deea) Sterea
The romanian SF fans were rather shy to join the Comic Con as part of the program and this year's edition is the first to have a small SF section : Florin Stanciu (Fantastica online magazine ; Romanian Science Fiction&Fantasy Society), Alexandru Lamba (Gazeta SF online magazine) and Andreea Sterea (Crux Publishing Press) will present their work, their passion and their organizations. We certainly hope that the romanian fandom will be able and interested to be involved in the next editions with an english section and a relevant SF&F programming.
Visitors are able to attend and take part in various contests, video screenings, special sessions with movie and comics celebrities, as well as purchase products specific for this type of event. Among the contests being held at Comic Con, there is the well known Cosplay costume contest, where participants perform a short play while wearing the costume of a character from a comic, video game, animation or movie and imitate as well as they can the character's gesture and behavior; a Quiz contest for those who love anime, manga, TV series, comics and video games. An important part of the event is represented by the PC and console video game competitions, organized with the help of Electronic Sports League Romania (ESL).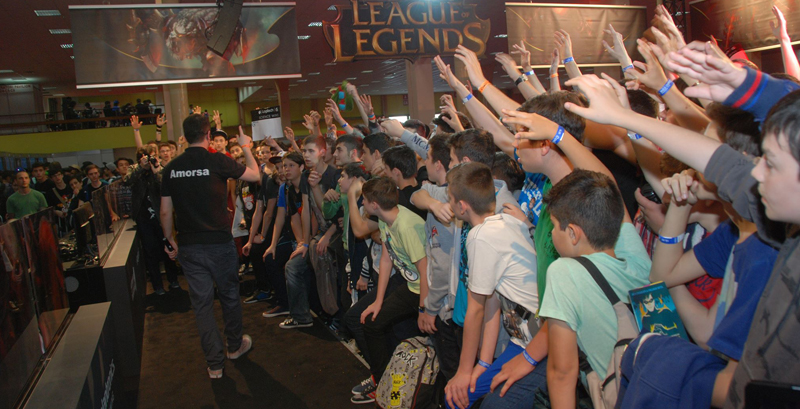 Bucharest East European Comic Con started in the spring of 2013 with different activities and contests.
Even at its first edition, EECC successfully gathered more than 9000 geeks. In 2014, the attendance was 25.000 participants and the actual 2015 edition is hoping to improve this score.
Moreover, it opened the door to some fruitful partnerships and friendships. For two days, fans could participate in a Cosplay contest, LOL Contest, Quiz Contest or Illustration contest, they could talk to artists and see a different side of their favorite actors. Victor Drujiniu – artist for DC Comics and Dark House, Remus Brezeanu – the artist of The End of Times of Bram&Ben, and Puiu Manu – one of the best Romanian comics artist, were some of the 22 artists present at EECC 2013.
https://www.facebook.com/eeccon