Brussels' International Fantastic Film Festival (BIFFF) went ahead despite the recent terror attacks !
BIFFF : "Let horror only be on screen!" 
BIFFF's main venue, the Bozar Centre For Fine Arts, is close to Brussels' main train station and 20 minutes walk from Maalbeek station.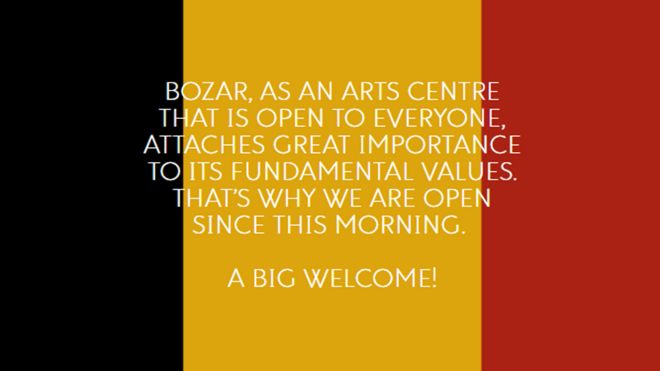 The Bozar Centre posted a message on its website featuring the Belgian flag saying: "Bozar, as an arts centre that is open to everyone, attaches great importance to its fundamental values, that's why we are open since this morning. A big welcome."
The Brussels International Fantastic Film Festival (BIFFF), previously named Brussels International Festival of Fantastic Film (French: Festival international du film fantastique de Bruxelles, Dutch: Internationaal Festival van de Fantastische Film van Brussel) was created in 1983 as a venue for horror, thriller and science fiction films. It takes place in Brussels, every year in March.
Initially organized by Annie Bozzo, Gigi Etienne, Freddy Bozzo, Georges Delmote and Guy Delmote, it now has prizes in both feature length and short films, and also hosts an international body-painting competition.
Winners of the Grand Prize, the Golden Raven statuette, include "Army of Darkness", "Radioactive Dreams", and "Dog Soldiers".
For more than 30 years now, the Brussels International Fantastic Film Festival (BIFFF) rouses the European capitol from its winter sleep for the most expected cinematographic event of the year. Bursting to the seams with amazing shows and original manifestations (the Make-Up Contest, the International Body Painting Contest, the Zombie Parade in the heart of Brussels, the Japanimation Day, the Manga Market, the Cosplay Contest, the renowned Vampire Ball and many other festivities) the BIFFF is a warm and atmospheric celebration of everything related to the genre.
During 13 days (what a magic number!) more than 100 films were shown, both world- and international premieres, ranging from Fantastic, Thriller, Science-fiction, Horror and Cult to Underground cinema, and special screenings such as the Fantastic Night and Midnight X-tremes.
Each year, the BIFFF welcomes more than 60 000 spectators and invites more than 100 international guests, making it one of Europe's leading film festivals.
Brussels is one of the founding members of the Federation together with Sitges.
Despite the recent tragic events, more than 53 000 participants came to the 2016 BIFFF ! Thank you everyone!
The international jury (Jaume Balaguero, Bai Ling, Marc Caro, Luigi Cozzi and Jasna Kohoutova) took the decision to reward the following films:
Silver Crow : SEOUL STATION by Yeon Sang-ho
Silver Crow : THE PHONE by Bong-joo Kim
Golden Crow : I AM A HERO by Shinsuke Sato
The European jury (Olivier Mortagne, Monique Licht, Nancy Ngoma, Freddy Thielemans, Pierre Beaudot, Manu Dacosse, Sacha Feiner) took the decision to reward: DEMON by Marcin Wrona.
The thriller jury (Ana Garcia, Joëlle Baumerder, Gorian Delpâture, Michel Dufranne) took the decision to reward: THE PHOTOGRAPHER by Waldemar Krzystek.
The 7th Orbit jury (Georges Lini, Maxime Dieu, Joost Vandecasteele, Geoffrey Claustriaux) took the decision to reward TRADERS from Rachael Moriarty and Peter Murphy.
The public price goes, after GHOST GRADUATION in 2013, once again to Javier Ruiz Caldera for SPY TIME.
Belgian short features :
Big Prize : L'OEIL SILENCIEUX by Karim Ouelhaj
Silver Méliès : L'OEIL SILENCIEUX by Karim Ouelhaj
BeTV Prize : XYZ by M. Tikal
SABAM Prize : XYZ by M. Tikal
Press Prize : XYZ by M. Tikal
RTBF Prize (La Trois) : VOLTAIRE from Jan Snoekx
FEDEX Prize : VOLTAIRE from Jan Snoekx
Youth Prize : ICE SCREAM from Vincent Smitz
The jury of the 1st Art Contest took the decision to reward MONSTRE, a painting by Nathan Vranckx.
http://www.bifff.net/festival-2016/
http://www.bifff.net/wp-content/uploads/2016/03/BIFFF_panorama-1.pdf
https://www.facebook.com/BrusselsInternationalFantasticFilmFestival
Brussels International Fantastic Film Festival
8 rue de la Comtesse de Flandre, 1020 Brussels, Belgium
Festival Director: Georges Delmote