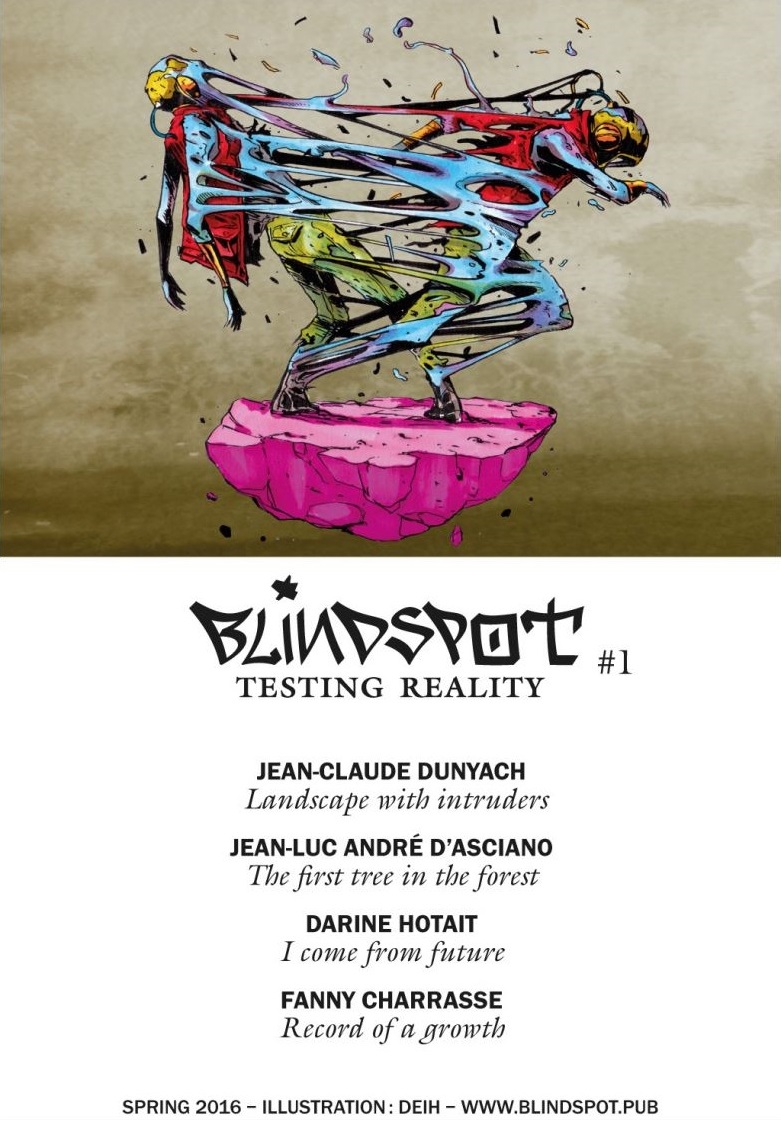 Angle Mort was founded in France in 2010 to translate innovative science fiction stories written by authors such as Aliette de Bodard, Jeffrey Ford, Kij Johnson, Kelly Link,Ian McDonald, Vandana Singh, and to publish French original narratives written by Stéphane Beauverger, David Calvo, Thomas Day, Jean-Claude Dunyach, Léo Henry, and Laurent Kloetzer among others.
Angle Mort's work has been recognized several times by the Grand Prix de l'Imaginaire and nominated as "best translated work of the year" or "best short story of the year."
Angle Mort is a loose collective of writers, editors, translators, artists, and scientists who have come together to share an approach of science fiction as a means of investigation to face situations of uncertainty. When reality itself is at stake, a detour through science fiction concepts and ideas may help us reconsider what we are taking for granted and what is blinding us.
Angle Mort/Blind Spot believes that practicing science fiction is inherently a code-switching experiment that explores and redefines the boundaries between art, science, and literature by borrowing and melting together the languages they usually use to distinguish themselves. Our conviction is that science fiction aims to express states of affairs we have not yet conceived of, contingencies lurking in the blind spots of our languages.
Going forward, Angle Mort/Blind Spot wish to widen it's audience to pursue two main goals:
1 – Bolster the ties between French and American science fiction, by launching a new magazine that translates French stories into English. We think that French science fiction is rich from finding new ways to describe human experiences and contradictions, the weight of structures upon our lives, and the role of collective entities on our destiny.
2 – Bridge art, science, and literature, by supporting people who try to remold original perceptions of the self or the surrounding world, regardless of whether their works are fictional stories, academic papers, or visual arts, as long as they relate to science fiction.
Both French and English online magazines owned by the group are conceived as an endeavor to find new languages, new ways of telling true stories. They will be published at a frequency of two issues per year each. The narratives will be available for free on their dedicated website and exclusive additional content (interviews with contributors) can be accessed by ordering the complete online issue for $3. The proceeds will help us pay our contributors and translators.
Description of Blind Spot issue 1.
http://frenchculture.org/sites/default/files/blind_spot.pdf
Blind Spot Magazine
Blind Spot is an online speculative fiction & art magazine publishing short stories, written in English or translated from French. The stories are available for free on this website. Website: www.blindspot.pub

You can buy a complete issue that includes 4 short stories and the interviews with the authors. The proceeds will help us pay our translators, authors, and artists : http://blindspot.pub/issues/n-01/
Contact: blindspot@blindspot.pub
Submit Work: submissions@blindspot.pub
Angle Mort Magazine
Website: www.angle-mort.fr
Contact: redaction@angle-mort.fr
Submit Work: manuscrits@angle-mort.fr
Editorial Staff :
René-Marc Dolhen, editorial director, webmaster
René-Marc Dolhen is the cofounder and webmaster of nooSFere, a database of bibliographic information of all science fiction  and fantasy fiction published in french created in 1999 (www.noosfere.org), where he writes also reviews of books. René-marc is a judge of the Prix Bob Morane, a set of awards given each year to science fiction and fantasy fictions. René-Marc works as a systems engineer in a software company located in Paris.
Julien Wacquez, editorial director, art director, scientific committee
Julien Wacquez is a PhD student in sociology at the École des Hautes Études en Sciences Sociales, Paris. His research focuses on the manner by which science fiction authors lean on scientific knowledge already established to shape their stories and, also, on the way these stories pose problems that are expected to be solved by the scientific activity. More broadly, Julien wants to explore how ideas and concepts can switch from a fictional context to a scientific one. He has been a fellowship of the Musée du quai Branly (2014-2015).
Sylvie Denis, editor, translator (English-French)
Sylvie Denis is a science-fiction writer and a translator. She has published three adult novels and two for teenagers. Haute-École (L'Atalante) received the Prix Julia Verlanger in 2003. She was co-editor of the magazine Cyberdreams from 95 to 98 and part of the editorial team of Fiction (Les Moutons Électriques), the French edition of The Magazine of Fantasy and Science-Fiction. She has also edited several anthologies. She is currently working on the sequel to Haute-École and short-story cycles.
Georges Subrenat, editor
Georges Subrenat was one of the reference french webzine's redactor Le Cafard Cosmique, dedicatory to science fiction. He wrote regularly scientific vulgarization in it. Georges learned mathematics in Marseille and theoretical physics in École Normale de Lyon. He teaches physics near Paris now.
Sheryl Curtis, translator (French-English), proofreader
Sheryl Curtis is a professional translator from Montréal, Québec, with translated stories appearing in Interzone, Year's Best Science Fiction 4, Year's Best Fantasy and Horror 15, Galaxy's Edge, SFWA European Hall of Fame, Expiration Date, numerous Tesseracts, and The Mammoth Book of New Jules Verne Adventures. She also translated Sylvie Bérard's novel, La Terre des Autres, published in English as Of Wind and Sand.
Joffrey Becker, scientific committee
Joffrey Becker obtained a doctorate in social anthropology and ethnology, and is a research affiliate at the Laboratoire d'Anthropologie Sociales (UMR7130). His research focuses on robotics and more particularly on the relationship between humans and machines. His work has first focuses on the processes which are involved in building humanoid robots and also on the mental states they imply during their performances, in experimental situations or games. These researches now aim to better understand the dynamics that constitute robots as experimental tools whose activity directly questions our ontological, relational and social models. This research resulted in the publication of several articles (especially in Gradhiva, Tracés, and Multitudes), and a book entitled Humanoïdes, Expérimentations croisées entre arts et sciences, published in 2015 by the Presses Universitaires de Paris Ouest.
Cyprien Tasset, scientific committee
Cyprien Tasset has a doctorate in sociology. His work focuses on the precarious in intellectual professions, and on the issues of their possible constitution into a social group. This led him to explore the borders between scholarly fiction and social reality. Reading authors influenced by postoperaïsmo, such as Bifo or Richard Barbrook, he became aware of the cyberpunk tone among reflections concerning the future of work. With Angle Mort, he would like to investigate different ways of thinking, feeling, and maybe even realizing collectively that «another end of the world is possible».
http://frenchculture.org/books/news/introducing-blind-spot-french-science-fiction-translation