Archipelacon is a joint finnish-swedish event in the Nordic countries for everyone interested in science fiction and fantasy. It's a four-day celebration of the fantastic arts in the new Culture & Conference Centre Alandica by the seaside in Mariehamn, Åland.
Alandica Culture & Congress Centre, a multifunctional and modern venue
Situated in the eastern harbour of Mariehamn, Alandica is a great venue for a science fiction convention. The Danish architecture bureau Kjaer & Richter designed the building with modern functionalism and inspiration from the islands and red rocks of the archipelago.
Alandica is located very centrally, within easy walking distance from most hotels, shops, and restaurants. The panorama windows look east, to the Turku archipelago with its almost 7,000 islands. The entrance foyer with a high ceiling and glass walls facing the waterfront, is where the bar is located. The upper floor offers a smaller foyer, also with a bar and the same striking view!
The main auditorium seats 600 people in theatre seats, with fine acoustics. The second largest hall has seating for 200 people, with foldable chairs can be hidden into the wall for flexibility. In addition, there are several smaller rooms that seat 12–50 people, equipped with modern AV technology.
All rooms offer a sea view. Just across the street is Hotel Arkipelag, the main hotel for the convention's members and the site of Åland's casino. On the other side of the street corner are two of Mariehamn's most popular restaurants, Indigo and Dino's Bar & Grill.
Mariehamn (Finnish: Maarianhamina) is the capital of Åland, an autonomous territory under Finnish sovereignty (11.489 inhabitants). Mariehamn is the seat of the Government and Parliament of Åland, and 40% of the population of Åland live in the city. Like all of Åland, Mariehamn is unilingually Swedish-speaking and around 88% of the inhabitants speak it as their native language.
The Åland Islands or Åland (Swedish: Åland, Swedish pronunciation: [ˈoːland]; Finnish: Ahvenanmaa) is a region of Finland that consists of an archipelago lying at the entrance to the Gulf of Bothnia in the Baltic Sea. It is an autonomous, demilitarised and is the only monolingually Swedish-speaking region in Finland.
Collectively, the islands in the archipelago form the smallest region of Finland, constituting 0.49% of its land area and 0.50% of its population. The total area is 1.580 km2 and the population is 28.666 inhabitants.
Åland comprises Fasta Åland on which 90% of the population resides and a further 6,500 skerries and islands to its east. Fasta Åland is separated from the coast of Sweden by 38 kilometres (24 mi) of open water to the west. In the east, the Åland archipelago is contiguous with the Finnish Archipelago Sea. Åland's only land border is located on the uninhabited skerry of Märket, which it shares with Sweden. Åland's autonomous status means that those provincial powers normally exercised by representatives of the central Finnish government are largely exercised by its own government.
Åland's original name was in Proto-Norse language *Ahvaland which means "Land of Water". In Swedish, this first developed into Áland and eventually into Åland, literally "river land"—even though rivers are not a prominent feature of Åland's geography. The Finnish name of the island, Ahvenanmaa ("perch land"), is seen to preserve another form of the old name. Another theory suggests that the Finnish Ahvenanmaa would be the original name of the archipelago, from which the Swedish Åland derives.
Guests of Honour : George R.R. Martin,
Johanna Sinisalo, Karin Tidbeck
Johanna Sinisalo (born 22 June 1958, Sodankylä) is a Finnish science fiction and fantasy writer ; Karin Margareta Steen Tidbeck (born 6 April 1977) is a Swedish author of fantasy and weird. fiction
Academic Guest of Honour  : Gary K. Wolfe, Professor of Humanities in Roosevelt University's Evelyn T. Stone College of Professional Studies (Illinois, USA),  science fiction editor, critic and biographer.
An other distingueshed Guest was Farah Mendlesohn, Professor and Head of Department in the Department of English, Communication, Film and Media at Anglia Ruskin University, British academic historian and writer on science fiction and fantasy literature, as well as an active science fiction fan.
Fan Guest of Honour Parris McBride
Archipelacon is chaired by the finn Sari Polvinen and the swede Johan Anglemark, and the committee consists of experienced convention organisers with who have previously worked on Åcons, Finncons, Swecons, Eurocons, and Worldcons.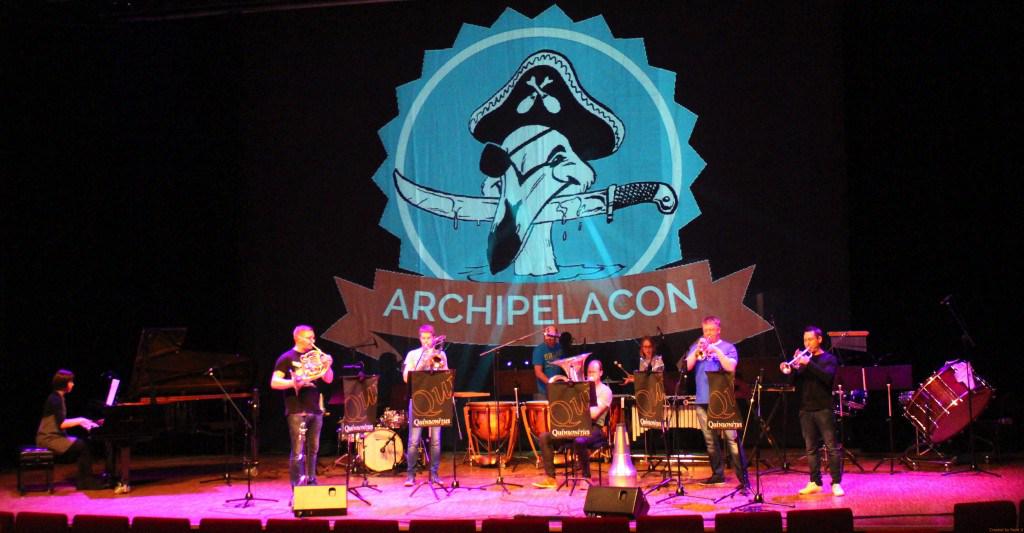 Archipelacon offered several programme tracks with presentations, panels and lectures on all aspects of science fiction and fantasy. The main language was English, but there were also programme tracks in Finnish and Swedish. The convention hosted the Finnish SF and Fantasy Researchers Network's annual academic conference. Archipelacon is a meeting place for science fiction and fantasy fans from all over the world, an international convention with a Nordic flavour.
If you could replace the world leaders with sf authors of your choice, who would be your picks to lead us into a bright new future? What would that future be like? Or would you be the one shouting on a street corner, warning the rest of us not to trust the bastards…?
This year's Hugo Awards received an unprecedented amount of coverage in mainstream media. Sadly not about the quality of the finalists, but rather a highly successful campaign to fill the final ballot with works that have a particular political slant. Our panel looks at "Puppygate" and asks what can/should be done about it.
How do authors write in different science fiction and fantasy scenes? In what language? What are the possibilities? How do they approach their readers? Listen to several writers discuss their experiences and gain insight into different SFF writing in different SFF scenes in different countries.
Chair: Merja Polvinen 
Experiment, Emergence and Development of the Science Fiction and Fantastical Short Story – Farah Mendlesohn
Beyond the Frames of the Mundane: Making Sense of Identity in Contemporary SF – Hanna-Riikka Roine
The Chronotope and Genre Fiction – Audrey Taylor
The Birth of New Latvian Science Fiction and Fantasy
– 
Ieva Melgalve
The past five years (2010–2015) can be seen as the true birth of the fantasy and science fiction genres in Latvia. There are more than a dozen authors creating a new landscape in Latvian literature – what are the trends, challenges and successes?
Cristina Macía, co-organiser of the annual Celsius 233 SFF festival in Avilés, will talk about the culture of publicly funded free festivals in Spain, about regional "tertulias" (local fan group get-togethers), and about the Spanish national SF convention, Hispacon, with Ian Watson butting in, and both will engage in shameless propaganda for the first ever Spanish Eurocon to be held in Barcelona in November 2016.
Iceland; what's happening in SFF there? Up until five years ago, it was practically non-existent. But now more and more speculative works are coming out. What works? Why hasn't it developed earlier? What's happening? Here are two Icelandic authors who will tell you all about it.
Zombies, Necrophiles and Spiraling Penises — Things You Were Never Taught in Biology Class
– 
Torill Kornfeldt
Why should physics and astronomy have all the fun of science fiction? Come and hear of the bodysnatching and mind-altering fungi, the free-swinging penis of the argonaut, the somersaulting death-wishing spider, and many more. I will fuel your stories and nightmares with true tales stranger than fiction. Beware  : Might be offensive, and not suitable for the faint of heart. Age limit due to possible sexual content: 15 !
Archipelacon artists : Finnish cartoonist and illustrator Petri Hiltunen, the finnish illustrator and writer Jenny Wiik, the swedish scrap artist Johan Karlsson.
An Archipelacon participant, latest member of the Pirates Party !
Not only there are plenty to do and see at the convention, the location has its own charms as well. Mariehamn is a friendly town with a number of restaurants, museums and shops. The main island is about 50 km (30 miles) across, so rural, historical, or culinary attractions like the fortress of Bomarsund, the castle of Kastelholm, Stallhagen Brewery, the Smakbyn Culinary Centre, and many medieval churches are within easy reach.
Mariehamn is easy to get to. There are frequent, cheap and comfortable cruise liners from several places in Finland and Sweden, including Stockholm and Helsinki. And the cruise liners have duty-free shops! You can also fly to Mariehamn via Stockholm, Helsinki or Turku.
Archipelacon Chairs

Johan Anglemark, Sweden
Sari Polvinen, Finland

Secretary
Treasurer

Sanna Kellokoski, Finland

Programme

Johan Jönsson, Sweden
Sini Neuvonen, Finland
Merja Polvinen, Finland
Mikko Seppänen, Finland
Elisa Wiik, Finland
Tero Ykspetäjä, Finland

GoH liaison
Gophers

Carolina Gómez Lagerlöf, Sweden
Karo Leikomaa, Finland

Registration

Herman Ellingsen, Norway
Sanna Kellokoski, Finland

Venue & hotel

Eemeli Aro, Finland
Katarina Norrgård, Finland (Åland)
Mårten Svantesson, Sweden

Accessibility
Security
Tech

Mårten Svantesson, Sweden

Sponsors & vendors

Harri Miekka, Finland
Vesa Sisättö, Finland

Grants
Publicity

Eemeli Aro, Finland
Johan Jönsson, Sweden
Ben Roimola, Finland
Vesa Sisättö, Finland
Tero Ykspetäjä, Finland
Elisa Wiik, Finland
Dirk M. Weger, Germany

Web

Teemu Ahonen, Finland
Sari Polvinen, Finland
Ben Roimola, Finland
Tero Ykspetäjä, Finland

Design
Personal assistant to Chair
Organizer:
Maa ja ilma ry
c/o Eemeli Aro
Metsäpurontie 9 B 16
00630 Helsinki
https://www.facebook.com/events/649308875144711/
"Surupukki. Ruotsalaisia tieteistarinoita"  (No, it's not klingonian !)
It's a swedish authors collection of stories in finnish ! With a title approximately converted into english as ""The Sorrow Pukki. Swedish science fiction stories."
TOC :
Karin Tidbeck: Olen laskenut suruni yllesi/Jag har lagit min sjukdom på dig/I Dropped My Grief Upon You
Carl Ahlström: Mustaa raparperia/Svart rabarber/Black Rhubarb
Kristina Hård: Kirjasiirtymiä/Intrabökular Teleportering/Intra-book-ular Teleportation
K. G. Johansson: Ennen kuin taivas putoaa/Innan himlen faller/Before the Sky is Falling
Jorun Moden: Sosiootit/Socioterna/
Oskar Källner: Pancasila/Pancasila/