Julie Nováková (Prague, Czech Republic)
Czech SF&F editor Martin Šust has recently mentioned an interesting fact:
Czech magazines : XB-1 (SF) and Pevnost (Fortress), dedicated to Fantasy
As far as we know, the Czech Republic is the only European country with two professional monthly genre print magazines (XB-1 and Pevnost) and they've been together on the market for more than thirteen years now.
Polish SF magazine, Nowa Fantastyka
Moreover, XB-1 and Polish SF magazine Nowa Fantastyka are the only European non-English magazines that publish foreign authors and can pay them professional fees (as well as translators and Czech and Polish authors, respectively).
Russian Esli, which used to publish world authors too, was canceled in 2012.
(However, there are luckily more European magazines full of interesting SF, especially online – just most of them are nonpaying.)
Vlado Ríša, chief editor of XB-1, may be the longest-working European genre magazine editor: he's been the chief editor of the magazine for more than eleven years. Jaroslav Olša, Jr., the Czech ambassador in South Korea and longtime SF fan and translator, later added that Japanese SF Magajin and Chinese Kche-sue wen-i are probably the only monthly SF magazines being published longer than Ikarie/XB-1 (Ikarie is the former title of the magazine, which couldn't be used anymore when it changed its publishing house, but the publishing didn't cease).
I must admit I have been quite oblivious of the SF magazines situation in the rest of Europe and pretty much anywhere else across the world except for the Angloamerican market, since the only languages in which I have a reading proficiency are Czech (plus Slovakian, which is very similar) and English; after I had finished grammar school, my German became too rusty for me to even read a newspaper. Martin's information therefore surprised me a lot and made me even prouder to be a small part of the wider XB-1 team. It also made me appreciate the overall SF situation in the Czech Republic much more. I hope it stays this way or improves over time; both magazines suffered the risk of cancellation in the last couple of years, and though both recovered quickly, it showed us how fragile the short fiction market is.
SF has a long tradition in the Czech Republic. Pretty much everyone will mention Karel Čapek (in whose R.U.R. the word robot first appeared) but it goes into the 19th century as well (to some elements of the works by Svatopluk Čech, Jakub Arbes, Karel Pleskač and others).
Historical Czech SF anthologies put together by Ivan Adamovič can give one a good idea about the kinds of speculative fiction written here since the end of 19th century.
What about today? I'm under the impression that if some Czech authors wrote in English, their works would find a wide audience.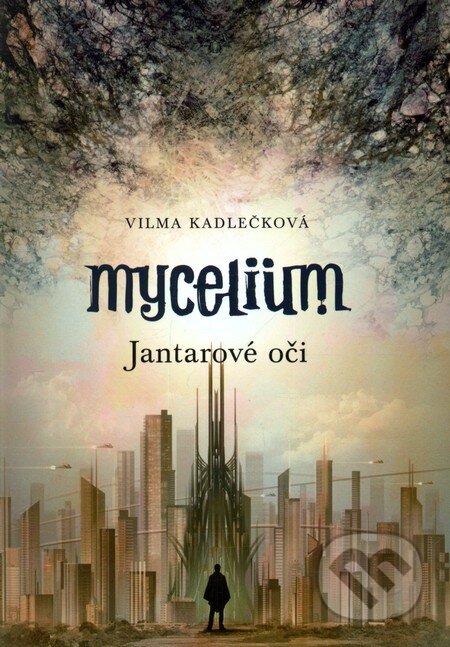 Vilma Kadlečková's ambitious SF saga Mycelium, Jiří W. Procházka's early cyberpunk stories, Karolina Francová's dark psychological SF novels… these are just a few examples of many. Unfortunately (or rather fortunately solely for Czech readers), they only write in Czech. I get it; an author can fine-tune the language best when using their native tongue. Writing in Czech and the ability to use everything the language offers may be a part of what makes them exceptional.
Allskin and Other Tales is the first anthology of fiction by Czech women to appear in English translation; Allskin and Other Tales by Contemporary Czech Women, ed. Alexandra Büchler, Women in Translation 1998 (Seattle); ISBN: 1879679116, 220 pp.
But still… Sometimes I wonder how an anthology of Czech stories translated into English would do. Croatian authors did this when Eurocon was hosted in Zagreb in 2012. Their anthology Kontakt was a part of the materials at the con and it became widely available this spring when published by Wizard's Tower Press thanks to Cheryl Morgan.
Since good translations into English are insanely expensive and such a project would be extremely risky, this idea might just fit into some utopian future – and SF, utopian especially, rarely predicts the future… but hey, it happens sometimes.
Authors and readers across the world: How's the SF (in the broad sense of speculative fiction, not only science fiction) magazines situation in your country? How many writers from there publish in English? Do you think there's been a good development recently? Have I missed something important above? Add what comes to your mind.
© Julie Nováková
This article was originally published by Julie Nováková on her blog :
Republished with the kind permission of Julie Nováková. We're thanking her !
Julie's blog : http://julienovakova.wordpress.com/
Julie Novakova  is a Czech author of science fiction and detective stories. She published three novels and about two dozen stories in Czech and started publishing short stories in English in 2013. She's also a regular contributor of the Czech SF magazine XB-1, publishing both fiction and nonfiction there, and a student of evolutionary biology at the Charles University in Prague.
Publications: Fiction
Fiction bibliography: Works in English
2014 : Catching a Ride (in Perihelion SF 8/2014)
2013
The Symphony of Ice and Dust (in Clarkesworld Magazine issue 85 , 10/2013)
The Brass City (in Penny Dread Tales Volume 3: In Darkness Clockwork Shine, RuneWright)
Fiction bibliography: Works in Czech
2014
The Dim City (in anthology of czech short stories The Song of Metal Whales, Konektor XB-1)
Chef's Special (in magazine XB-1)
forthcoming: a novel in the "John Francis Kovář" adventure series (Triton)
forthcoming: Aeronauts of Aura (in magazine Pevnost)
forthcoming: Gemini: The Divination Ring (Klub Jules Verne)
forthcoming: The Symphony of Ice and Dust (Czech translation in magazine XB-1)
forthcoming: The Brass City (Czech translation in magazine XB-1)
2013
Two Steps from Paradise (in magazine XB-1)
11 percent (in magazine Lemurie)
2012
Adventures of Mr. Finnegan (in Death in The Steamlines, Konektor XB-1)
Bodhisattva (in KOČAS 2012, Laser-books)
A Mourning Song for The Last Fairy (in magazine Pevnost)
Whodunnit (in magazine Lemurie)
2011
Never Trust Anything (a novel, MOBA)
A Silent Planet (a novel, Epocha)
A City Made of Fibers (in magazine Pevnost)
A Jade Talisman I (in The Secret Book of Shadowlight, Albatros)
A Jade Talisman II (in The Secret Book of Shadowlight, Albatros)
Program Ovidius (in KOČAS 2011, Laser-books)
Sweet Dreams, Joe (in magazine XB-1)
Knock on The Door of Imagination (in magazine XB-1)
The Blood Rain (in magazine XB-1)
2010
The Clown and The Rose (Cadets of Fantasy, Straky na vrbě)
When The First Spring Flowers Bloom (Kill Or Save Your Alien, Mladá Fronta)
Atamansi (in magazine Ikarie 10/2010)
2009
The Arcadia (in magazine Ikarie 05/2009)
The Crime on The Poseidon City (a novel, Triton)
Safety Above All (in The Salamander 2009, Nová vlna)
The Sign of Fortune (in The Salamander 2009, Nová vlna)
The Legend of Whispering Stars (in KOČAS 2009, Laser-books)
The Reunion in Verdun (in The Foam of History or Stories That Never Happened, Tribun EU)
2008
The May Day's Night Wish (in Shadows of The Towers, Triton)
The Real Estate Dealer (in The Salamander 2008, Nová vlna)
2007
The Clash of Stars (in Shadows of The Sea, Triton)
Publications: Nonfiction
Most of Julie's nonfiction works are popular science articles focused usually on some features of biology (her field of study) or space exploration (her longterm hobby). Interviews are listed separately, below the rest. She'd also written a number of reviews and short essays on genre topics for the web version of Czech SF magazine XB-1.  She also works as a science journalist for the Faculty of Science, Charles University, Prague, Czech Republic.
In English
2014 : "Realms of Dark, Deep and Cold" in Clarkesworld Magazine, issue 91
In Czech
2014
"What can exoplanet atmospheres data tell us?" ("Co nám mohou prozradit atmosféry exoplanet?") in magazine XB-1, 5/2014
2013
"Missions to Mars" ("Výpravy na Mars") in magazine XB-1, 12/2013
2012
"Immortality: We seek and fear it" ("Nesmrtelnost: toužíme po ní, bojíme se jí…") in magazine XB-1, 9/2012
"Biology in science fiction" ("Biologie v literární SF") in magazine XB-1, 5/2012
Interviews
2014
Human Nature : A Conversation with Peter Watts in Clarkesworld Magazine, issue 95
XB-1 cover's illustration : "The Awakening" by Alex Popescu, romanian digital artist
Interview with Ken Liu in magazine XB-1, 4/2014
Interview with Adam-Troy Castro in magazine XB-1, 3/2014
Interview with Neil Clarke in magazine XB-1, 2/2014
Interview with Martin Šust in magazine XB-1, 1/2014