From left : Aliette de Bodard, Rosa Montero and Johanna Sinisalo
The French writer Aliette de Bodard, the Spanish writer Rosa Montero and the Finnish writer Johanna Sinisalo are Guests of Honour at the 2016 Eurocon in Barcelona, representing facets of the contemporary European Speculative Fiction, the talent, the intelligence and charm of some sophisticated and cultured European intellectuals.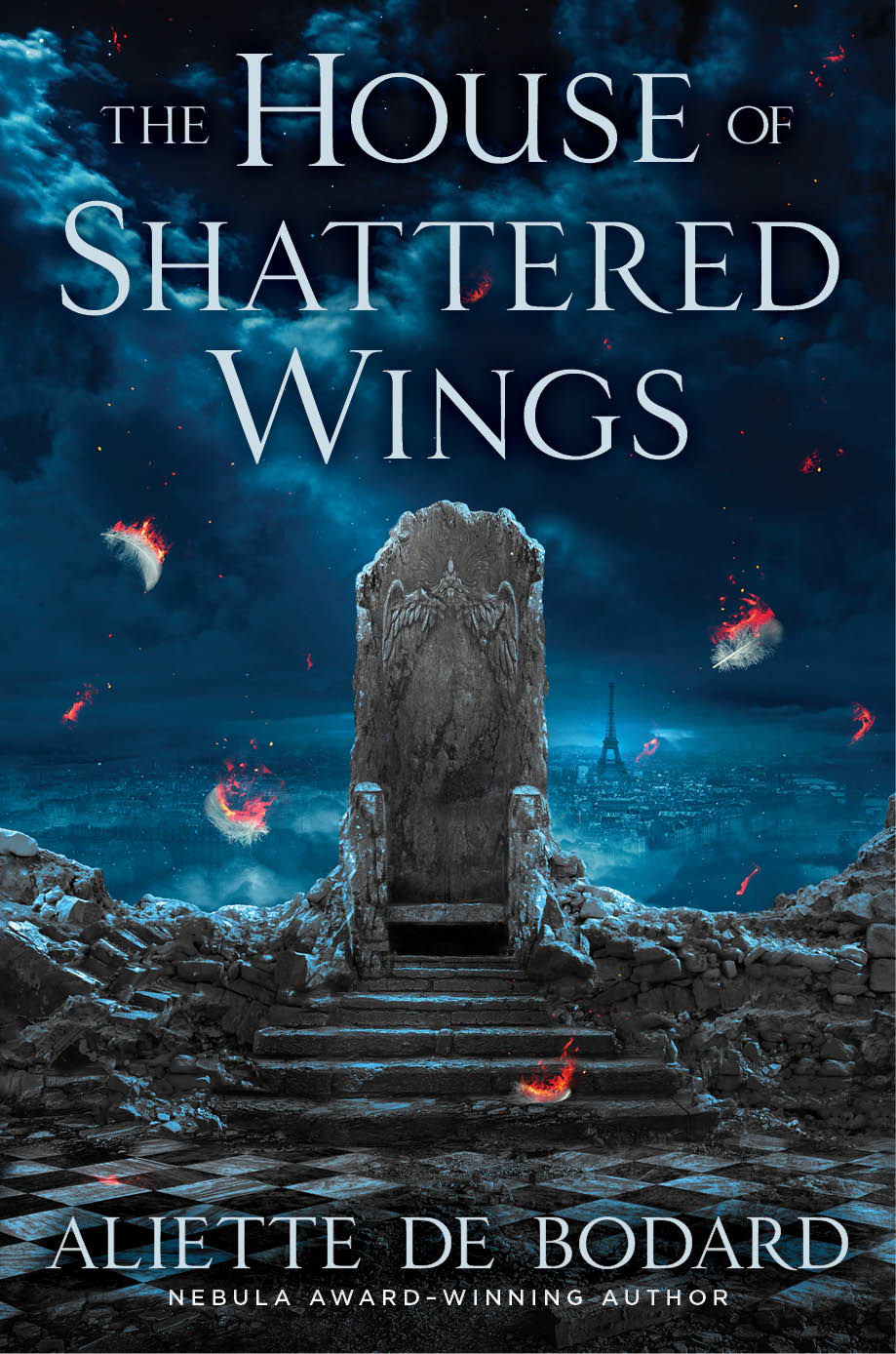 Aliette de Bodard – "The House of Shattered Wings"
A new novel from the Nebula-award winning author of Obsidian and Blood, out now from Gollancz (UK/Commonwealth, trade paperback, ebook) and Roc (US, hardback): a devastated turn of the century Paris split between quasi-feudal Houses, addictive magic, fallen angels–and entirely too many dead bodies!
"A superb murder mystery, on an epic scale, set against the fall out – literally – of a war in Heaven.
Paris has survived the Great Houses War – just. Its streets are lined with haunted ruins, Notre-Dame is a burnt-out shell, and the Seine runs black with ashes and rubble. Yet life continues among the wreckage. The citizens continue to live, love, fight and survive in their war-torn city, and The Great Houses still vie for dominion over the once grand capital.
House Silverspires, previously the leader of those power games, lies in disarray. Its magic is ailing; its founder, Morningstar, has been missing for decades; and now something from the shadows stalks its people inside their very own walls.
Within the House, three very different people must come together: a naive but powerful Fallen, an alchemist with a self-destructive addiction, and a resentful young man wielding spells from the Far East. They may be Silverspires' salvation. They may be the architects of its last, irreversible fall…"
NEW! In translation: The House of Shattered Wings will be published in France by Fleuve Editions (with a translation by Emmanuel Chastellière) in 2017.
Rosa Montero – "Le poids du coeur" (french translation of "El peso del corazón", 2015/The Weigth of the Heart)
french translation by Myriam Chirousse, Éditions Métailié
"Hired to solve a simple case at first sight, detective Bruna Husky faces a web of international corruption that threatens to destabilize the fragile balance between a troubled Earth and the religious dictatorship of the Kingdom of Labari. In a future in which war is supposedly eradicated, Bruna's race against freedom and in defense of life, while assimilating the contradictory feelings that produces the care of a little girl. Bruna Husky is an extreme and fascinating heroine; one survivor capable of anything, torn between fragility and toughness, between self-reliance and the desperate need for love. It is a beast trapped in the prison of his short life, a tiger that comes and goes against the bars of her heart cage "that she will escape only brief moment of salvation".
"The Weight of the Heart" is a thriller, a novel of political and ecological adventure, a tale of fantasy and science fiction, a mythical tale, a tale for adults, a reflection on the literary creation, a metaphor for the weight of life and darkness of death … And a love story! Rosa Montero returns to the fascinating world created in "Tears in the Rain" (Lagrimas en la lluvia) and surprise us again with her narrative power. Bruna Husky has become a legendary hero."
Rosa Montero – "El peso del corazón", 2015/The Weigth of the Heart
Rosa Montero – "Des larmes sous la pluie" (french translation of "Lagrimas en la lluvia", 2011/Tears in the Rain)
french translation by Myriam Chirousse, Éditions Métailié
"2119. The United States of Earth. The replicants die in amok crises while an anonymous hand corrects the Central Archives of the Earth to rewrite history and make it manipulable. Bruna Husky, a warrior replicant, alone and inadequate, decide to understand what is happening and is investigating both murders and herself, and also the "memorist", the one who created the memories that she carries. Faced with her programmed death, Bruna Husky has allies only the marginals and the aliens, the only ones still able to reason and to show some tenderness in this repressive vortex of paranoia. Rosa Montero chooses a distant future to talk about what makes our humanity, our memory and our identity, the certainty of our death and that of those whom we love. Her characters are survivors who cling to moral policy, individual ethics, friendship and love. She builds for us a coherent future, and a dizzying plot to talk about our death and our use of the time. She writes with passion and humor, the essential tools for understanding the world."
Rosa Montero – "Lagrimas en la lluvia", 2011 (Tears in the Rain)
Johanna Sinisalo – "The Core of the Sun" (Auringon ydin, 2013) 
Rights sold:  World English, Grove Atlantic ; France, Actes Sud; Germany, Klett-Cotta; Czech Republic, Euromedia
"In her latest novel, "The Core of the Sun", Johanna Sinisalo tells the story of The Eusistocratic Republic of Finland. Her thriller-like story of flight and fight is also between the lines a feisty social polemic.
How did Finland turn into the North Korea of Europe?
The Eusistocratic Republic of Finland has prioritized social stability and national health, and outlawed practically everything that might give one pleasure or cause addiction. Well, almost everything: the distribution of sex, an essential commodity of pleasure, is made as efficient as possible. In order to achieve this, the state has bred a new human subspecies: one that is receptive, submissive and always willing. They used to be called women.
Vanna and Jare become involved in buying and selling a stimulant known to be extremely dangerous: chili. Then Jare comes across a strange religious cult in possession of the Core of the Sun, a pungent chili that is too hot to handle."
"Johanna Sinisalo has a singular, singularly twisted imagination, and The Core of the Sun presents a chilling alternative scenario that has uncomfortable resonances for our own reality – all the while working in brilliantly fun satirical touches."- Amy Hundley, Grove Atlantic, USA
"Sinisalo creates a world so close, and yet so far, with small, often subtle twists…The Core of the Sun is a fun, feminist, political novel – as tasty as a strawberry habanero chilli sauce."-Deutschlandradio Kultur, Germany
Aliette de Bodard (Aliette Marie Sophie de Bodard de la Jacopière) is a French speculative fiction writer. She is born in the USA, and grew up in Paris. French is her mother-tongue, but she writes in English. She works as a software engineer specialising in image processing and is a member of the Written in Blood writers group.
She was a 2007 winner of Writers of the Future, and in 2009 was nominated for the John W. Campbell Award for Best New Writer. She has been published in Interzone, Hub magazine, Black Static, Andromeda Spaceways Inflight Magazine, Asimov's, Realms of Fantasy, Apex Magazine, among others.
She won the 2012 Nebula Award and Locus Award for Best Short Story for her short story "Immersion."
She also won the 2013 Nebula Award for "The Waiting Stars." Her short story "The Shipmaker" won the 2010 British Science Fiction Award for Best Short Fiction.
Her novelette "The Jaguar House, in Shadow" was nominated for both the Nebula and Hugo Awards. Her short story "Shipbirth" was also nominated for the Nebula. Her novella "On a Red Station, Drifting," released by Immersion Press in December 2012, was a finalist for the Nebula and Hugo.The science fiction work chronicles the conflict between two members of an extended Vietnamese family on a space station ruled by an AI, and is part of Bodard's Asian-dominated alternate-history series.
Many of her stories are set in alternate history worlds where Aztec or pre-communist Chinese cultures are dominant. Her novel "Servant of the Underworld" (Angry Robot/HarperCollins) is a historical fantasy/mystery set in the fifteenth-century Aztec Empire.
Bodard's short story collection "Scattered Among Strange Worlds" was released in July, 2012. The collection features two science fiction stories entitled "Scattered Along the River of Heaven", and "Exodus Tides".Her short story "The Dust Queen" was published in the science fiction anthology "Reach for Infinity" in 2014.
Her novel "The House of Shattered Wings", set in a devastated Paris ruled by fallen angels, was published by Gollancz/Roc in August 2015.
Bibliography
Novels
"The House of Shattered Wings", 2015
"Master of the House of Darts", 2011
"Harbinger of the Storm, 2011
"Servant of the Underworld", 2010
"Dominion of the Fallen" duology
"Obsidian and Blood" trilogy
Novellas
"On a Red Station, Drifting", Immersion Press, 2012
Collections
"Scattered Among Strange Worlds", 2012
Aila Johanna Sinisalo (born 22 June 1958, in Sodankylä, Finland) is a Finnish science fiction and fantasy writer.
She studied comparative literature and drama, amongst other subjects, at the University of Tampere. Professionally she worked in the advertising business, rising to the level of marketing designer. An important figure in the Finnish science fiction scene in the late 1980s and early '90s (winning a rare back-to-back collection of Atorox Awards for short fiction in the genre), she was also the first Finnish science fiction writer to make a mainstream breakthrough by breaking genre barriers.
Sinisalo was awarded the Finlandia Prize for literature in 2000 for her first novel, Ennen päivänlaskua ei voi (translated as Not before sundown in 2003 and again as Troll — A Love Story in 2004 for the American market). The novel has been translated into several languages. An English translation of "Linnunaivot" was published in 2010 by Peter Owen Publishers under the title "Birdbrain" (translated by David Hackston). Not Before Sundown was awarded The James Tiptree Jr. award in 2004. Movie rights were acquired by Carter Smith in 2006. She was nominated for a Nebula Award in 2009 for Baby Doll.  She is also the screenwriter of Energia Productions Iron Sky movie, a sci-fi comedy set in 2018.
Bibliography
Novels
"Ennen päivänlaskua ei voi" (Not Before Sundown, Tammi, 2000)
"Sankarit"/Heroes (Tammi 2003)
"Kädettömät kuninkaat ja muita häiritseviä tarinoita"/Shorthanded Kings and Other Disturbing Stories (Teos, 2005), short story collection
"Lasisilmä"/Glass Eye (Teos 2006)
"Linnunaivot"/Birdbrain (Teos, 2008),
"Möbiuksen maa"/Möbius' Land (Teos, 2010)
"Enkelten verta"/Angels' Blood (Teos, 2011)
"Auringon ydin"/The Core of the Sun (Teos, 2013)
Short fiction
She has published over 40 short stories, most of them fantasy and science fiction in various in speculative fiction magazines, journals and women's magazines.
Editor
Anthology "Verkon silmässä"/The Network's Eye (Tammi, 2005)
"The Dedalus Book of Finnish Fantasy" (Dedalus Books, 2005), Anthology in English, a selection of Finnish speculative fiction from the 19th century to the present day, translated by David Hackston.
Rosa Montero (born 3 January 1951 in Madrid, Spain) is a Spanish speculative fiction and contemporary fiction writer and an award-winning journalist for the Spanish newspaper El País (The Country).
The daughter of a bullfighter and a housewife, Rosa Montero was born in Cuatro Caminos, a district of Madrid. The contraction of tuberculosis forced her to remain at home between the ages of five and nine, and she began reading and writing extensively during that time.
She then entered the Beatriz Galindo Institute of Madrid, and at 17, she began her university studies in Madrid's Faculty of Philosophy and Arts (Facultad de Filosofía y Letras). The following year she was admitted into the Journalism School, and during her university years, she participated in independent theater groups.
After school, she began working as a journalist, and in 1976 she began working at El País.
In 1977 she began publishing interviews in the Sunday edition of the paper, and the following year, she won the "Manuel del Arco" Prize for her work, and was the first woman to receive it.
She, as well, published her first novel in 1979, "Crónica del desamor" (Chronicle of Disaffection).
In 1980, she won the National Journalism Prize for her articles and literary reports, and that year she was named editor in chief of the weekly version of El País.
In 1981 she published "La función Delta" (The Delta Function), and the following year, a collection of her interviews previously published in El País was released, with the title "Cinco años de país" (Five Years of El País). The novel "Te trataré como una reina" (I Will Treat You Like a Queen) followed in 1983 and was a commercial success.
She was awarded the World Prize of Interviews in 1987, and published "Temblor" (Tremor) in 1990.
Her first children's story, "El nido de los sueños" (The Nest of Dreams), was published in 1992, and in the following years she released "Bella y oscura" (Beautiful and Dark, 1993) and "La vida desnuda" (The Naked Life, 1994).
In 1994 she was awarded the Journalism Prize, and in 1997 she received the Spring Novel Prize for her work "La hija del caníbal" (The Cannibal's Daughter). In 1999, she published "Pasiones" (Passions), and in 2002, "Estampas bostonianas y otros viajes".
In 2003, she published what she considers one of her best works, "La loca de la casa" (The Lunatic of the House). This book won the "Qué Leer" Prize to the best book published in Spain in 2003, and the Grinzane Cavour Prize for the best foreign book published in Italy in 2004.
In 2005 she published "Historia del Rey Transparente" (Story of the Transparent King), which has also won the "Qué Leer" Prize as the best book published in Spain in 2005.
Bibliography
"España para ti… para siempre" (1976)/Spain For You … Forever, A.Q. Ediciones, Madrid
"Crónica del desamor" (1979)/The Chronicle of Disaffection, Editorial Debate, Madrid
"La función Delta"(1981)/The Delta Function, Editorial Debate, Madrid
"Cinco años de país" (1982)/Five Years of the Country, Editorial Debate, Madrid
"Te trataré como a una reina"(1983)/I Will Treat You Like A Queen, Seix Barral, Barcelona
"Media naranja"/ (1985) with Jesus Yagüe, Twelve episode television series
"Amado Amo" (1988) Editorial Debate, Madrid
"Temblor"/Tremors (1990)
"El nido de los sueños"/Nest of Dreams (1991)
"Bella y oscura"/Beautiful and Dark (1993)
"La vida desnuda"/The Naked Life (1994)
"Historias de Mujeres"/Stories of Women (1995)
"Entrevistas"/Interviews (1996)
"La hija del caníbal"/Cannibal's Daughter (1997)
"Amantes y enemigos"/Lovers and Enemies (1998)
"El viaje fantástico de Bárbara"/The Fantastic Voyage of Bárbara (1998)
"Las barbaridades de Bárbara"/The Barbaries of Bárbara (1998)
"Bárbara contra el doctor Colmillos"/Bárbara Against Doctor Colmillos (1998)
"Pasiones"/Passions (1999)
"El corazón del Tártaro"/The Heart of Tartarus (2001)
"La loca de la casa"/The Crazy From the House (2003)
"Historia del rey transparente"/History of Transparent King (2005)
"Instrucciones para salvar al mundo"/Instructions to Save the World (2008)
"Lagrimas en la lluvia"/Tears in the Rain (2011)
"La ridícula idea de no volver a verte"/The Ridiculous Idea Not To See You Again (2013)
"El peso del corazón"/The Weight of the Heart (2015)
https://www.facebook.com/eurocon2016bcn