"Hard to Be a God — The Science Fiction Film of the Decade ?" – Jeffrey Overstreet
"What if the savagery of the Middle Ages will last forever ?
The film thus becomes a thought experiment asking us to consider what society and culture might look like had the Renaissance never ignited. The muck and filth and shit of medieval existence might continue uninterrupted, a reality that over the course of the film certainly seems plausible."
The Renaissance was a fluke. Cruelty and brutality are the default modes of existence. Barbarism is human nature. Barbarism, in Gherman's conception, is an intensely visceral state." – Calum Marsh, Village Voice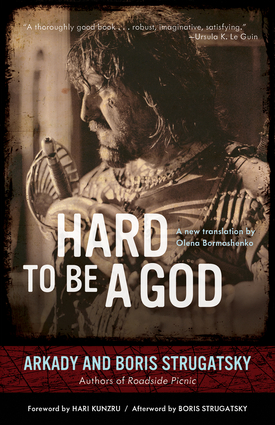 "Hard To Be A God" : "On another planet, which goes through its Middle Ages, a group of historians from Earth live pretending to be average people. The main character, known as Don Rumata, is disgusted by cruelties he observes on everyday basis but is prohibited by his superiors from interfering and thus changing the natural course of history of the planet. The only thing the historians have a right to do is to protect and help few individuals who seem to be different from everybody else and can benefit the entire planet through their knowledge and ideas. Rumata has to find one of these people, Budakh, and rescue him from the hands of Don Reba, a grey cardinal ruling for a weak king and later, an insane tyrant."
"Based on a novel published in 1964 (Hard to Be a God is an adaptation of a well-known Russian science-fiction novel by brothers Arkady and Boris Strugatsky, who also wrote Roadside Picnic, the book on which Andrei Tarkovsky's  Stalker was based) , first adapted as a screenplay in 1968, shot intermittently between 2000 and 2006, and painstakingly assembled until the day of its director's death in February 2013, Aleksei Gherman's Hard to Be a God finally premiered, literally half a century in the making, at the Rome International Film Festival in November 2013. " – Calum Marsh, Village Voice
"Watching Hard to Be a God often feels like wading into the Hell panel of Bosch's Garden of Earthly Delights; it seems that everywhere you look you find a mass of writhing bodies suffering grotesquely in the mud.
And, as in Bosch, what's striking in Hard to Be a God  isn't the horror but the ubiquity of it — something terrible is happening everywhere all the time." – Calum Marsh, Village Voice
"It is 177 minutes long, black and white, beautiful, brilliant, and like a message from a different time—past or future, who knows, especially with this project. Hard to Be a God is a monstrous and strikingly Russian Orthodox huis clos, convinced that change will come but miserably resigned to the fact that nothing can be done to speed that escape from suffering. Which is to say that Gherman not only still believes, but knows that above all we are frail and weak, even in our bravery. Neither God nor nature really wonders, let alone cares, about our hopes and desires—they simply, irrespectively deliver what will come. Fuck you, mankind, and be happy for what you've been given. Quite a final statement."– Olaf Möller
"Hard To Be A God" filming's processed since autumn 2000 (Czech Republic) up to 3 August 2006 (Lenfilm studios, Saint Petersburg, Russia). After the lengthy editing and post-production stage, the film was premiered at the 2013 Rome Film Festival (out of competition).
 "Hard to Be a God is brutal and visceral, visually and aurally dense, with a loose narrative thread and unheroic protagonist. It is, essentially, cinema reinvented: if you try and play the good old film critic game of "compare this to another director" the only filmmaker that springs to mind is Gherman himself." – The Calvert Journal
Trailers :
Hard to Be a God (2014) Trailer #2, english subtitles
Трудно быть Богом (Hard to be a God ) 2013
"Hard to Be a God"
Directed by Aleksei Gherman (Aleksei Yuryevich Gherman/Алексей Юрьевич Герман; July 20, 1938 – February 21, 2013), Russian filmmaker, most active as a director and screenwriter. His last name is pronounced with a hard "g" and in English is frequently spelled Guerman or Gherman to avoid confusion.
Written by Aleksei Gherman & Svetlana Karmalita (based on the novel by Arkady and Boris Strugatsky)
Directors of photography: Vladimir Ilyin, Yuri Klimenko
Production designers: Sergei Kokovkin, Georgi Kropachev, E. Zhukova
Costumes: Yekaterina Shapkaitz
Story editor: Yevgeny Pritzker
Film editors: Irina Gorokhovskaya, Maria Amosova
Music: Viktor Lebedev
Starring :
Leonid Yarmolnik (Don Rumata)
Dmitri Vladimirov
Laura Pitskhelauri
Aleksandr Ilyin  (Arata)
Yuri Tsurilo (Don Pampa)
Yevgeni Gerchakov  (Budakh)
Aleksandr Chutko  (Don Reba)
Oleg Botin (Bucher)
Pyotr Merkuryev
Release date : November 13, 2013 (Rome Film Festival)
A Russian – Czech co-production
Language : Russian
Produced by Studio Sever, Russia 1 TV
http://www.villagevoice.com/2014-02-26/film/hard-to-be-god-rotterdam-aleksei-german/
http://variety.com/2013/film/reviews/rome-film-review-hard-to-be-a-god-1200871096/
http://thefilmstage.com/reviews/cannes-review-hard-to-be-a-god/
http://www.patheos.com/blogs/lookingcloser/2014/02/hard-to-be-a-god-the-science-fiction-film-of-the-decade/
http://www.filmdivider.com/173/why-aleksei-germans-hard-to-be-a-god-is-worth-the-wait/
http://cinema-scope.com/spotlight/hard-god-aleksei-german-russia/