"Albedo One" is an Irish science fiction, fantasy and horror magazine founded in 1993 and currently published by Albedo One Productions. "Albedo One" is available as print and digital issues (epub, mobi and pdf).
"Albedo One" is widely regarded as the successor to the defunct Irish science fiction magazine "FTL", which was originally published by the (also now-defunct) Irish Science Fiction Association. "FTL" was itself a successor of the Irish magazine "Gateway".
"Albedo One" is credited as holding the position of the "longest running Irish magazine of speculative fiction"  and has been billed as "Ireland's answer to Interzone."
From issue 1, 1993, to issue 12, 1996, Albedo One was published by Tachyon Productions and was in an A5 size format. From issue 13, 1996, the magazine moved to a larger A4 format and was published by Albedo One Productions. The move to new publisher and format was motivated, according to the editors, "in an effort to gain better distribution, more advertising and put a little jizz into the magazine.".
Albedo One currently publishes original (i.e. previously unpublished) stories from Irish, European and International authors. Its focus on Irish authors has often been noted by reviewers,  but publication of non-Irish authors is not excluded as with some national genre magazines, and the magazine is "primarily interested in good writing".
"Albedo One" is Ireland's longest-running and foremost magazine of the Fantastic. Since 1993, Albedo One published stories from both Irish and international authors which push at the boundaries of Science Fiction, Fantasy and Horror. The magazine currently appears in print and electronic format approximately two to three times per year. Stories published in each issue generally range from 2000 to 8000 words in length, though in practise published stories sometimes fall outside these lengths.
"As Europe's westernmost outpost, we believe passionately that one of our roles is to bring unique and excellent speculative fiction written and published in other European and World languages to an English language readership. To this end we have initiated a program of translations to and from English with our colleagues and partners beyond Ireland. Already, we have published in translation the Winner of the German Science Fiction Award 2008, the story "Homeward Journey" by Frank W. Haubold (translated by Wilf James), with more to follow." – "Albedo One"
"Albedo One is the primary source to keep up with Irish speculative fiction writing. At least one of it's stories per issue tends to be by an Irish speculative fiction writer, and Albedo One published short fiction by such authors as Nigel Quinlan, Fred Johnston, John W. Sexton, Sam Millar, John Kenny, Michael Carrol,Mike O'Driscoll, Anne McCaffrey, Ian McDonald, Dermot Ryan, David Murphy and Robert Neilson.
From international authors, Albedo One published fiction by Robert Reed, Bruce McAlister, Brian Stableford, Norman Spinrad, Ian Watson, Colin Greenland, Gill Alderman, Hugh Cook, Jeff Vandermeer, Esther M. Friesner, Uncle River, Patricia Anthony and Liz Williams."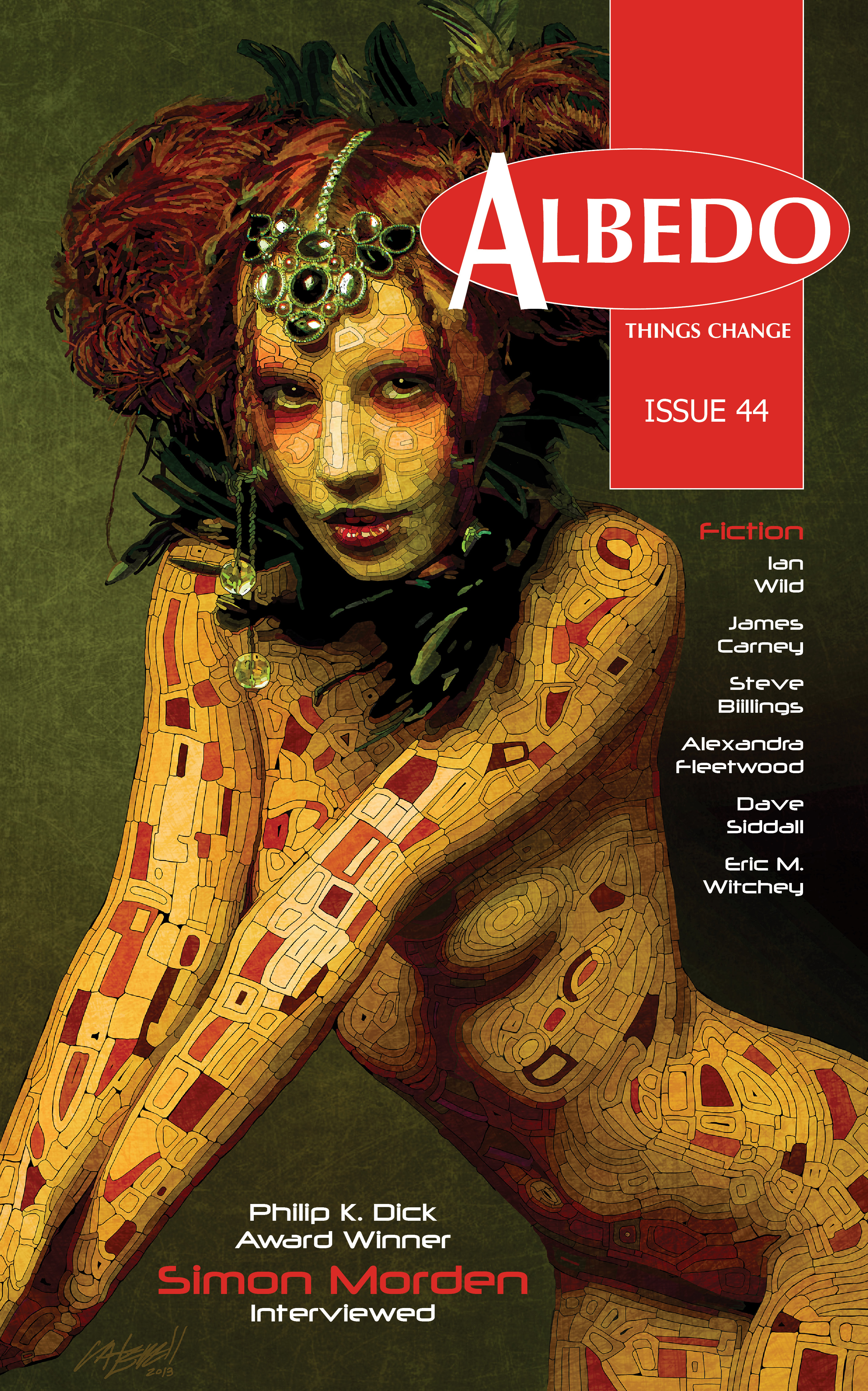 "As well as reviews by our regular columnists Juliet E. McKenna and David Conyers, each issue features in-depth home-grown interviews with the most interesting names in the speculative fiction genres, including Jim Gunn, Alastair Reynolds, Ellen Datlow, Ian Watson, Chris Priest, Paul Di Filippo, J. G. Ballard, Clive Barker, Terry Pratchett, Kim Stanley Robinson, Greg Egan, Charles Stross, Alan Dean Foster, Norman Spinrad, Ken MacLeod and Raymond E. Feist.
Winner of European Science Fiction Society Best Magazine Award 1997, and Best Publisher 1997 and 1999, Albedo One is published between two and three times a year. Stories from Albedo One have garnered numerous Honourable Mentions and been reprinted in prestigious Year's Best volumes by major editors in the genres of science fiction, fantasy and horror, including Ellen Datlow, Kelly Link and Gavin Grant, Rich Horton, and Gardner Dozois." – "Albedo One"
Between 1997 and 1999 "Albedo One" was honored three times by the European Science Fiction Society, winning Awards for "Best Magazine" and "Best Publisher". Albedo One was voted 8th in the Nominations for the Hugo Award under the "Best Semiprozine" category for 2006.
Robert (Bob) Neilson is Albedo One's co-founder and current Managing Editor
"We thought about the amount of excellent fiction that must be out there in other languages, even if we're simply looking at Europe. So we talked to the Poles and the Germans and the Finns and the French and the Swedes, along with a couple of Americans – they get in everywhere – and even a couple of Brits. And during these conversations, one of which took the form of a panel at the Con (we cheated a bit), we formulated a plan for publishing other languages in English…For countries that do not have a contest but have a kind-of national magazine – Ireland falls into this category, as does France, Holland and Sweden – we decided we would be willing to 'work something out' with the magazine and its editors. To date we have published the best German story of last year and are awaiting the winner of the annual contest in Finland. "Galaxies" magazine in France has published the winner of the first Aeon Award (our short story contest) and we are waiting for them to send us a swap story. The Dutch SF magazine, "Wonderwaan", is currently translating their best story of last year, as decided by the editors, whom we trust implicitly as one of them is one of us (think about it). We have been promised co-operation by Sweden' finest (not the police) and have been in contact with an Italian magazine." – Bob Neilson
The Aeon Award 2015
Grand Prize: €1000
Second Prize: €200
Third Prize: €100
Plus guaranteed publication in Albedo One for the top three stories
as chosen by our esteemed Grand Judges
Ian Watson, Eileen Gunn, Todd McCaffrey and Michael Carroll.
The Aeon Award is a prestigious fiction writing competition for short stories in any speculative fiction genre, i.e. fantasy, science fiction, horror or anything in-between or unclassifiable. The Aeon Award short fiction contest has been running since 2004 and has a Grand Prize of €1000 and publication in Albedo One! Second and third place contest prizes are €200 and €100 as well as guaranteed publication in Albedo One, the leading Irish magazine of science fiction, fantasy and horror. The contest opens January 1st and ends on November 30th.
The Aeon Award
Since 2004 "Albedo One" has organized and sponsored the Aeon Award, a fiction contest aimed at promoting new writers and writing in the speculative fiction genres. The story "My Marriage" by English author Julian West won the Inaugural 2004-2005 Aeon Award with Grand Judge Ian Watson commenting that he found it "rather unsettling", recommending it for the gender bending Lambda Award.
The Aeon Award is a contest for short fiction in any speculative genre, including fantasy, science fiction, and horror. The Award is sponsored by Aeon Press has a grand prize of €1000 and publication in Albedo One.
http://www.albedo1.com/aeon-award/aeon-award-2014/
Aeon Press
Aeon Press has been described as the "book-publishing" arm of "Albedo One", and is currently Ireland's only dedicated publisher of science fiction, fantasy and horror.
Its most notable release to date is "Emerald Eye: Best Irish Imaginative Fiction" (2005) edited by Roelof Goudriaan and Frank Ludlow. That collection comprises science fiction, fantasy and horror from modern Irish authors.
In 2011 Aeon Press released two short story anthologies at Bristolcon (UK) and Octocon (Ire) : "Box of Delights", edited by John Kenny features 16 spine-chilling tales of love and death from such authors as Mike Resnick, Kristine Kathryn Rusch, Steve Rasnic Tem, Don D'Ammassa and Priya Sharma.
"Transtories" edited by Colin Harvey is an anthology of stories taking the prefix 'trans'. Notable authors include Aliette de Boddard, Jay Caselberg and Lawrence M. Schoen.
Albedo 2.0 Fiction Showcase
"More and more of the best fiction to be found in the speculative genres of science fiction, fantasy and horror is now first published online in a growing number of webzines, e-zines and online digital magazines.
The Albedo 2.0 Fiction Showcase aims to publish – free to read and exclusively online – some of the very best original fiction that the Albedo One team can lay their hands on. The Showcase is designed to complement Albedo One's goal of providing excellent, free, online content on the Albedo One website.
In 2010, Albedo One piloted the Showcase Series with the publication of two fine stories: Donald Mead's "A Falcon Sharp and Passing" and Ian Wild's "The Million Pound Shop". Both stories generated an overwhelmingly positive response from readers, and with this encouragement we decided to establish the Showcase on a permanent basis, with the aim of providing excellent previously unpublished short stories online here, as and when available."
Congratulations to Bob Neilson and his team, Frank Ludlow, David Conyers, Christine, Sharon Kae Reamer, Dev Agarwal, Wayne J. Harris, Juliet E McKenna, Roelof Goudriaan, John Kenny, David Murphy,  Peter Loftus,  Mike O'Driscoll,  Konstantine Paradias, George Anderson, Roderick MacDonald.
http://www.albedo1.com/albedo-2-0-showcase/
Visit the Albedo One Shop to see a full selection of back issues and other titles, and order "Albedo One" today!
Pics© Albedo One
Bob Neilson lives in Dublin, Ireland with his wife, two daughters, son, two dogs, one cat and a growing feeling of claustrophobia. In partnership with his wife he runs a successful retail business in Dublin city.
Bob Neilson has been a published author since 1989 (Baker's Dozen anthology, Poolbeg). In the intervening years he has published 57 short stories in magazines as diverse as Woman's Way (Ireland), Fear (UK), and Happy Harry (Greece). He has also published a Graphic Novel and had three radio plays produced on Irish Radio, two by RTE and one by Anna Livia FM.
He has had two collections of his short fiction published: Without Honour (Aeon Press, 1997) and That's Entertainment (Elastic Press, 2007) as well as several comics and a graphic novel. His non-fiction book on the properties of crystals is a best-seller in the UK and Ireland.
For a year he presented a science fiction magazine programme on Anna Livia FM radio. He has had two plays performed on RTE (Raidió Teilifís Éireann/Radio [and] Television of Ireland) and one on Anna Livia FM.
His book reviews and author interviews have appeared extensively in the UK and Ireland. He was Reviews Editor for Grotesque Magazine (UK), Sierra Heaven (UK), FTL (Ireland) and Albedo One (Ireland) in the past. He is currently co-editor of Albedo One Magazine.
Cathal Ó Sandáír – "Captaen Spéirling Arís" (Captain Hurricane) & "Captaen Spéirling agus An Pláinéad do Phléasc" (Captain Hurricane and the Wisp Planet)
http://ansionnachfionn.com/2011/06/03/its-sci-fi-irish-sci-fi/
Irish Science Fiction&Fantasy Writers
Science Fiction and Fantasy set in Ireland: a checklist